I've mentioned before I can easily be scared off of trying new things. I'm not a perfectionist but I don't like failure. So I stick to safe bets.
I'd wanted to try yogurt for a couple of years but I didn't. There seemed to be mixed reactions from the people I mentioned it to including, "Why?" and "That's pretty tricky!".
Then my super thrifting fairy godmother friend, Cheryl, showed up one day with a yogurt maker she'd picked up for $2. Okay, this is progress, I thought, I might actually try this.
It took a few months and a follow-up visit where she guided me through making it before I realised that yogurt making is amazing!
After that first batch I toyed with the fat ratios (Cheryl made hers with 10% cream) and the method. A year and a half later and there is nearly always homemade yogurt in our fridge.*
We eat it with our honey sweetened jams, granola, citrus essential oils (lemon is divine), fresh fruit, or with just a dribble of maple syrup. There are endless baking uses including muffins, quick breads, biscuits, pancakes, and cakes**. The savoury uses are Dan's favourite – yogurt in dips and dressings, with chips, or along side roasted veggies. I often replace some (or all) of the fat in different recipes (from mayo to oil) with yogurt (tangy tuna salad? yes, please!).
Yogurt is a staple we nearly always have on hand.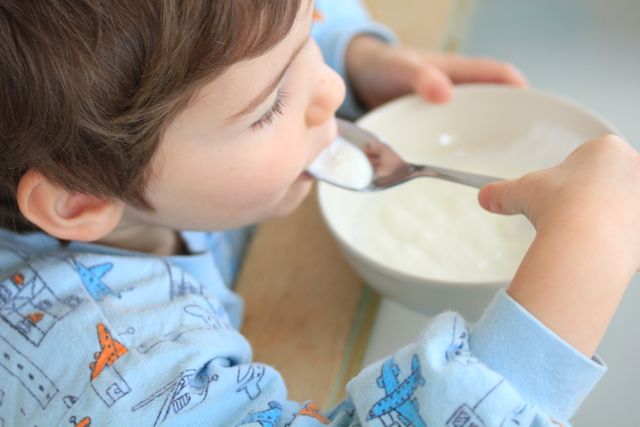 It's simple, delicious, nutritious, and an exciting party trick (you know, for all those over night parties you throw).
*You may wish to remind me at this point that I'm on a dairy-free diet. Lately I've made an exception for yogurt and the odd knob of butter.
**You may NEED to remind me at this point that I'm off of wheat also. I want to make biscuits now.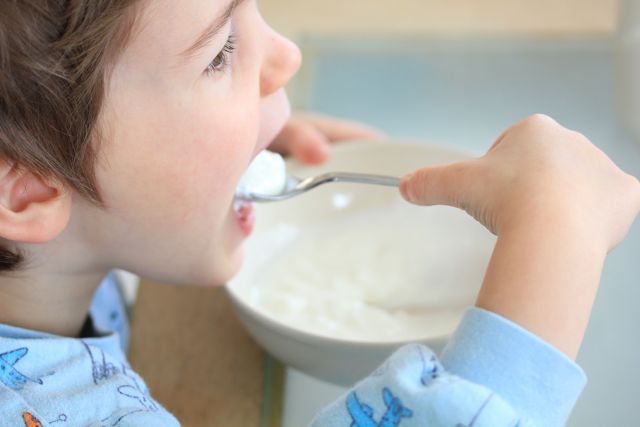 Yogurt, Plain & Simple
I make a large amount for my large family. As long as you follow the method you can change ratios easily to make less. I haven't gone lower fat that this (it's about 4.7% MF using 2% milk) but if you try it keep it mind that you will likely have a runnier yogurt in the end – store bought low-fat yogurts are full of "other" ingredients to mimic a good full-fat product.
Yogurt making is simply cooking off (sterilizing) the bacteria you don't want in your milk and adding in the yogurt cultures you want to encourage, then incubating the mixture in a warm environment until the yogurt is formed.
2 litres (8 cups) 2% or 3% milk
1 litre (4 cups) 10% cream (aka half and half)
30 – 60 ml (2-4Tbsp) plain, full-fat yogurt with active cultures (unsweetened, unflavoured, preferably organic, without additives), this is the starter yogurt (the next time you can take this from your previous homemade batch)
appropriately sized containers, washed in hot water and ready with lids (I use 500ml or 1 ltr mason jars)
a warm spot to let the yogurt cultures to develop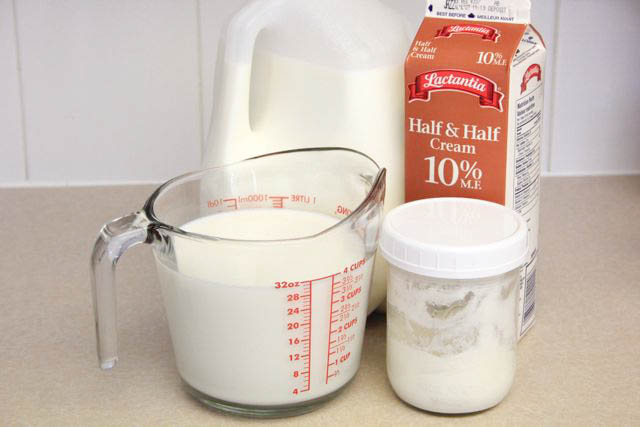 Remove the starter yogurt from the fridge and leave to the side.
Pour the milk and cream into a large pot (don't skimp on size – you want a few inches of space at the top) and heat over medium-high to high heat. Watch, giving a whisk now and then to distribute the heat, until it begins to steam. Once it begins to steam it may be hot enough but I like to err on the side of caution. At this point do not look away (trust me)! As soon as the milk begins to rise up the side of the pot remove it from the heat.
Allow the milk/cream to cool to 114° F or slightly lower. If you don't have a thermometer, cool to baby-bottle temperature (lukewarm) and test on the inside of your wrist. (If it's too hot the bacteria from the yogurt will be killed off. Too cool and the yogurt may get too cold before it sets.)
Whisk the starter yogurt into the milk mixture. Strain, if desired, or simply pour into your waiting containers and cover. Place in a warm spot* covered with towels for 10 -12 hours (I find the longer the better).
Check to make sure it has set, then chill for a 2-3 hours before tucking in.
*My warm spot is our broken microwave – it's the perfect insulator, I simply huddle the jars together and cover with tea towels. You could also use a small cooler filled with towels or an oven with the light left on. Our house gets pretty cold over night and I've never had to take any special steps (such as using a heating pad) to keep the yogurt warm enough.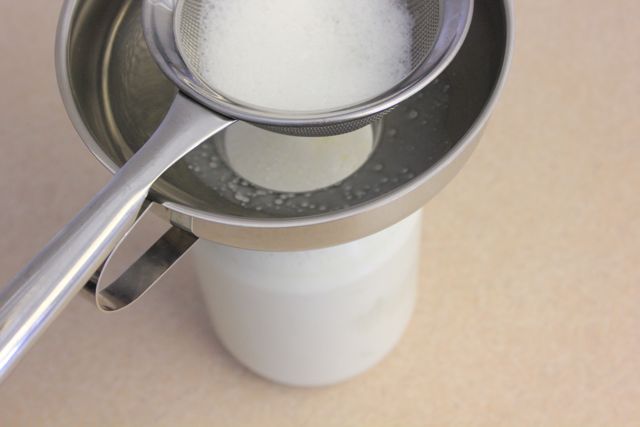 Troubleshooting:
If your milk does not get to the boiling point, unhelpful (to yogurt-making) bacteria will likely interfere with the starter yogurt and you will never get yogurt.
If your milk cools too much if may have lost to much heat to encourage the yogurt cultures to grow.
If your milk is too hot the yogurt cultures will die when you introduce them.
If your starter yogurt doesn't have live cultures, the cultures won't grow (fresh yogurt is best – check the best before date).
If your yogurt doesn't set, start again. I've reboiled failed yogurt successfully after it doesn't set -just make sure you start fresh with new starter yogurt.
If you forget your cooling milk/cream mixture and it gets too cold you can cheat and heat it up a little – I've done this more than I'd like to admit.
I'm sure you're braver than I am and I hope you'll try it if you aren't a yogurt maker already! It truly is quite simple and, dare I say, fun!!
::
Do you make yogurt? Are there other staples you can't do without in your home – homemade goodies or grocery store constants? Do you need someone to kickstart your culinary adventures or are you the type to dive right in? If the former, come over and we'll hem and haw over tea; if the later, come visit and get me fired up (I'll offer you tea, as well, love).