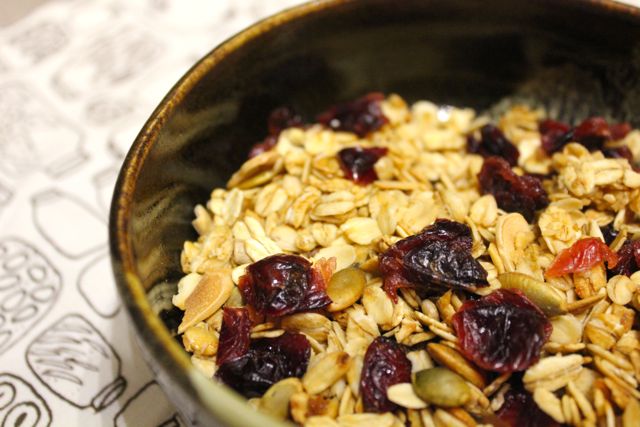 A standing favourite in our house for breakfast, snack or a desperate lunch is granola. I don't know why it took me as long as it did to make our own but ever since I began a few months ago it has been in hot demand. Earlier this week I made a batch only to turn around and make a second as the littles sat devouring the first batch.
I can't believe how beautifully simple it is to make and how wonderful the whole house smells as it is baking.
I know many of you already have a favourite recipe for granola. I'm sharing mine – care to share yours? And if you've never tried making your own granola I must encourage you to try – this one gets five stars from the five choosy people in this house (the sixth choosy person still hasn't discovered his love of oats yet…we're working on it one chocolate-cranberry cookie at a time).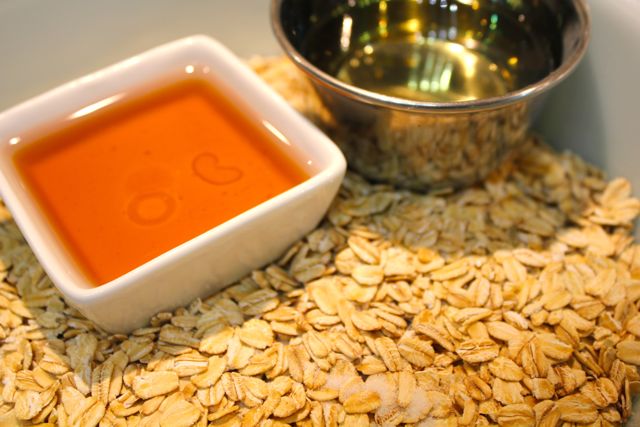 Start with oats, maple syrup, oil and salt.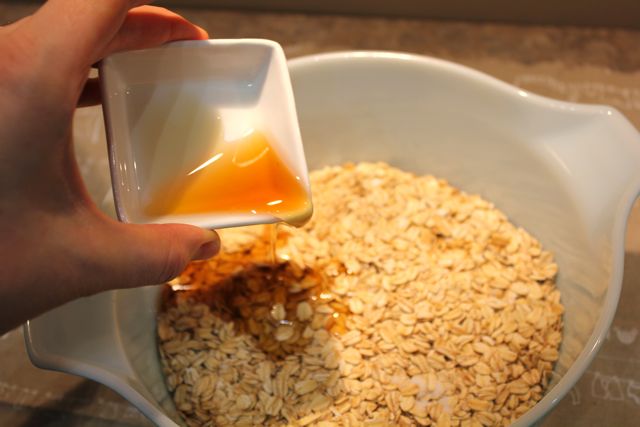 Pour in that delicious syrup.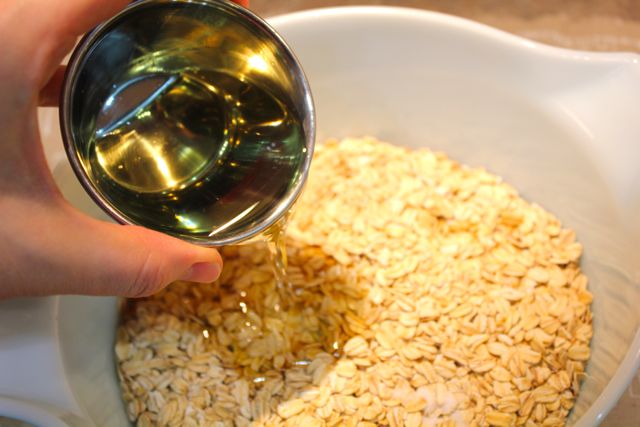 In goes the oil.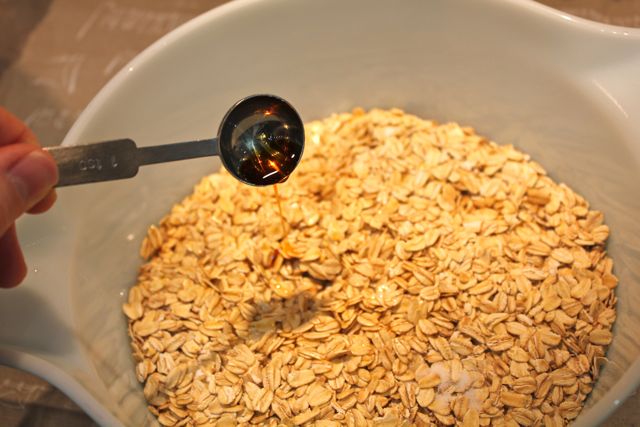 Add a teaspoon of vanilla.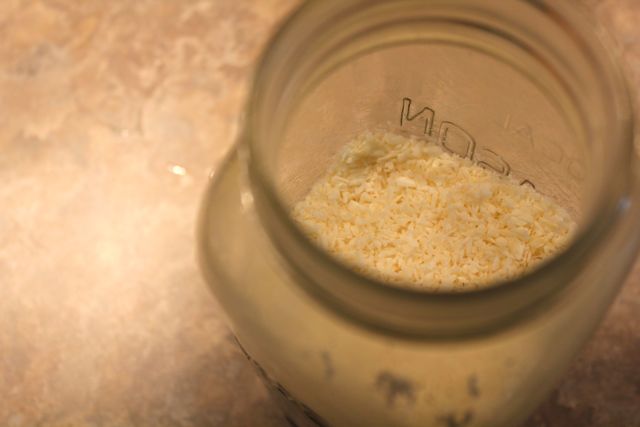 Add a handful of flaked, shredded, sweetened or unsweetened coconut – I'm happy to take it however I can get it.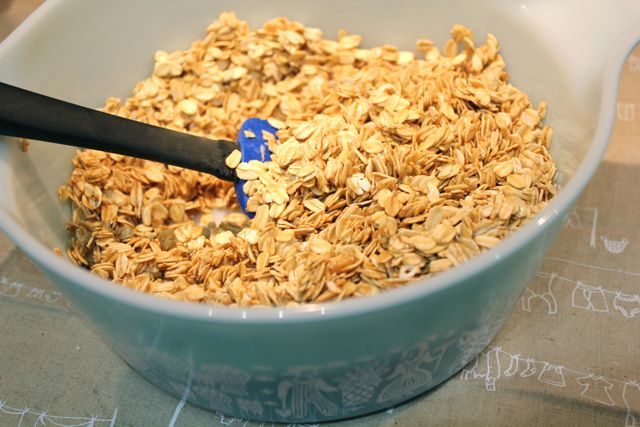 Mix it all together.
And, yes, this picture was mainly to highlight my very favourite Pyrex bowl (thanks, Abe, you're the best!).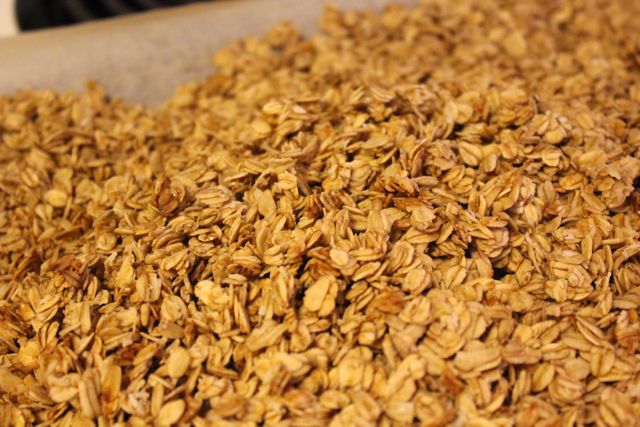 Separate the granola between two parchment covered trays and bake until it is beginning to brown. Don't get cocky like me and walk away – it goes from beautifully scenting your home sending you into raptures of oat-inspired delight to sending your children racing for an open window in a surprisingly short time. For me the perfect oven temperature/time  is 300° F for 12-15 minutes.
If in doubt take it out and give a stir around. It should be dry and lightly toasted. It took me some trial and error to find the sweet spot. When I first started making it I had the oven way too high and it would burn before it had dried out. This has of course provoked my children to remind me each and every time I make granola not to burn it.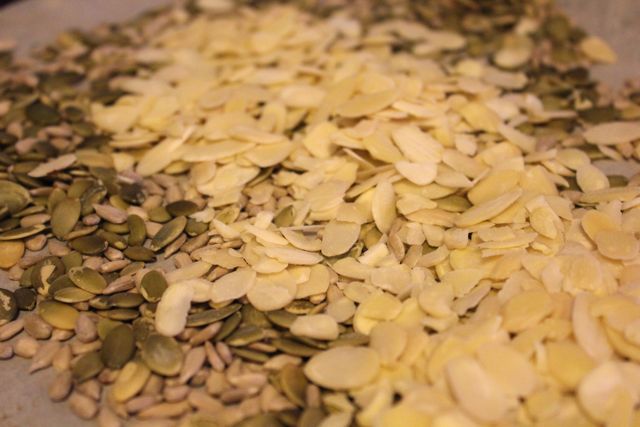 After the granola comes out of the oven I dump one tray out on to the other to leave them cooling. Then I spread whatever assortment of nuts and seeds I fancy on the warm tray and put these into the oven for another 5-7 minutes. Dan has "kindly" wondered if I am going to show a step-by-step on how to burn nuts…touché. Long story short – don't deliver the laundry, check your email or check in on your knitting. Stay close to the nuts – don't let them burn.
Alternatively, you could add the nuts to the granola a few minutes into the baking time but those choosy littles of mine have varying interest in the toasted nuts (although they will eat them separately) so I keep them apart. Once your seeds and nuts are toasted mix them together with a couple handfuls of dried fruit
See how simple that was? So simple that I had to show pictures of me slowly pouring everything in to make it seem like more than it is. There are so many options for spices, nuts, seeds and other add-ins but everyone here prefers it simple.
Enjoyed with milk, yogurt, honey, dried fruit or just as it is, granola is such a great pick-me-up and sometimes just the thing to make up the gap before lunch, dinner or, in my case, bed.
Granola
5 cups old-fashioned oats
1/3 cup maple syrup (honey also works although I prefer the taste of maple syrup)
1/3 cup oil
1/4 teaspoon salt
1-2 teaspoons pure vanilla extract
1/4 cup shredded coconut
2 cups nuts or seeds (I like sliced almonds, pumpkin seeds and sunflower seeds)
1 cup dried fruit of choice
Preheat oven to 300° F. Bake granola on two parchment covered sheets for 12-15 minutes or until the granola is dry and lightly toasted. Spread nuts and/or seeds on tray and toast until golden – 5-7 minutes. Allow to cool, add toasted nuts and dried fruit, if desired,  and store in an air tight container.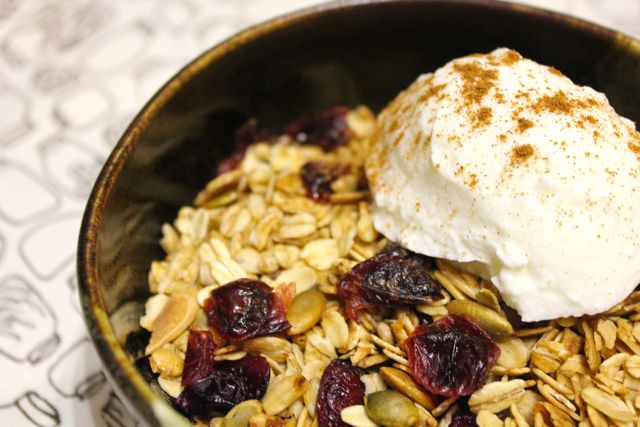 I'm enjoying mine with a dollop of plain yogurt and a dash of cinnamon, delicious!