Pancakes were more than an acceptable dinner meal in my home growing up. Pancakes were anticipated. Hot off the pan, drizzled in syrup with a side of crispy bacon. Comfort food through and through whether enjoyed for breakfast or dinner.
My hubby on the other hand had strict ideas on the separation of breakfast and dinner foods. Pancakes were not for dinner. And while we're at it neither were eggs, waffles or even, gasp, cereal (yes, I've tried to pull that one over on him….desperate times).
Notice how I said "were". "Now" is a totally different story. Now we have six kids. Six kids with very different tastes and different ideas on what makes a good meal. Six kids who do not share their father's aversion to maple syrup (are you hearing this insanity? Dan doesn't like maple syrup!) but will enjoy it on anything. I have two kids who would eat porridge with maple syrup for dinner every day if we let them…but that's a different story.
So now that times have changed, pancakes are on the menu breakfast, lunch or dinner. Admittedly it's usually only when I'm cooking. I call it progress none the less.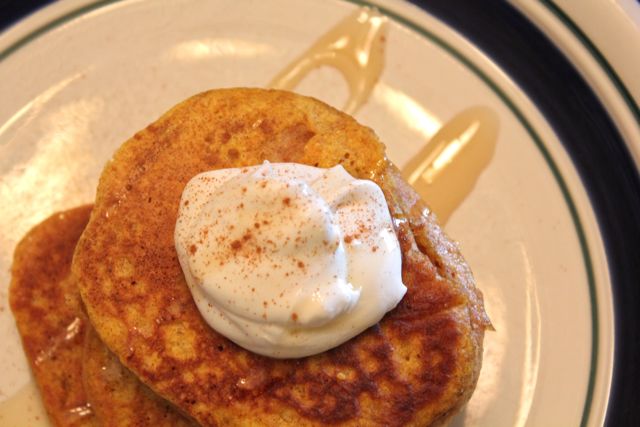 And so I give you the pumpkin pancake. These are plain and simple whole wheat pancakes made moist and fluffy with the addition of pumpkin puree. I left them without oats, bran or seeds – I still get busted on those pancake tricks. The pumpkin also gives us the hint of vegetables for those desperate dinners when we just need something fast.
Even our four-year-old who's previously had no love to spare for pancakes gobbles these babies up.
Pancakes with Benefits
This recipe makes enough for my pancake loving crew – that's 7 eaters and lots of maple syrup.
2 eggs
2 1/2 cups of milk
1 1/2 cups pumpkin puree
1/2 cup yogurt
3 cups whole  wheat or unbleached flour
3 tbsp brown sugar (optional)
1 tsp baking soda
1 tbsp baking powder
1 tsp salt
1 1/2 tsp cinnamon
1/4 tsp allspice
1/8 tsp cloves
1/8 tsp nutmeg
In a large bowl whisk together together wet ingredients. In a separate bowl mix dry ingredients and gently stir into wet ingredients. Allow the batter to rest for 10-15 minutes, meanwhile set your pan to heat. Pour the batter by third cup measure to cook on your pan. Flip when bubbles appear and cook until lightly browned.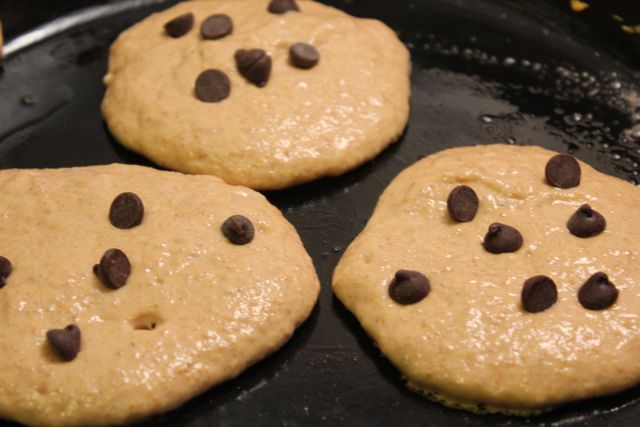 And if you're feeling especially indulgent toss in a few chocolate chips and call it dessert.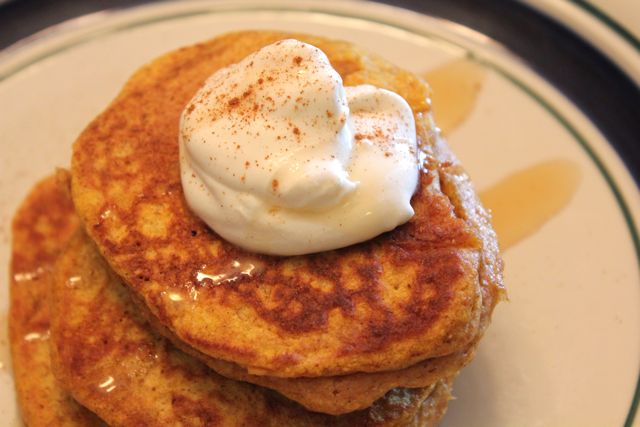 After last week's pumpkin pie and this week's pumpkin pancakes, I've still got more pumpkin recipes up my sleeve. We're on a pumpkin kick here – well, I am and I'm dragging the fam along for the ride.
::
How do you feel about breakfast for dinner? Are you for or against it?