Dan is sharing another meal here today. I think it is a shame that I post these meals after he's already made them because I could seriously go for this dinner again right now.
Over the last few weeks we have tried to make an effort to incorporate more vegetarian meals into our diet with the hope that one day we will be able to fully convert. There has also been lots of talk about homesteading and how that will change the way we approach food in general. Fortunately for us there are only two meat lovers in our family – our oldest daughter and our youngest son. Our oldest is so health conscious that she has taken the reduction in meat in fairly good stride. So with changing diets in mind I thought I would share one of our new favorite meals. The ingredients and the cooking are very simple which is just the way I think it should be. Sometimes I have a tendency to over complicate things and end up with a dud of a dinner.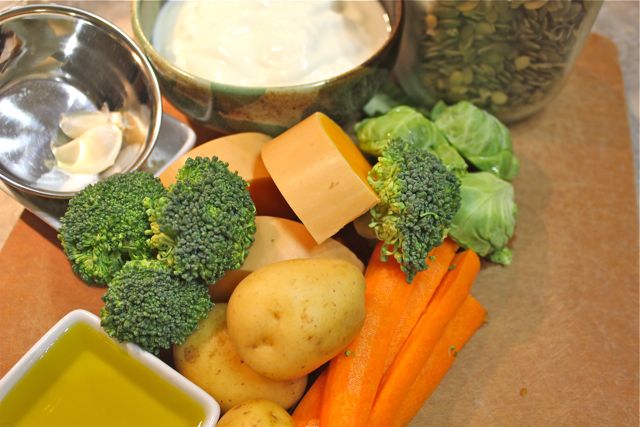 The ingredients:
2 Heads of broccoli
1 Winter squash
2lbs of yellow flesh smallish potatoes
10 Mushrooms
10-15 large brussels sprouts
6-8 Carrots
9 Tablespoons of olive oil – 5 and 4 if you're separating before hand
Teaspoon of salt
Teaspoon of pepper
2 Cloves of garlic
There are a ton of substitutions for these vegetables as well. I find green beans or zucchini can easily replace the sprouts, broccoli, or mushrooms; peppers do nicely as well.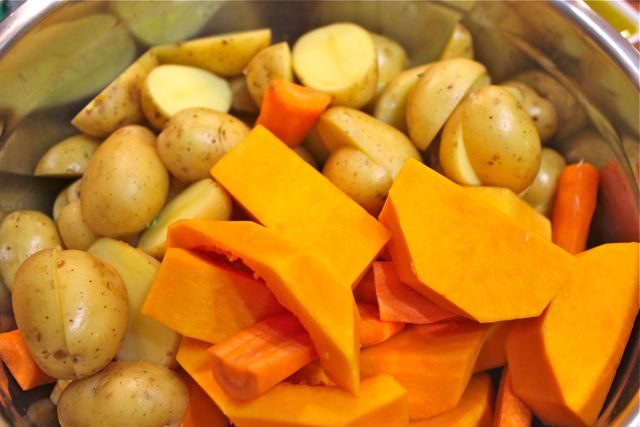 Start off by cutting your potatoes, squash, and carrots. I had plenty of helpers join me with this task. Make sure your vegetables are in these sort of size portions. Squash 3/4″ sections with the outer skin cut off. Potatoes in wedges or halves depending on the size of the potato, and the carrots in sticks.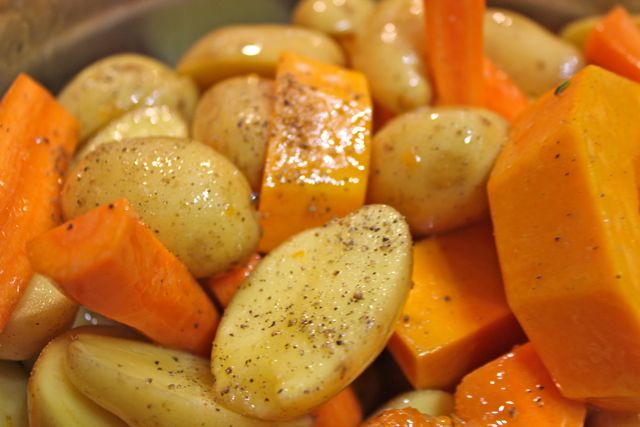 You can put all of these three together in a bowl and add 5 tablespoons of the olive oil,  salt, pepper, and one of the cloves of garlic finely chopped. Toss them all together until they are evenly coated.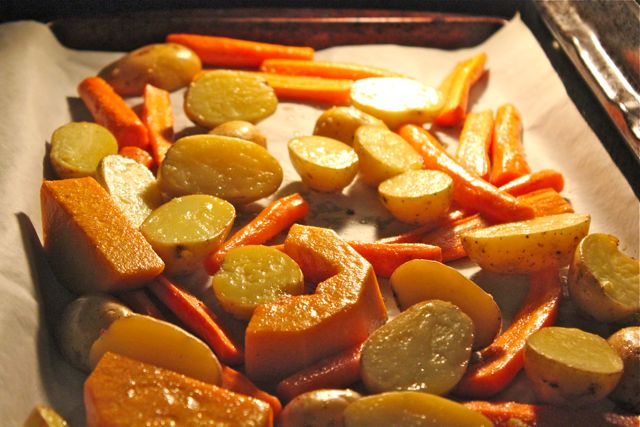 Then dump them onto a parchment covered baking sheet and spread them out so all of the vegetables have some contact with the pan. I need two pans for the amount I cook. Put them in a 375 degree oven, if you are near sea level I would go with 390. Set your timer for 30 mins.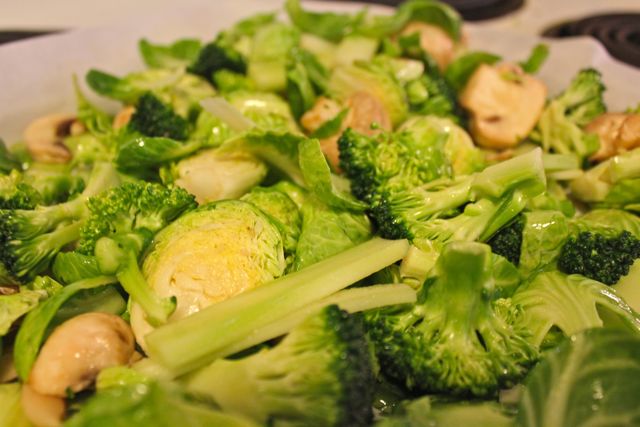 Now you can cut up your greens and mushrooms. Same procedure as before only if you are cooking broccoli make sure it is on top when you put on the oil as you will want to take care to try to get the broccoli florets coated with oil. You can add salt and pepper if you wish and spread on another prepared baking sheet. Salt will help with the browning process as it draws moisture out.  When you are at 30 mins for the potatoes and such, throw the vegetables in, rotate your other pans if you have an oven like mine.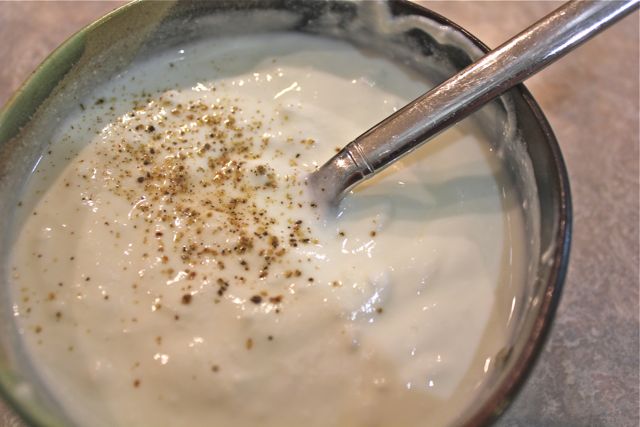 Set the timer for another 15 mins. Now you have a few minutes to put together a great little yogurt sauce and toast some nuts to add a little protein. For the sauce take one cup plain yogurt and add one finely chopped or minced clove of garlic, if you like dill put it in, if you like lemon add a squeeze.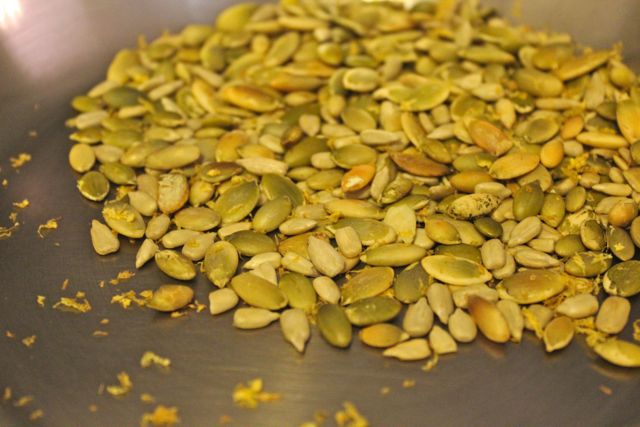 Now is the time to toast some nuts if you'd like to add them to your meal. I like to use pumpkin and sesame seeds, pine nuts are also one of my favourites.  Toss the nuts into a dry pan and cook over medium heat carefully watching the nuts for browning.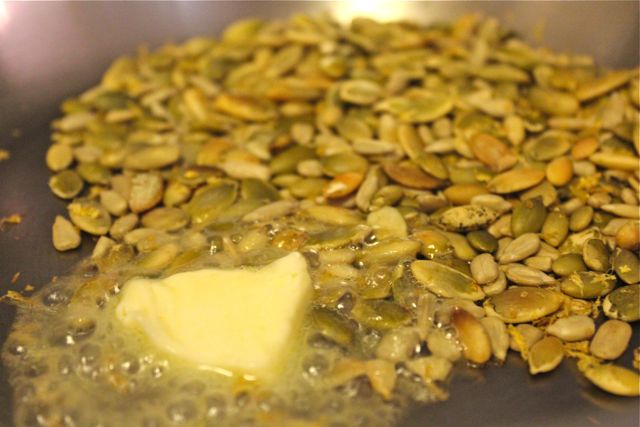 As soon as they start to change colour I like to add a bit of butter, well… for the flavour. As our kids have a love of lemon I add the lemon zest of one lemon and the juice of half. If I had my way I would give this a miss as it hides the butter flavour. Don't get me wrong I love lemon, but butter? well you probably understand. Set the nuts aside.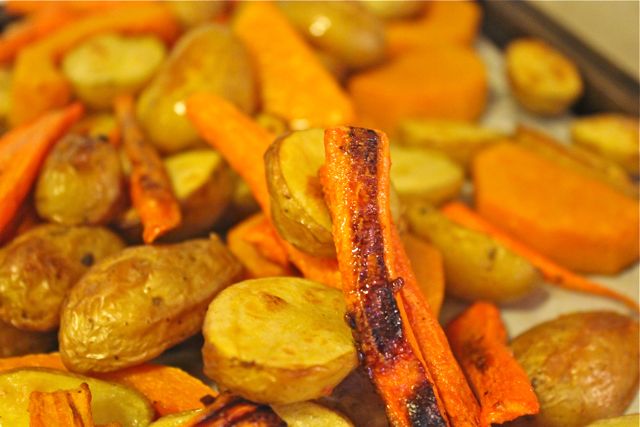 You should have some nicely browned potatoes, and carrots, the squash not as much. At this point I remove the potatoes, carrots, and squash and put the green vegetables on the top rack and put the broiler on for 4 mins to get a bit of browning on some of the green vegetables.
Once you have browned your greens send them all to the table and you're set. One other thing that is nice is to add a bit of balsamic vinegar to the yogurt for those who will appreciate it.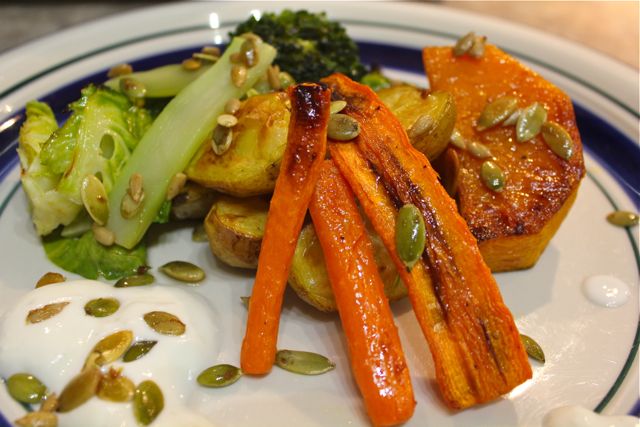 I find this meal just as filling as a dinner with meat, and the environmental and health benefits help this meal sit well with me.
Hope you give it a try!