I haven't joined Ginny's yarn along in a long time and here I am coming late to the game. I've been starting posts for months but finally am sitting down with serious purpose.
While blogging has been a distant dream these last months, knitting has taken centre stage as my late evening activity. I've worked on some sweaters, the annual hat stack for the little jays, and few pairs of fingerless gloves. Of course, despite best intentions, I did not manage to get through the long list of gift knits I'd planned.
Fortunately we're celebrating Christmas late this year with my parents and siblings who have flown in from the east coast. We snuck out of the big city and traded it once again for our favourite mountain destination. Amidst the many fun activities to keep us busy here there has most certainly been knitting.
I normally do my best to hide gift knitting while it's on needles but I'm racing with a deadline to finish my sister's gift. Fat chance I'll get it done in time but none the less I'm trying!
A couple months ago my sister spotted some yarn on instagram and fell in love with the colour (and perhaps the Doctor Who themed name…). I ordered the yarn and set to pattern searching. My sister has a soft spot for Hitchhiker's Guide to the Galaxy so after a little humming and hawing we decided on the Trillian shawl. I've had this pattern on my radar for a while and now that I've started it I've already got plans for the next one. It's beautifully simple (just my speed these days) and simply beautiful as the pattern reveals itself. I've decided I need to always have a largely stockinette project to grab when we're on the go and this fits the bill.
I'm going to enjoy this knit even as I hope to move quickly on it – I also have a colour affection shawl waiting on needles and the first clue in the follow your arrow mystery knit-a-long calling to me. January (and February and March…) are for shawls!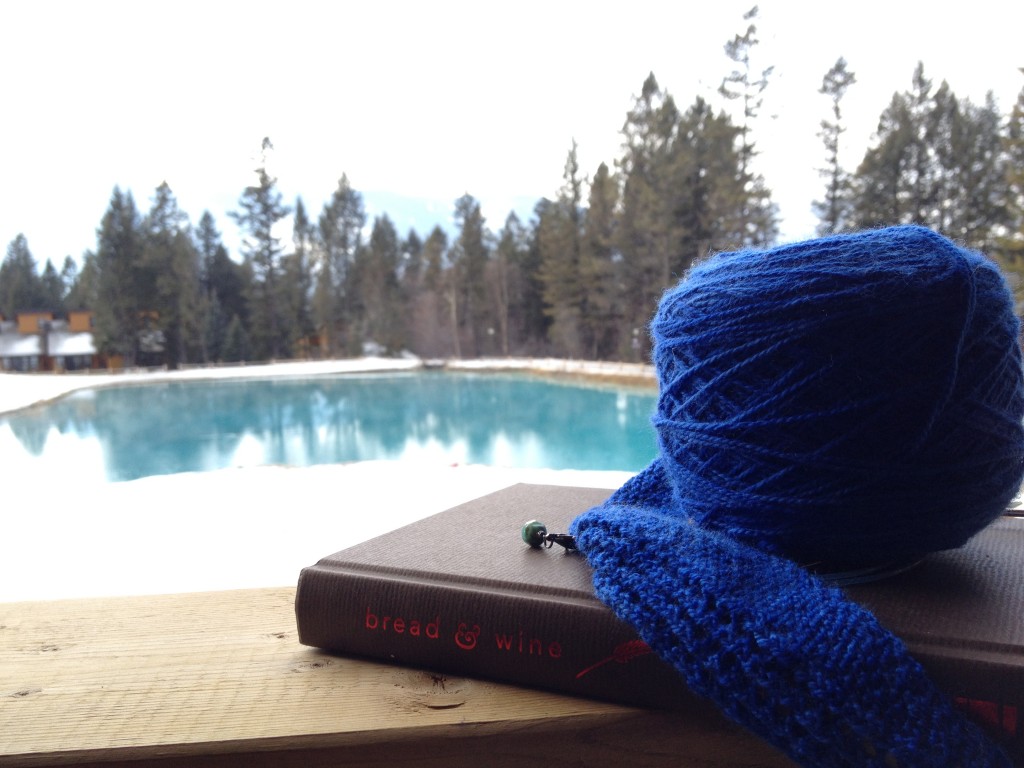 I haven't done much reading lately but when I do I love picking my way through Shauna Niequest's Bread & Wine. It was a gift from a thoughtful friend who knew I'd love it. I adore food memoirs and, between the stories of faith and friendship and the comforting recipes, I'm feeling inspired in more ways than one. As our family has grown (and our dinner table had not) we'd gotten away from sharing meals with friends – one of our most cherished events. We've recently invested in a larger table – no matter it doesn't fit our kitchen. We stopped waiting for the perfect farm table in a renovated kitchen and found an in-the-meantime table which which seats us all with room for more. It's time to get back to making memories around our table. Bread & Wine feels like the perfect accompaniment to this remembrance.
And now it's time for my needles to click again. Littles are enjoying special time with Grandma and Grandpa, dinner's in the oven, and there's a mountain view to feast on in the meantime.
::
Have you been crafting on these January days? What have you been reading?
joining with Ginny for yarn along