Every couple of weeks a banana escapes being caught by little fingers before it turns brown. I'm never very disappointed and add it to previous weeks' escapees in the freezer. There they gather until one of us is the mood for banana bread. Lately we've been in that mood a lot. Now we've run out of frozen bananas and Dan just keeps buying more each grocery visit hoping some will have a chance to brown up for this snacking obsession. It takes practically no time to throw together and makes a sweet snack at any time of day.
The recipe I use came by way of a friend's mom quite a few years ago and I've loved it ever since I first tried it. Over the years I've tweaked it a little to make it a bit healthier for us.
For a while I'd baked it in a cake pan to make it easier for little hands but I recently went back to the loaf pan and have found it makes for a much moister and lighter bread with an almost crispy crust. Also, although I generally use frozen bananas for this I do think it tastes a tad better with fresh (but still very ripe) bananas.
Banana Bread
3/4 cup sugar
1/2 cup plain yogurt
2 tbsp unsweetened applesauce (optional)
2 eggs
3 bananas
1 tsp vanilla
1 cup unbleached flour
3/4 cup whole wheat flour
1 tsp baking soda
1/2 tsp baking powder
1/2 tsp salt
Cream sugar, yogurt and applesauce (if using) in a medium sized bowl. Mix in eggs and vanilla to combine. Mash bananas into batter using a potato masher or pastry cutter. Add dry ingredients and stir gently to combine. Take care not to over mix the batter. Pour into a buttered loaf pan and bake for 50-60 minutes. Allow to cool for 10 minutes before slicing and enjoy!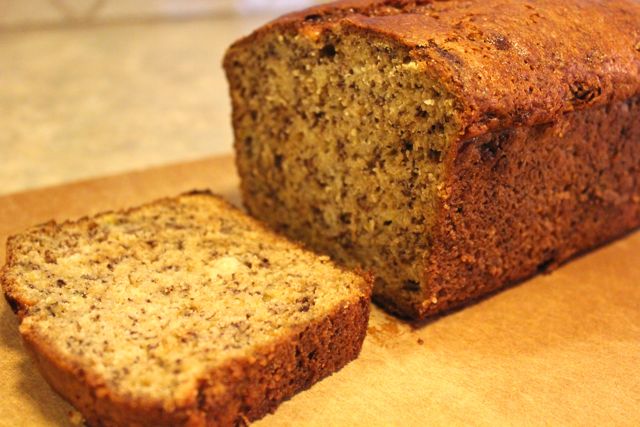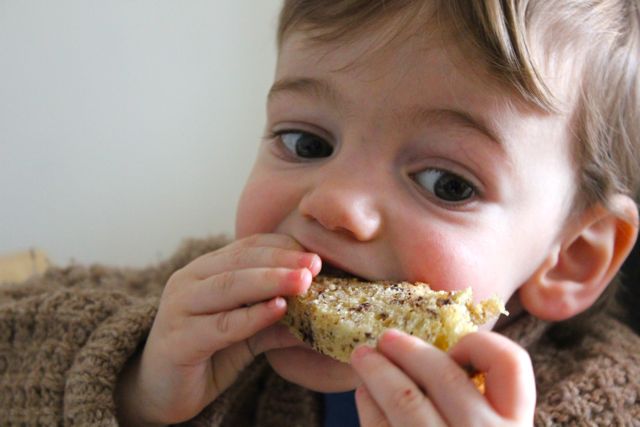 It's always a big hit in our house. Hope you try it in your yours!