The practice of gratitude is one I cherish and yet have forgotten too often as of late. I enjoyed listing my five gratitudes last Friday so I'm doing it again today. Feels like just the right way to begin a great weekend.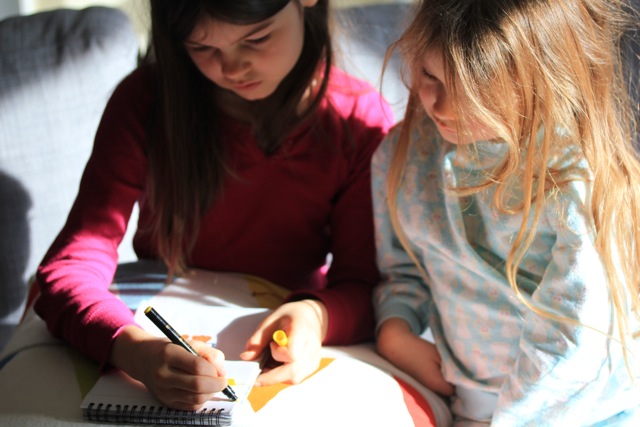 <> on the coldest of mornings the slanting sun to warm my warm my legs as I stand at the stove stirring porridge
<> that remarkable man who cleans vomit without gagging, builds makeshift beds on couches, and camps out with the flu sufferers
<> an evening tea and knitting date with a cherished friend, remembering what we're like without kids in tow, laughing, sharing, talking late
<> a little girl who recovered from the tummy bug with a new vocabulary – will never get over hearing those calls of "mama, mama" upon waking
<> two artists, heads huddled close, one creating despite her sore neck (all better now, thanks), the other enthralled while minutes stretch long
::
One last thing…I wanted to check in with those of you joining me in the water challenge! Our "end date" is on Monday when I will draw a winner in the water counter giveaway (get your name in the comments here if you haven't entered) – although hopefully this is a practice we will continue.
I've been keeping up with a ranging level of success. My 3L pitcher is a great visual reminder on the counter but some days I just plain forget during most of the day and play catch up in the evening. But gorging myself in the evening is hardly as effective because I end up flushing my system before my body has much chance to absorb nutrients. I've been finding that I occasionally still feel dehydrated (usually with a headache) even when I am filling my quota. I tried adding a little himalayan sea salt to my water but did not appreciate the flavour of softened water.
Then one evening when I was feeling miserable with headache, crazy fatigue, and dizziness (after drinking over 2L of pure water already that day), I remembered the coconut water I had stashed at the back of the fridge. I was astounded by how quickly and how well a few sips helped me. Headache cleared and fuzzy headedness lifted within a few minutes. While coconut water is not a replacement for pure water it is mineral rich and has electrolytes so it can safely and naturally help rehydrate the body. I will remember the coconut water in future!
How are you finding the challenge? Have you found it hard to replace other beverages with pure water? Have you found a good method of keeping track of your daily water needs? I'm curious to know how others are finding this habit to hydrate! 
If you missed my original post on the benefits of drinking pure water you can find it here.
::
Happy Friday all! I hope you find much joy and contentment this weekend! xoR