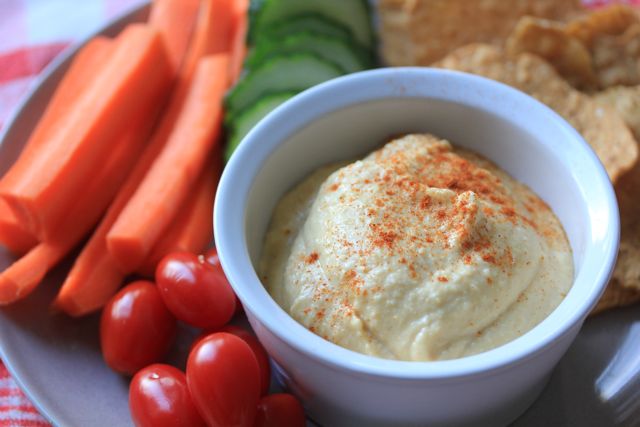 I am a very cautious person. Danger is not my middle name. No one would call me a risk taker.
That caution extends to the kitchen.
It's crazy, I know. Nothing ventured, nothing gained, right?! I've had numerous kitchen disasters which have headed straight to the garbage and I hate the disappointment of it. Add to that the already pretty constant demands on my time in this busy house and I end up doing a lot of foot shuffling before trying something new.
And then suddenly, usually after much deliberation, I dive in.
That's how I made hummus.
We love hummus. I eat it nearly daily  as my lunchtime cheese replacement. The kids scoop it out with rice crackers, I dip carrot sticks, Mira eats it by the spoonful. And, despite all the things we enjoy homemade, we buy it at Costco.
But I had a big bin of dried chickpeas I'd bought through our organic co-op begging to be hummus. They teased me from the storeroom, mocking me in my timidity.
So finally one evening I grabbed a load of them and let them soak over night. I ended up with a large potful of chickpeas awaiting their next life as hummus. A ridiculously large amount of chickpeas.
The end product is creamy, smooth, rich, and delicious, plus it packs a protein punch. Despite the child who suggested I "stop doing things homemade" after I made it, I will be making it again. And enjoying it. So there, chickpeas (and picky eaters)!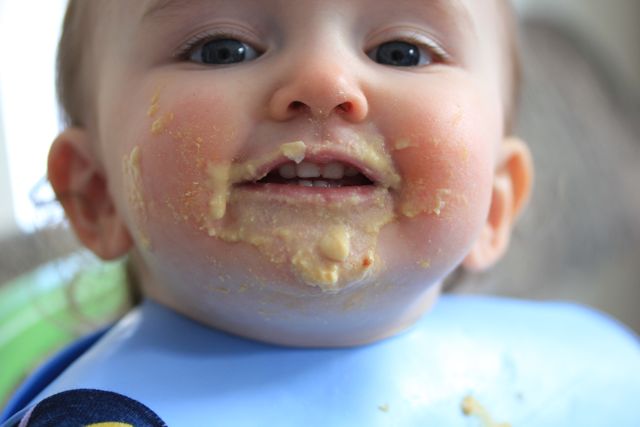 And Mira agrees. 
Roasted Garlic Hummus
Hummus can be enjoyed anyway you'd like it! We mostly eat it as a dip with veggies, crackers, or (my favourite) sweet potato chips. I made this quite mild in consideration of the little people I feed, but play with the flavours and find what you love. Cayenne, roasted red peppers, or lemon zest are yummy additions to try. 
4-7 cloves of garlic
3 cups chickpeas, either soaked over night or canned – reserve 1/2 cup liquid from either method
1/4 c. lemon juice
1 – 1/2 t. sea salt
3T tahini
1/2 cup reserved liquid from chickpeas or water
paprika, optional
Lay unpeeled garlic cloves on tin foil, drizzle with olive oil, and wrap with the foil. Roast for 20 minutes at 400 F. Once cooled remove garlic skins.
Place all ingredients, except the water, into a food processor or Vitamix. Once smooth drizzle in water to desired consistency.
Serve with a sprinkle (or more) of paprika and enjoy however you see fit.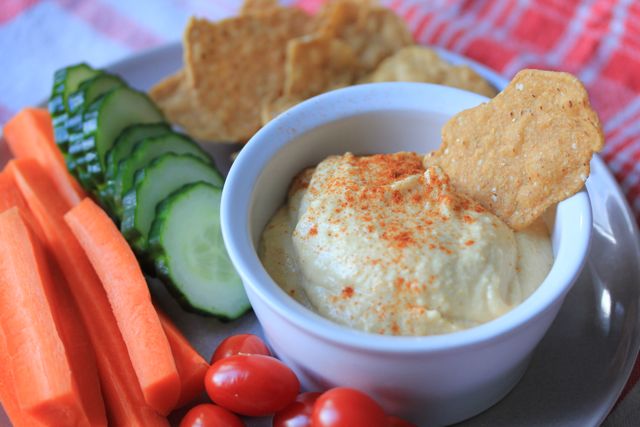 ::
Do you have kitchen fears? Tackle any of them lately? Or maybe you have a favourite healthy snack to share? I'm all ears!