Hey friendly people!
I wanted to check in on those of you who opted to take part in the water challenge. I've been so pumped to see how many of you have said you'll join me in this endeavour. Even Dan, who balked at my suggestion that he partake, has been carrying around a mason jar of water. He won't commit but he's been more mindful of it – while muttering about all the additional bathroom breaks.
I've been getting my 3L but I've been less careful about spreading them out. I just love a good, refreshing chug of water. Too much guzzling though and it will flush through too quickly so I'm trying to remember to sip more regularly.
My morning flush of 750ml is still my favourite part of this whole thing. I've learned quickly, though, that if I don't do it truly first thing I will forget. As soon as I carry that jar of water downstairs, I'm sunk (it is so hard to resist all these deliciously cheesy puns).
While I've been keeping track, I came up with what I'm hoping may be a helpful way to keep track of my daily water intake. Based on the idea of a row counter bracelet used for knitting (I've always got knitting on the brain), I made a bracelet to count units of water. Because I drink out of a 750ml jar, I need four units a day to meet my daily three litres. My bracelet has four larger beads – when I finish a jar I pass the elastic ring of small beads over the large bead. Pass all four beads and I know I've met my daily goal.
I've been wildly curious how you are all finding the challenge, and all the while thinking up a little giveaway for you dear teammates (it's not too late to join us). I thought it would be fun to send a water counter to one of you lovely ladies!
I'll chose a random name from the comments on this post and I'll make the winner a custom bracelet. I'll leave the giveaway open until the end of our challenge, February 4th, so any latecomers can jump in, too.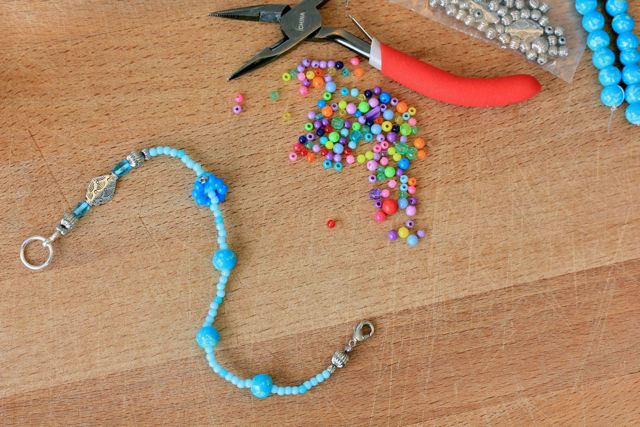 ::
And now, what I really want to know – how are you doing? What changes have you made? Is it harder than you expected? Easier? Are you surviving the bathroom breaks? 
If you're hesitating about joining us, please don't! This is a fun challenge to improve our health with this simple step of getting our daily water. Latecomers are welcome! No sticklers allowed, though, this isn't about feeling badly about ourselves but changing our habits.  We're all in this together!
If you're wondering what this is all about check out my original post here. 
P.S. Another exciting something – Corrie and I have cooked up a little game we're going to play every week. We're hoping you'll join us! The details are here and our first round begins on Thursday!