Hello, friends!
It's a new year, still fresh off the presses, and full of great promise.
One of my 2013 highlights actually began a little early, on the winter solstice. As I may have mentioned before, I joined the delightful Laura Emily's Apothecary Circle (Spring Equinox signup here). Surrounded by an inspiring group of women, I'm learning more about herbs and food that heal, and how to use them best. She's got lessons, recipes, and challenges lined up, and the support of the other women in the group has been astounding.
Insert the first challenge:
Water
I have a good relationship with water. I grew up near the ocean and across from a lake. I spent summers swimming whenever I got the chance. I still do, though the opportunities are fewer. I long for it, dream of it, yearn to be close to it.
But drinking enough of it – I'm hit and miss.
Poor Dan gave me a good reminder to keep at it when we were dating many moons ago and he suffered with kidney stones. When I was first pregnant ten years ago I became even more aware of the importance of hydration. And I've stuck at it – carrying a faithful water bottle with me nearly everywhere I go, and always to my bedside at night.
A few months ago, I began measuring my water intake by way of accountability while I participated in the 10-day fast and while I sorted through my pesky health issues. I learned that while I don't have much problem putting away a lot of water, I often plain forget to do it.
You know what that's like, right?
::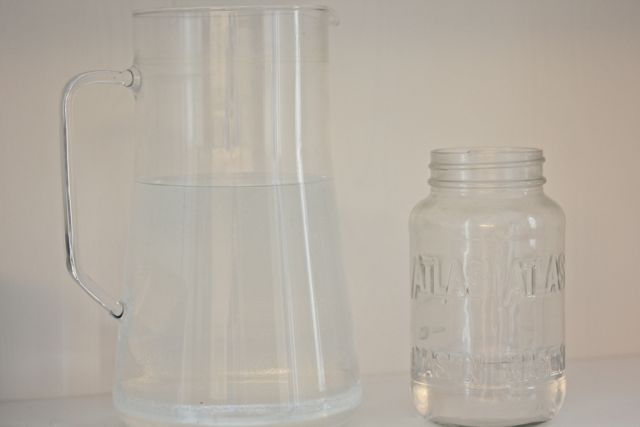 this jug holds my daily three litres, poured into a trusty mason jar I stay hydrated all day
So why all the fuss about water intake?
The benefits of proper hydration are manifold. Improved sleep, increased energy, weight loss, fewer headaches, healthier skin and hair, and better digestion. It can also remove toxins from the body and strengthen your immune system. Certainly more than pop or coffee can boast of!
When I've been skipping my water I feel it. I get headachy and cranky, not to mention sluggish. I find myself reaching for unhealthy snacks more often and craving sweets.
When I'm getting my proper dose of H2O I eat less – thirst can get confused with hunger. A glass of water before eating can help us know when we are truly full. It can flush down fat breakdown – a great reason to drink plenty of water when we are trying to lose weight.
my favourite water enhancers – great for detoxing, digestion, weightloss, and they taste great!
::
I'm no expert, but I know how I feel when I'm drinking enough pure water. I've seen the results and I'm looking for fellow challengers to join me in getting my intake consistent and habitual. Will you join me?
Here are some guidelines:
: 2.3L to 3L of pure water is ideal (that's about 80-100 oz) each day
: at least 2 L (about 64 oz) should be pure water – not even herbal teas or healthy juices
: be aware of caffeine – it depletes the body in more than just water (I've read all those articles saying coffee counts toward water intake but I know what even one cup of decaf does to my body so get your daily intake apart from caffeinated drinks). My rule of thumb has long been that for every cup of coffee replenish with two glasses of water
: pop, caffeine, store-bought juices do not count towards our daily intake – sorry to be a downer
: starting the day with your first 0.5 to 1 litre of water is huge – I add lemon essential oil (make sure it's therapeutic grade oil such as Young Living) for liver detoxing. Keep it beside the bed and grab it before the cup of coffee. And it helps knock out those 3 litres when you start with a big chug!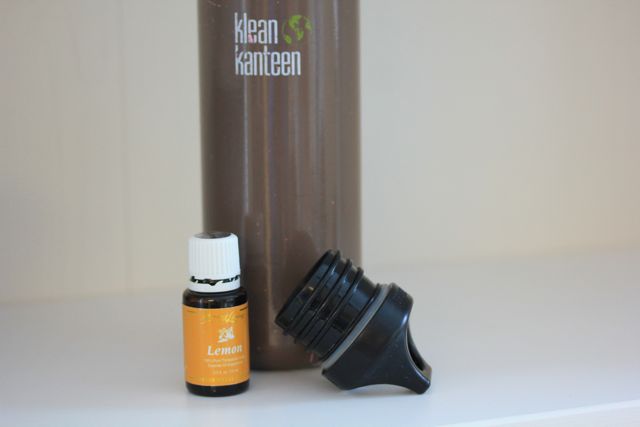 my trusty day starter – my first big gulp poured with a couple drops of lemon oil into my mason jar
: although the first litre can be chugged, the rest of the water should be spread through the day – drinking too fast can send it flushing through your body faster than is optimally beneficial (this is the hardest for me – I love to guzzle my water!)
: drink it how you like it – cold, room temperature, or hot – just try to keep to 2 litres of pure water before adding herbal teas or fruit/veggie infusions
: jumping from little water intake to our goal intake can cause some mild detoxing – headaches, fatigue, or wooziness – detoxing is good but take it at a healthy pace. To combat the detoxing try adding a pinch of salt (Himalayan Pink or Celtic Grey) to your water or a glass of coconut water.
:: don't overdo it – 3L of water should be enough for most people
: you may notice a significant rise in bathroom visits at first…bear with it, it'll balance out
: set yourself a reminder – an alarm, phone apps, sticky notes, do it with a friend – an established routine helps establish the habit
::
I haven't scared you off have I? I can't stress enough how much I believe in this. I've seen and experienced the change it can make it. I'm setting the challenge to extend over four weeks – until February 4th. If you're hesitant, try it for a week and see how you feel. If you have any questions I'll answer as best I can.
This is one of the easiest ways to improve our health in a big way! I'm cheering you on!
Won't you join me?
Leave a comment and let me know if you're in! I'd love the company!