This week has held moments of joy and moments of trial. When those moments of trial have hit I've been struggling more to keep my head up. But as I strained to climb mole hills which had become mountains, I finally remembered to chose gratitude.
It comes as no surprise to me, I've practiced gratitude before, but somehow I forget – once I start looking for moments of grace I see them everywhere.
As they've been writing themselves in memory this week, I decided to write them down here.
Five moments which made me stop and smile with a heart of thanks. Five moments sending me into the weekend with a happy heart.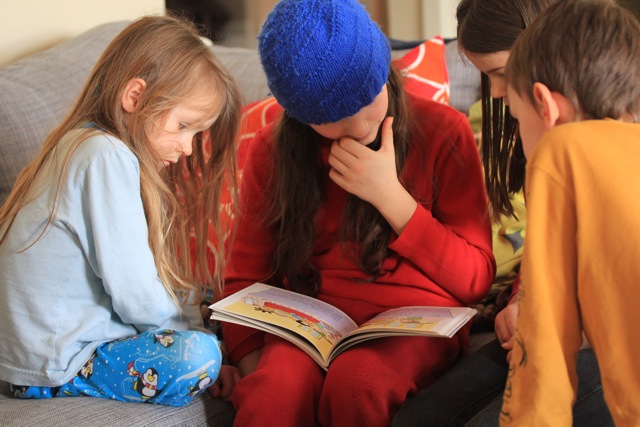 <> walking into the family room to discover five heads (one ducked for the photo) huddled together around a book while big sister read aloud
<> the discovery of a new variety of apple, a 20lb box landed in my basement, the taste so reminiscent of childhood
<> the tremendous joy and excitement on a 6yo's face when his new hat came off the needles
<> older siblings taking it upon themselves to work on alphabets and numbers with the little ones (while I took a nap no less)
<> stolen minute from dinner prep to stand out and look at the bright pale face of the moon, perfectly timed to watch flocks of geese eclipse the moon with their dark 'v'
::
And!!!
I nearly forgot! I have a winner to announce!
Thanks to the help of everyone's friend, random number generator, the winner is: Connie K.
Congratulations, Connie! I'll be sending you a note to get your info and your new project bag will be in the mail!
Thanks to everyone who entered and shared. I always have so much fun with a giveaway – I think I'll have to plan another one before my next anniversary!
::
Happy Friday, dear friends! I'm wishing you the best of the best for this January weekend! But before you head off to enjoy the moments – care to share your five on Friday? xoxo