So many projects on my needles this week and plans in my mind for more. We're heading out on vacation later this week – back out to visit the west coast and Dan's parents. Our last visit was quite the knitcation and once again I have the dilemma of which yarn, how much and which projects I want to plan for…and I haven't even started thinking about the books I'd like to bring.
This week I've been working on a bookmark, fingerless mitts and an unplanned addition, a scarf for myself. The Hurricane hats I was breezing through last week kind of lost their…force. I still have the two smallest to finish. As I was warned, the bookmark is slower going than I'd expected. It looks nice but because of the linen stitch it isn't the quick gift I'd hoped. It's small though and very handy to carry around.
The fingerless mitts are my slightly altered version of the sucky thumb mitts in the same blue so many of you admired previously. The pattern is simple and quick but I'm feeling very nervous that my wool is not going to last. I popped into Michaels to find another skein but they've changed the blue they stock so I'm out of luck if I run out. I decided to leave the one I'd started and knit the second on to the same point and that way make the most of the wool…in the meantime I'm hoping it won't be too strange to do the top ribbing in a different colour.
And the scarf for myself…well, it's lovely. I mentioned the accompanying KAL as well as the wool I'm using here (Dan would like me to clarify that KAL stands for knit-along). I'm in love with the soft and delicate alpaca and the pattern is deliciously relaxing. I'm so looking forward to having a wool scarf for myself. I'm already dreaming about the next one.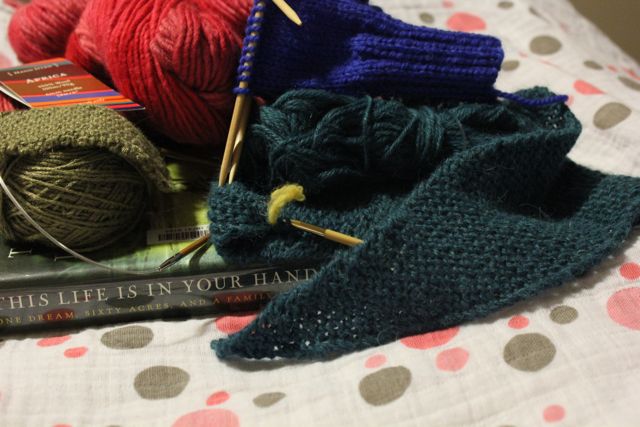 I haven't done much reading this week other than reading with the kids but I've read a little further into This Life is in Your Hands. I think it will be great once I get into it – so far my popcorn style of reading (a couple minutes here and there) has not given me that chance. Other than that I've been spending too much time browsing ravelry…oh the joys and sorrows of ravelry.
Oh, and that gorgeous raspberry coloured wool which jumped into my hands at the yarn store, it's Fleece Artist Africa from Nova Scotia (shout out to the homeland!!). I'm hoping to knit it into one of these for my yellow girl. Although it is not yellow, she also approves of pink.
:::
joining Ginny for another week of yarn along