I'm not finished with either my puerperium knitting or my previous read but I'm nearly there so I launched myself into new knitting projects with the promise of another good read.
I'm working on the Hurricane hats I mentioned last week. This blue one is shaping up nicely although the first one I made ended up too small. Oops. The pattern is great, though, and I don't mind the time I'll be spending over it while I knit six…we'll see how I feel once I'm on number six.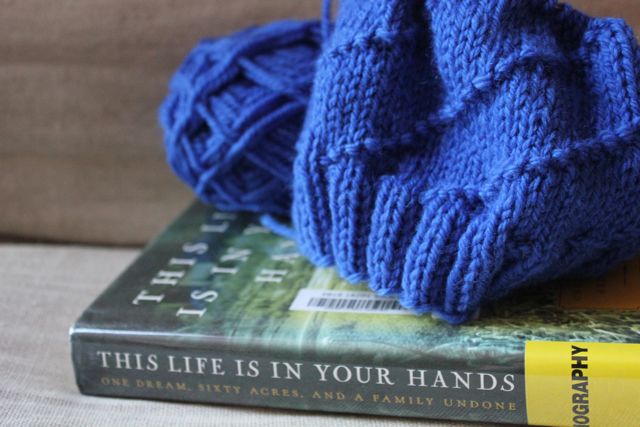 I'm still reading through Better Off and still thoroughly enjoying it (as I mentioned here) but as I'm nearing the end I've been thinking about which book to start into next. Sachi recommended This Life is in Your Hands and I was excited to find it at the library. I'm looking forward to reading another farming autobiography although I'll admit my mind has been wandering to thoughts of fiction. On that line of thought I borrowed The House at Riverton from a great friend. Let's see which title I get dug into before next week.
Are you enjoying any great reads? Has the move to September inspired any knitting or crocheting projects?
:::
joining with Ginny's yarn along at Small Things