Perhaps I've bored you all to tears about the diet I began back in October. I know I've bored myself (and surely dear, sweet hubby) with my complaints over giving up wheat and dairy in particular.
After the first miserable month of food detoxing I started to get the point of it. Especially when my candida flared up again after a string of Christmas cheats. A further check-up with the herbalist showed the diet has been working – clearing out the junk and setting things straight.
But I miss baking. Big time.
I think about it far too often. Especially bread dough. Did you know how much I love baking bread? More even than knitting. So multisensory, so delicious, so homey.
Snap out of it, Rachel.
Now that I'm feeling more myself, I've been finding my way around the kitchen again. I've uncovered and edited and enhanced recipes to work for us. And wouldn't you know, I've been photographing them to share with you.
The kids have taken the change to a wheat free lifestyle with incredible grace. I'm absolutely in awe of how easygoing they've been about the whole thing and grateful that Dan encouraged us all to take a break from wheat. But they have missed my baking as well.
Insert these muffins.
After more than a couple failed pancake attempts I discovered these muffins. I don't remember where I first found the recipe but I've changed it in so many ways that I now consider it my own.
They aren't much of a leap for us in the muffin department. In our kitchen, muffins are not of the sugar laden grocery store variety but whole grain nuggets, low in fat and sugars. These are just that but they don't trade down in the flavour department. They are moist, flavourful, and the sweetness is just right for us.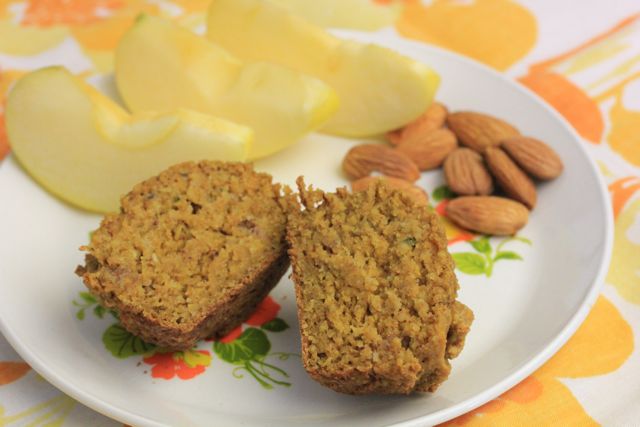 Apple-Carrot Breakfast Muffins
Dairy free, refined sugar free, gluten free. For grain free/paleo friendly muffins replace the oat flour with almond flour. For vegan use flax eggs or other egg substitute. 
yield: 18-22 medium-sized muffins
3 cups oat flour (I grind rolled oats for this)
1 cup almond flour (store bought or ground in a Vitamix or food processor)
1 tsp baking soda
1 tsp salt
2 carrots
2 apples, cored
3 eggs (or flax egg for vegan muffins)
1/3 cup almond milk (milk or other milk substitute would work)
1 t vanilla
2-3 Tbsp maple syrup (optional: I've forgotten and no one noticed)
Preheat oven to 350 F. Grease two muffins tins with coconut oil or butter.
Combine flours with baking soda and salt in a large bowl.*
In a food processor or Vitamix, puree carrots and apple (alternatively, they can be finely grated by hand). Either remove to a bowl, or continue in the food processor, adding eggs, milk, vanilla and maple syrup. Add liquids to the bowl of flour and mix to combine.
Spoon into prepared pan (I use 1/4 cup). Bake for 15-20 minutes – check for doneness with a toothpick.
*A note on grinding flours: I grind my flours in my Vitamix which has a very powerful motor. I think a food processor would work for the almonds and certainly for the oats. Just be careful not to over process the almonds – it can very quickly become almond butter. Unless you convert the recipe to purely paleo, the texture from processor ground almond flour should be fine enough.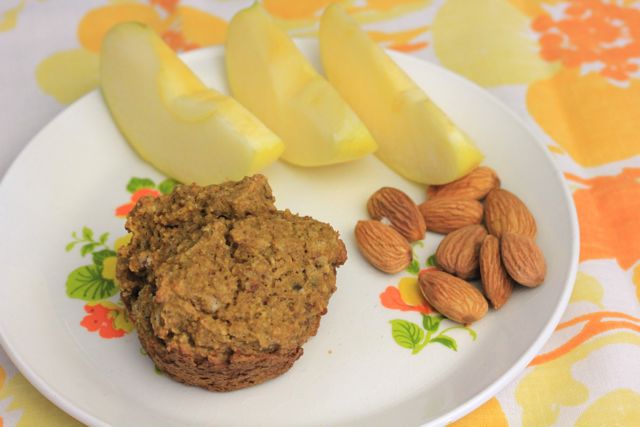 ::
Let me know if you try them! Do you have any favourite wheat-free recipes for me to try out?