Although I've spent more time baking this week (hooray for fresh peaches and cooler weather) than reading or knitting, I'm joining with Ginny for another week's yarn along.
I'm still working on my raspberry puerperium and enjoying the simplicity although I did lose a little steam when I realized how large it is going to come out. I've started to put a lot of thought into Christmas knitting so as a start I began a headband for Sarah. It's the calorimetry pattern and I'm using these notes to adjust it for her small head. It should be very quick and I think it will be the perfect thing to keep her hair out of her face. I just may get hooked and knit a few.
I'm also thinking about starting on the kids winter hats. Two years I knit striped hats for the kids specifically for our Christmas photos. This year I'm going to do it again using this pattern in each of their favourite colours. I figure I should get started on them sooner than later – last time I was finishing the final hat on the sidelines of the photo-shoot.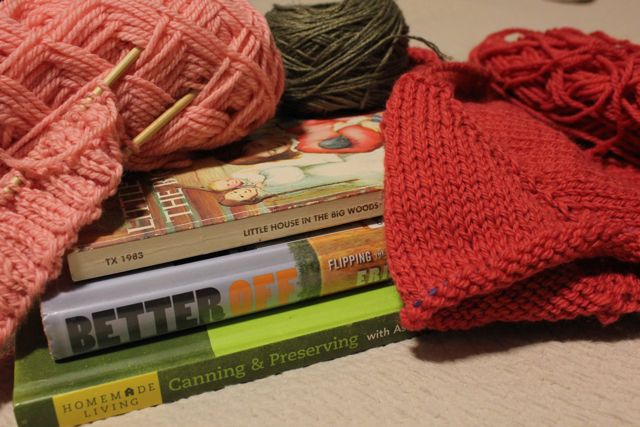 I'm still reading Better Off (slowly but surely) and enjoying it thoroughly. It sure adds fuel to my homesteading fire and has added one of these to my wish-list. I love the positive inspiration he shares. A previous read of mine, The Dirty Life, gave perhaps a more realistic view of homesteading but it felt heavy and negative at times. Although Better Off approaches the topics with a different purpose, I appreciate the balance if offers of reality and optimism.
I also have Canning & Preserving out of the library looking for some inspiring recipes to try during my canning marathons. I just peeked through it last night and while it doesn't include very many recipes it is chock full of how-tos and advice on putting food by.
The big girls and I are also reading through Little House in the Bog Woods. I've been trying to sell them on the idea for a while and received copious whining about how boring it would be. When we did finally get started on it, they were surprised at how much they enjoyed it. I was quite nice to be rewarded with, "That was better than I expected!" I was very pleased.
Now I'm off to enjoy a slice of pie and a movie with the hubby as we celebrate the last minutes of our anniversary.
Happy Wednesday!