We come and go with cookies. I love baking them but as we don't let the kids have many sweets they seem to stick around for a little too long. I am trying to loosen up a little and break them out during the mid-morning "Why do I have to do school?" lull. They help kids and they help mommies.
Oatmeal-raisin cookies are one of my favourites and rather to my surprise 4 out of 5 kiddos prefer them over the cranberry-chocolate version I make for my non-raisin-enjoying husband.
I give you fair warning that although I deceive myself into believing these are healthy (all those oats, right?), they have their fair share of buttery, sugary goodness. That's right, butter – no margarine in this house. If you are a margarine person, well, all I can say is – break. free. Your heart may not thank you but everything else will (ahem, thighs included).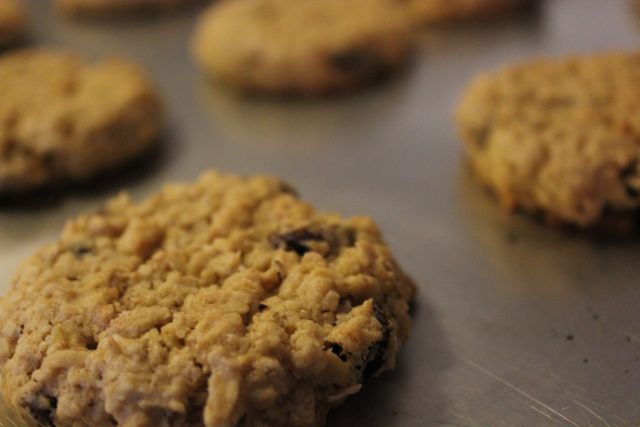 Oatmeal-Raisin Cookies
3/4 cup butter
3/4 cup brown sugar
1/2 cup white sugar
1 egg
2 tbsp water
2 tsp vanilla
3/4 tsp baking soda
3/4 cup flour
1/2 tsp salt
3 cups oats (I use 1 1/2 quick and 1 1/2 old fashioned)
1 1/2 cups raisins (or for the non-raisin-enjoyers dried cranberries and chocolate chips)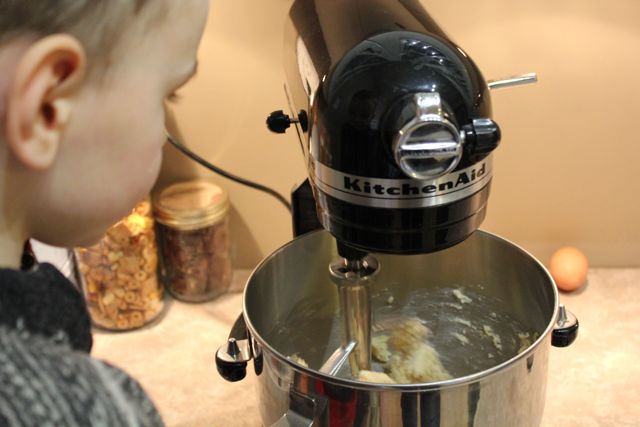 Using a stand mixer, hand mixer or wooden spoon, cream butter and sugar together. Pass the excited 4-year-old a bowl to catch his drool.
Once they are looking nice and fluffy, add the egg, water and vanilla. Give them a good mix around.
Disappoint this child by telling her the cookies aren't ready.
Break good mommy rules and give her some cookie dough.
Toss in the soda, salt and flour. Mix to combine.
Add the oats, again mix to combine.
Add the mix-ins of your choice.
Using an ice-cream scoop or large spoon, plop them on to your baking sheet – not too close and press them down with a spoon or the palm of your hand.
Bake at 350°F for 12-14 minutes. Be careful not to overcook them – the cracks will still look a little shiny.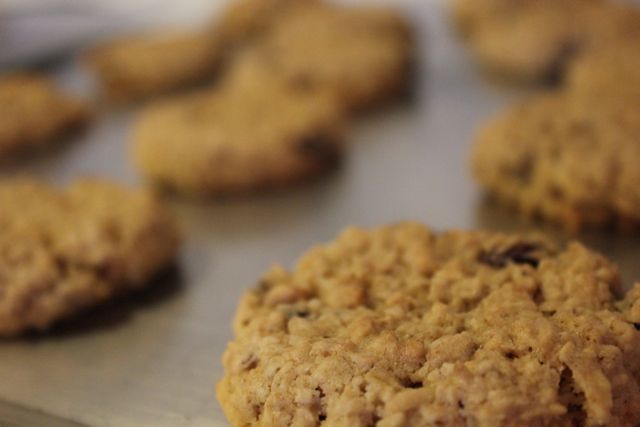 Delicious!