I missed yarn along last week while we were enjoying our snowy (and internet limited) vacation. While we were away I did not miss the opportunity to knit, though, especially during the driving time to and from our getaway.
As planned I got busy on a few pebble vests. After the first one, I moved on to a smoky pebble, now I'm nearly finished the third in teal. The first two are blocking in my bathroom, awaiting only buttons, but oddly the two supposedly identical vests came out very different sizes. The first looks about an 18-24mos size and the second closer to the 6-12 mos size I'd been aiming for. Same wool, different colour, both superwash – any of you knitters have a theory what happened? The first had an accidental extra few rows but the width has grown as well, and having knit them back to back I don't see how my gauge could have changed that much. It is very curious.
While away I'd also planned to start my Grace cardigan but as my poor planning would have it I neglected to knit my swatch before leaving the city. Once I knit it in our rural surroundings I realised I didn't have a needle small enough to get gauge. I bought the smaller needle over the weekend but last night's swatch measured just the same as the first. After hemming and hawing about it I decided to stick with the smaller needle rather than trying to find yet a smaller needle. It's risky but the cardigan has plenty of negative ease which I was a little worried about to begin with so this may even things out for me. (Is that making any of you pro knitters cringe? I need advice!)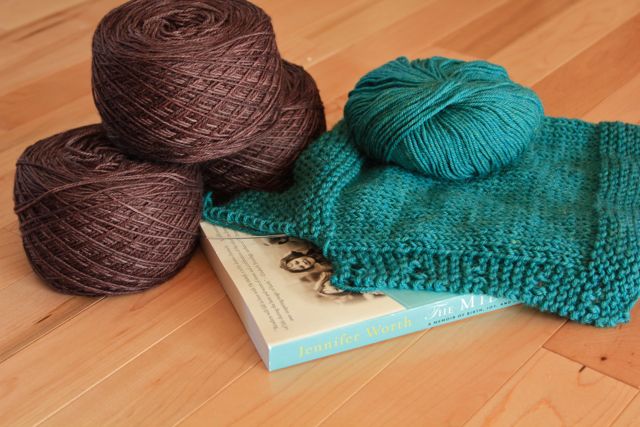 With the extra time to dive into my reading I finished The Secret Keeper. I found parts of this novel frustrating (particularly the unlikeable characters) but it bears sticking with to the end. It was worth it – the last few chapters had me glued to the pages, knitting forgotten in my lap.
Now I've moved onto The Midwife. I've been wanting to pick this up for a while and finally borrowed a friend's copy. I quickly got lost in the stories. This midwife's memoir from London's poverty stricken East End during the 50's is fascinating. At times graphic and tragic, it is deeply touching, heartwarming, and engaging. Some of the stories make me feel like I'm reading a Dicken's novel. This is the book behind Call the Midwife but I'm waiting until I've finished reading (and there are three more after this) before I watch the series.
::
Have you had a chance to get lost in the pages of a compelling read this week? Have you been busy with needles or hooks? Do tell what you've been up to!
:: joining Ginny for yarn along ::