The year had ended.
We're starting something new. The promise of today remains, returns, renews.
This time of year always puts me in a mood of reflection. Thinking about what the past year has been and what the new year brings.
Last January, I chose the word aspire as one I would hold to through the year. Not a list of must-dos but an inspiration to let go of obligation and soar – or at least try.
I think I kept the vibe going for the first few months but around April, and straight through to the end of the year, the word changed. Without my realizing it, and certainly without my welcoming it, the word changed to survive.  Until I started considering for 2013 I hadn't seen how it had changed, but survive sums it up pretty surely. Our (albeit short) move, followed by sickness, and then more sickness (this time in the name of detoxing) has left me straining to get through with some semblance of organization and peace.
There has been plentiful joy and love to share. I'm blessed beyond wildest imaginings. I'm thankful always.
But it's been a struggle.
When I began reflecting on a word to begin this new trip around the sun, one jumped right to the front. I've tumbled it around. Turned it over. Tested to see if there is anything else that wants to be heard. I wondered if just wanting this word was making it stand out.
The work that's been forming these months. The answer to many questions I've asked. The transformation that I want to see and share.
heal
It's the word that aches in me. The desire that speaks to me. The work that's had me holding on for life.
Emotional, physical, spiritual. In my person and in community. In solitude, fellowship, and family. To hold and to share. I deeply desire to experience my healing, I wait for the time when it comes prayerfully and expectantly. But more than that I seek to share healing. It's a promise that's been spoken over me, and I long for it.
And saying that, as I step back from that word which means so much, I see the word that has pulled me through over the last months. Heal is buried deep with the word of strength to trust.This frameword to all my life's words.
As I move into 2013 and embrace my intention to heal, I will strive to remember the structure it is placed within. The anatomy which all my movements toil to fit within: trust.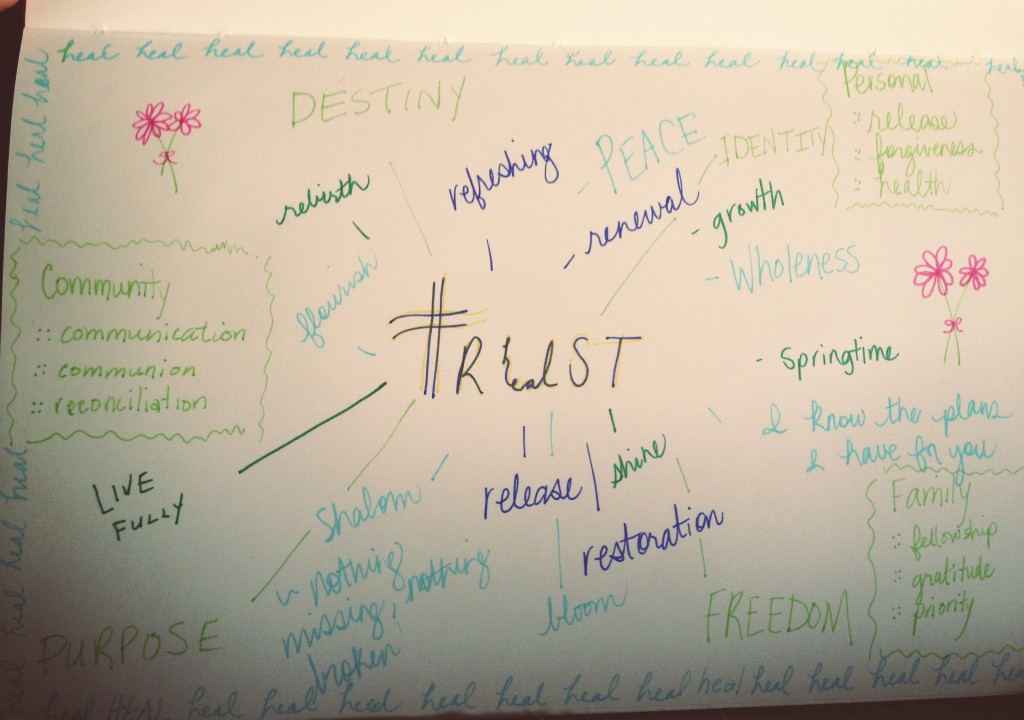 I'm holding onto my mandate to heal. Not with plans, determination, or goals, but with trust that healing is a part of this journey – to be received, shown, and shared. A hand held open in trust, the word heal perched on top.
::
And you? Have you pondered a word for 2013? An intention, a purpose, a vision? If so, please share. If you have been thinking over it and not settled yet, take time for the process. I'm always surprised how these things can come about. If you're looking for some prompts, MamaScout has shared some over here.
Happy New Year, beautiful souls!