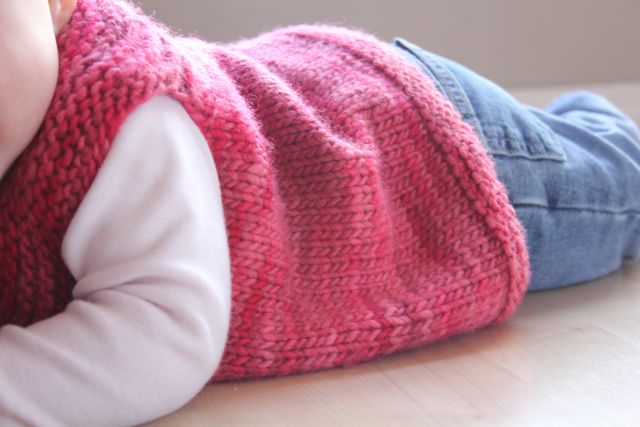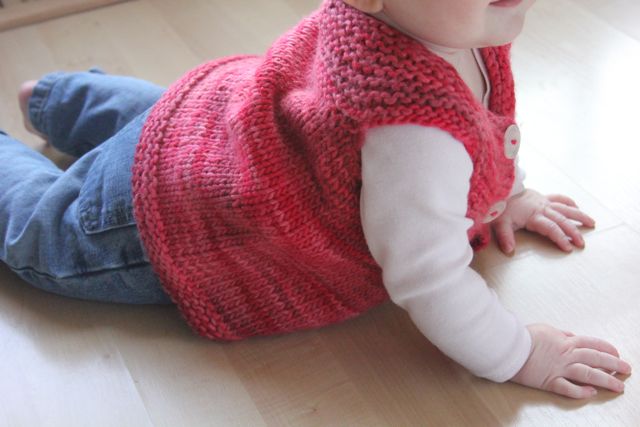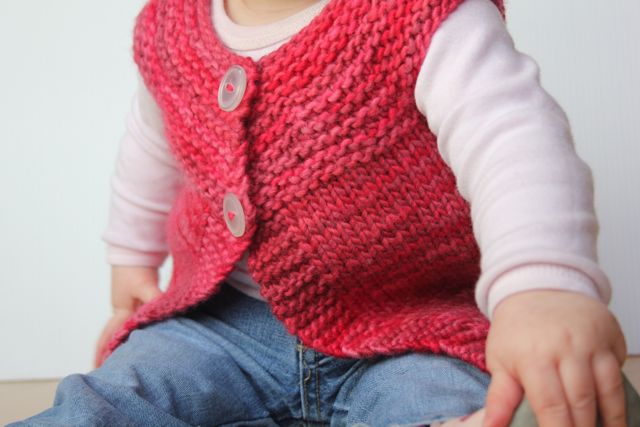 I got busy a couple of weeks ago and knit up a two sweet little vests. I knit the first one in pink, undecided whether it would be gifted or kept. I wasn't sure how the size would work out but after trying it on the little miss I decided two things: Mira is lovely in pink and I needed to knit a second.
Because as a sister reminded me, "it is better to give than to keep things".
The second knit up even faster than the first one – I was on a mission. It didn't hurt that I was looking for an excuse out of the more annoying projects I've left unfinished. Neither did it hurt that there were no sleeves to slow me down.
The second was knit in purple for a special little friend of ours. It is so darling on her. As if these girls weren't sweet enough already – I can hardly resist squeezing them in these chunky knits.
The pattern is plain vest by pickles. It's a wonderful and simple pattern. I love the garter stitch yoke and border. And as the lovely Pickles sisters always provide – one size of the vest is provided for free on their blog. This is the first Pickles pattern I've worked on but I have a whole host of their patterns in my ravelry favourites. How can I resist knits like this, this, and this.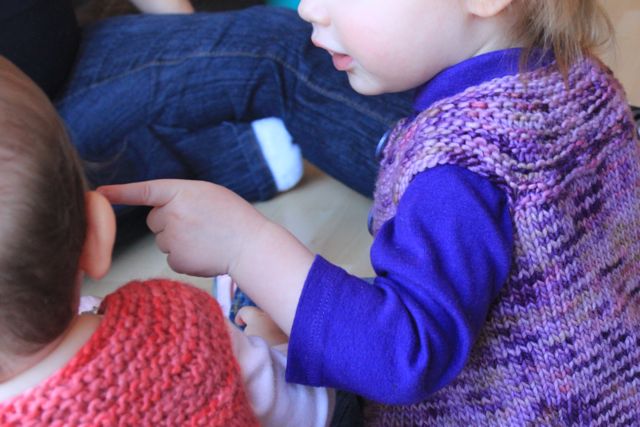 The pink vest is: Fleece Artist, Afrika (sadly discontinued) knit in size 1.
The purple vest is: Punta Yarns, Merisoft Handpainted Aran knit in size 2.
Ravelry notes here.
I love both of these wools so much. I'm very sad I will not be finding anymore Afrika from Fleece Artist, these were just a couple of skeins I grabbed on a whim last year. I'm hoping I might be able to knit another wee gnomey hat with my little leftovers. While not quite as chunky as the Fleece Artist, the Merisoft is also a favourite yarn. I adore the hand-painted quality and the single ply knits up so beautifully. The variations in colour are lovely. I've used this wool before in this knit and I will be looking for more projects for it – I have one skein left so I'm not breaking any stash rules…
I had originally bought the Fleece Artist for a larger version of the plain vest. A certain big sister is very pleased with this new vest just like hers. In fact all the siblings were quite excited that the two little sisters have matching vests.
Anything that encourages these little people to don their handknits makes me happy.
::
Have you discovered any new yarns you can't resist? Do you have a knit designer whose patterns you can't get enough of? Do share – you know I'm always looking for distraction from unfinished sleeves!