A couple of years ago we began a habit (perhaps a vice) of sitting down together to watch Saturday morning PBS. We stuck mostly to cooking shows with the odd This Old House thrown in. Sometimes a special breakfast was cooking, sometimes we were just finishing up our hot oatmeal. With a bigger family came busier Saturday mornings with errands to run and projects on the go, and how important are television watching habits anyways?
Well last Friday night as we were feeling rather under the weather (sadly, again) and frigid temperatures threatened outside, Elizabeth reminded us of our forgotten Saturday mornings. She bemoaned the loss of the cozy time on the couch together, snuggled under blankets and fighting over elbow space.
It was just the excuse we needed to stay in and cuddle up as the windchill of -30 C (that's -22 F) tore past the windows.
We cozied up and watched America's Test Kitchen which of course tempted us with Thanksgiving specialties. After drooling over the pumpkin pie and a quick show of hands on who was up for eating some, we abandoned the television for the kitchen.
The result was not disappointing.
We invited a friend to brave the elements and made a dinner of it – the pie that is. Who says pie is only for dessert?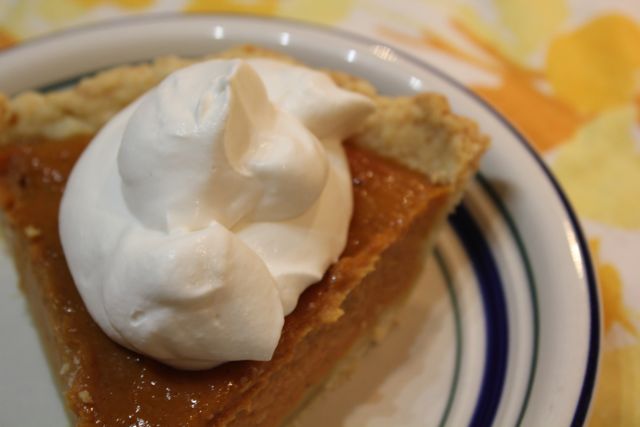 Pumpkin Pie, Not Just for Dessert
adapted from America's Test Kitchen
This makes two pies. Half the recipe if your family is less pie eager than mine.
This was the first time I prebaked a pumpkin pie crust and it was so much better. The crust was flaky but not soggy and the pumpkin was silky smooth.
dough for double pie crust (I prefer this recipe although I'm weaning myself off the shortening)
1 – 28 oz can of pumpkin puree
2/3 cup sugar
1/4 cup maple syrup
2 tsp fresh ginger, grated
1 tsp cinnamon
1/4 tsp nutmeg
1 tsp sea salt
1 cup heavy cream
1 cup whole milk
3 large eggs
2 eggs yolks
1 tsp vanilla
2 tbsp Grand Marnier, optional
For the crust:
Prepare crust using your favourite recipe and refrigerate for at least 45 minutes  (I often pop my crust into the freezer for 20 minutes or so when I'm in a rush). When the dough is chilled roll it out to an appropriate size for your pie plate – you should have enough width to tuck the dough up the sides of your plate without stretching it. Return to the refrigerator for 15 minutes. Trim excessive overhang around the edge of the pie plate, fold remaining lip under itself and crimp with a fork or fingers (this video may be helpful). Repeat with second crust. Refrigerate for 10-15 minutes until firm.
Preheat oven to 400° F and put a baking sheet on the bottom shelf of your oven. Cover the crust with foil and fill with pie weights or marbles. Bake for 15 minutes. Remove pie weights and foil, rotate pan and replace in oven for another 5-10 minutes.
While the crust is baking cook pumpkin, sugar, syrup, spices and salt in a medium pan. Heat until mixture begins to bubble slightly and continue to cook over low-medium heat until the mixture is silky and smooth – 5 to 10 minutes. While this mixture is cooking, whisk together cream, milk, eggs, vanilla and Grand Marnier (if using) in a small bowl. Remove pumpkin from heat and whisk in the milk mixture. Pass the pie filling through a sieve (sounds excessive but it made for a silky pie) and pour into two prepared pie crusts.
Place the pies in the oven for 10 minutes then reduce the temperature to 300° F and bake until edges are set (175° on an instant-read thermometer at the centre of the pie). It will continue to cook while it cools so be careful not to overcook.
Allow to cool fully for 2-3 hours. Serve with with a generous dollop of whipped cream.
The frigid temperature and covering of snow was just the thing to cool our pie off in time for dinner.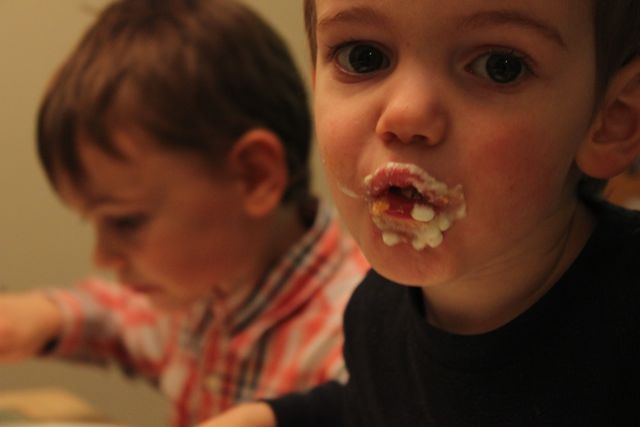 And just in case you were wondering, it makes a pretty perfect breakfast, too.
::
We've gone pumpkin crazy here lately. I've got a couple more pumpkin recipes I'm hoping to share here in the next little while. Tracey shared one this week also. How are you keeping your kitchen warm these days?