A few of you asked about the treats Liam was scooping out in this post so I thought I would share this most simple and delicious recipe.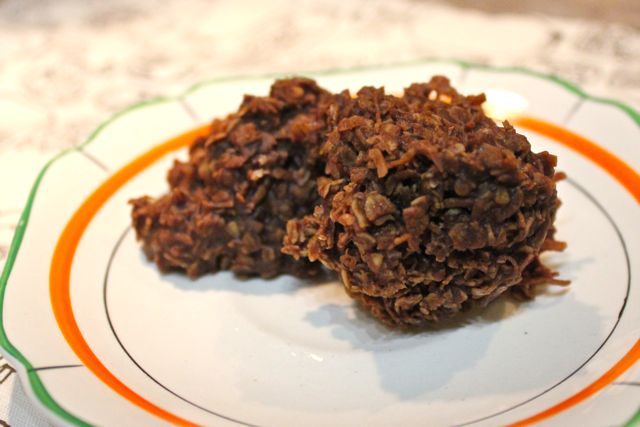 I'm sure many of you are familiar with it already but whether the recipe is new to you or not it bears repeating. These are one of my favourite goodies to throw together during the warmer months. They take practically no time at all to prepare and the kids love to help out with them.
These aren't rocket science rather they are a nothing fancy, no frills kind of dessert which never cease to please me…I'd say the only downside is my total lack of self-control around these little nuggets. I've been caught with my hand in the cookie jar before breakfast more times than I can count (one more reason this pregnancy thing is working in my favour).
I'm not sure what their official name is – I've heard many different titles applied since I first enjoyed them during my childhood. Call them what you will – haystacks, chocolate macaroons, mudpies or frogs I hope you enjoy them as much as I do.
Here's what you need for them. These are staples in my house – I hope, for your sake, that they are in yours also.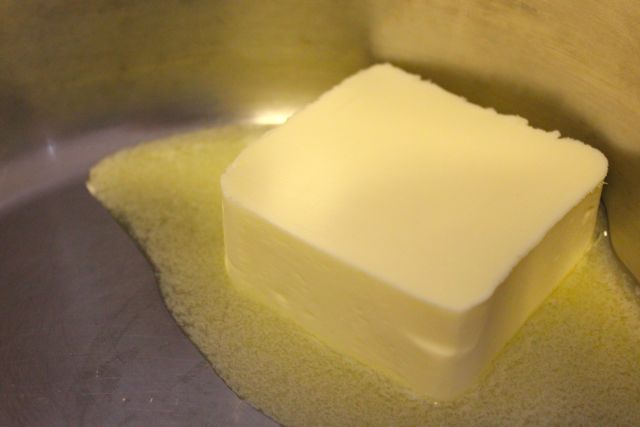 In a medium sized pot start the butter melting.
Whisk in the cocoa. These two are meant to be together.
Once the butter is melted pour in the milk and sugar. Whisk together and bring to a boil for two minutes. All of my pictures of this step are too blurry – probably because I just couldn't wait to get to the sampling part of this recipe.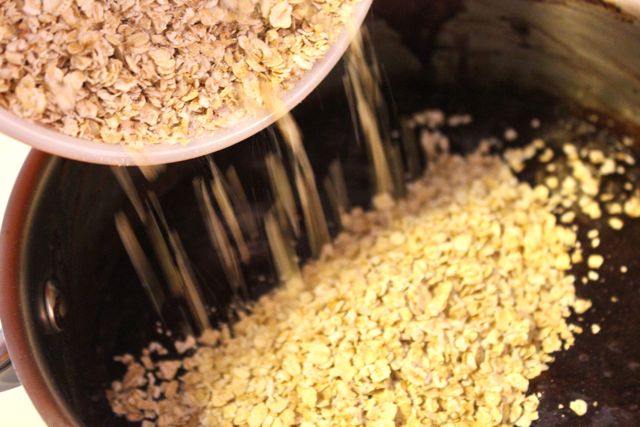 Remove the pan from the heat, pour in the oats, salt and coconut, and stir.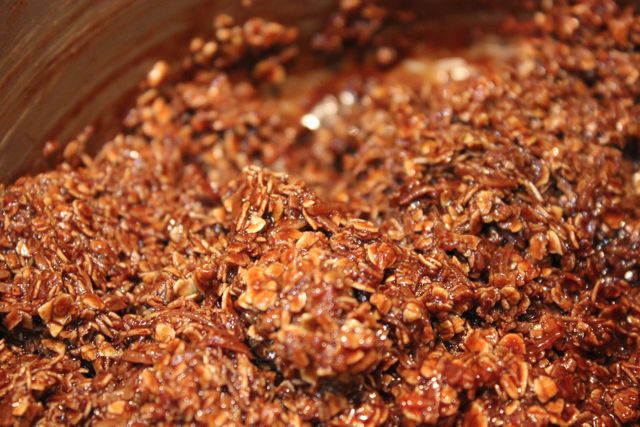 Mmm.
I like to scoop them out onto a baking sheet covered with wax paper (the baking sheet makes them more easily moved from fingers that just can't wait until they've cooled – like mine). They can be lumped onto the wax paper with an ice cream scoop, spoon or fingers. I use ice cream scoops for bite-sized and late-afternoon-mama-needs-a-pick-me-up-sized macaroons.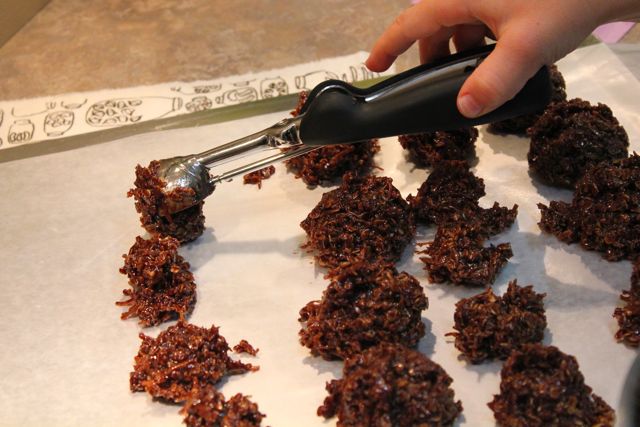 Don't worry about pressing them together too much – as they cool they will harden.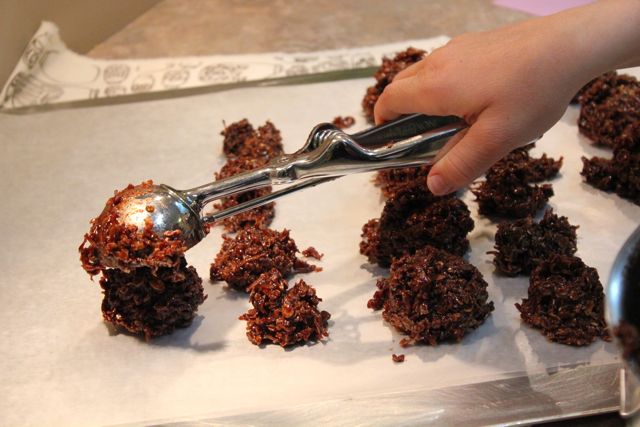 Little hands love this job. It's messy and fingers will need licking.
Let them cool or sample them warm.
No Rocket Science Macaroons
1/2 cup butter
6 tablespoons cocoa
1/2 cup milk
1 1/2 cups sugar
1/2 teaspoon salt
3 cups quick oats
1 cup shredded coconut (I use sweetened because I've already cut the sugar down from the original recipe)
In a medium sauce pan over medium heat, melt the butter and whisk in the cocoa. Whisk in the milk and sugar. Bring to a boil for two minutes. Remove from heat and stir in salt, oats and coconut. Drop by tablespoons onto wax paper. Allow to cool and harden before storing in a sealed container.
Do you remember these from your childhood? Have you tried any variations?