We buy peanut butter in bulk. From *gasp* Costco. It's big, organic, affordable and delicious but it is one heck of a thing to mix up owing to its natural status.
One of our sweet friends who works in a wood shop had taken a jar in to work to shake on the paint mixer for us. That worked beautifully but unfortunately sometimes there is a toddler who just must have peanut butter this moment, the new jar must be opened and therefore must be painfully and messily stirred by a helpful parent.
We try our best to mix well but every time we get to the bottom of one of these jars there is hard dry peanut butter which doesn't make the most appetizing (or willing) spread for our fresh (ie. soft) bread. This is when I remember to make a batch of peanut butter cookies – although after baking them this time I'm going to remind myself that these are just about my favourite cookie ever and deserve baking more often.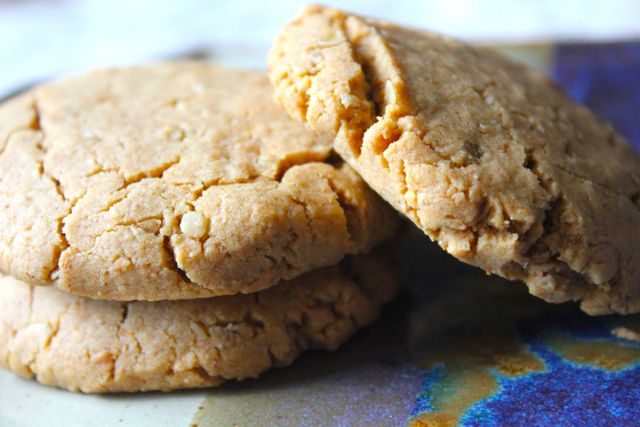 They are soft, chewy, not too sweet and reminiscent of a favourite cookie from my childhood…
…I just talked myself into nabbing one from the kitchen.
Gather this line up.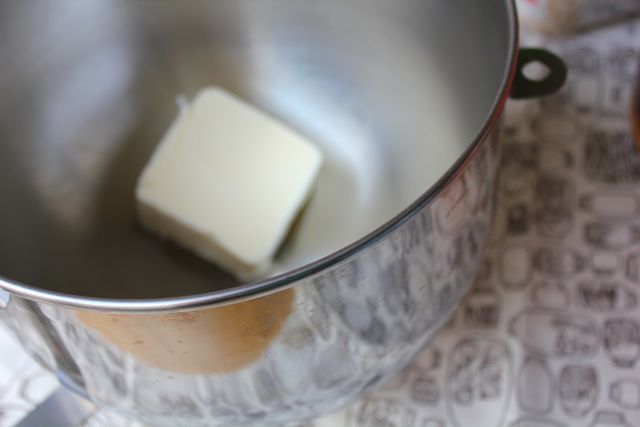 Hello, friend.
I give it a whip round in my mixer with the paddle attachment but a wooden spoon would work fine.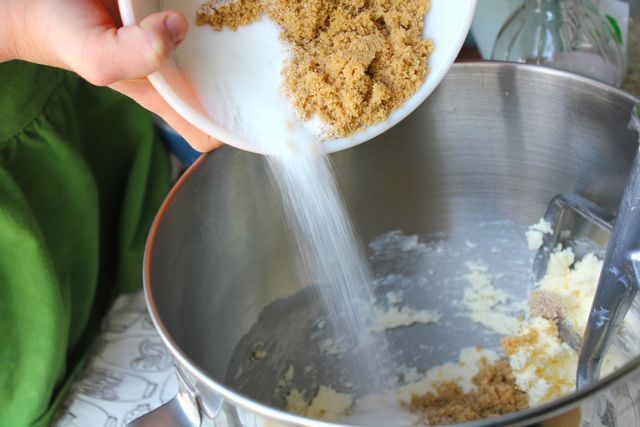 Add in the sugars and cream until fluffy and smooth – I had many willing helpers.
Add the peanut butter.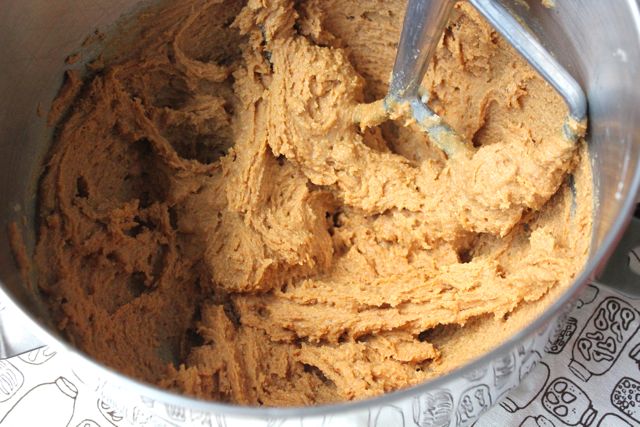 You may feel it couldn't get any better than this…but keep going, it gets better.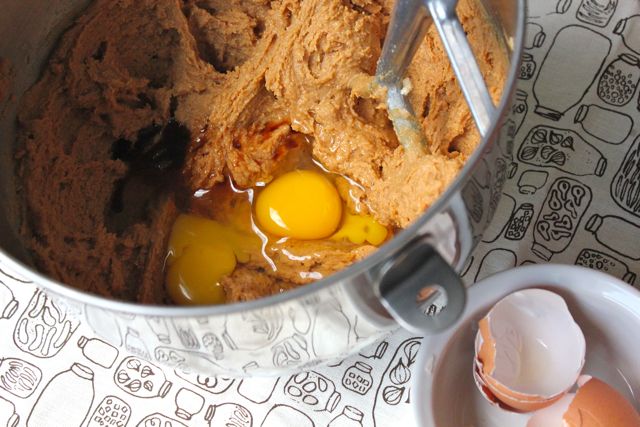 Add in the eggs and vanilla – mix until combined.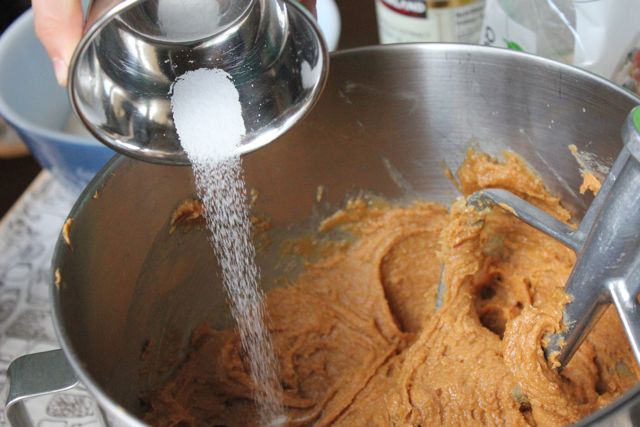 Add in the salt and baking soda…
…the whole wheat flour…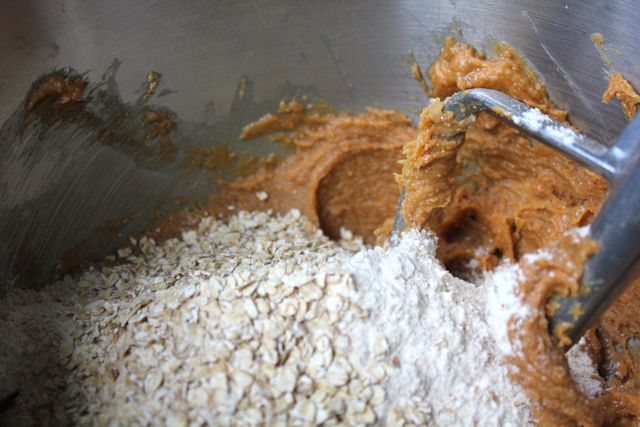 …and quite possibly my favourite ingredient in these cookies – the oats.
Once you've mixed them together you are ready for this. I pull out my handy ice cream scoop but a spoon would work as well – and, of course, that little crumb was sampled.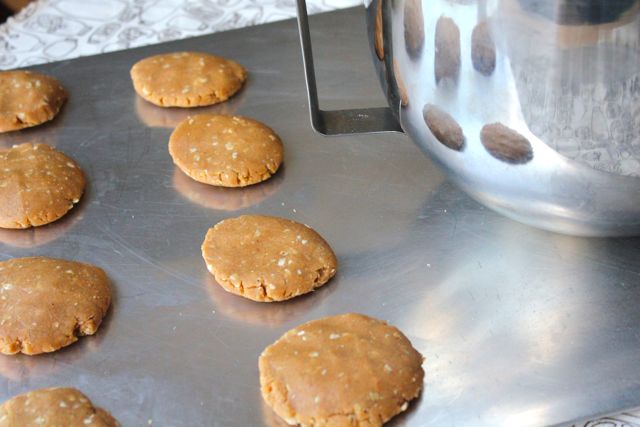 I use the scoop to measure them more evenly but they do need to be balled and flattened before baking.
Bake until they are just beginning to brown and still soft.
Peanut Butter Oatmeal Cookies
I make mine on the small size – better for little snackers – and get nearly three dozen out of a batch.
1/2 butter
2/3 cup white sugar
2/3 cup brown sugar
1 1/4 cups natural peanut butter
2 eggs
2 tsp vanilla
1/2 tsp salt
1/2 tsp baking soda
1 1/2 cups whole wheat flour
1/2 cup oats
Preheat oven to 350° F.
Cream butter and sugars until light and fluffy. Stir in peanut butter until mixture is uniform. Beat in eggs and vanilla. Add salt, soda, flour and oats to the mixture and mix until combined. Scoop out desired size, roll into balls and flatten onto baking sheets with a fork or the palm of your hand. Bake until cookies are just beginning to brown, are no longer glossy but are still soft – 12 to 13 minutes. Allow to cool and enjoy!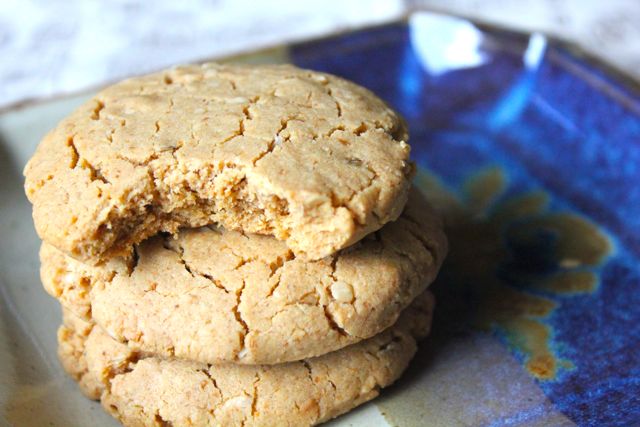 Cookies: 1 / Willpower: 0
That three dozen seems to disappear pretty quickly around here – ahem, I knew Dan didn't mind the oats.