There was a day this week when things were not going smoothly for me. I went to bed the night before with a to-do list as long as my arm and woke feeling pressured and anxious before stepping out of bed. If the start of the day was bumpy, the rest of it was downright rocky.
Nothing was getting done as I'd hoped, new to-dos were springing up at every turn, the house was a disaster and I was brimming with complaints. I don't know what was going on with me that day but I felt like I was under attack. Peace and gratitude were not in the picture.
Then I read this post at exactly the right moment (thanks, Lisa). I paused in my frantic rushing and looked around with grateful eyes. I picked up my camera and took pictures of the mess and realities that speak loudly of the blessed life I live.
It's not pretty but it is the truth – at some times a little harder to take than at others. I have no desire to show all our messes here – and I'm sure you'd rather not see them. But in the name of gratitude and truthfulness I've decided to post a little piece of reality here once a week. Likely just a single picture. And although I feel like I'm sounding a little lofty here, I'd like to add that I am doing this first and foremost for me because the reality is what so often makes this life beautiful and I hate to forget that.
I don't know how long I'll keep going with it but if you'd like to join me post a link or comment below. We all know that reality can be harsh but we're in this together right?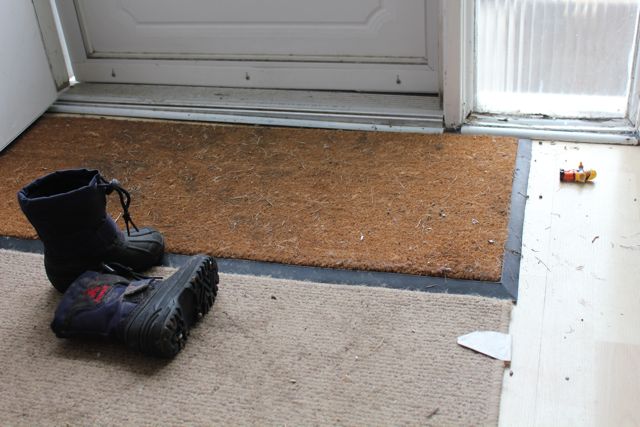 Today I'm thankful for the signs of spring across my floor, a door that does its best to keep the weather out and the sunlight the streams through.
Wishing you a week ahead full of peace, love, blessing and gratitude.