"Gratitude unlocks the fullness of life. It turns what we have into enough, and more.
It turns denial into acceptance, chaos to order, confusion to clarity. It can turn a meal
into a feast, a house into a home, a stranger into a friend. Gratitude makes sense of our
past, brings peace for today and creates a vision for tomorrow."
~Melody Beattie
In the name of gratitude and truthfulness I've decided to post a little piece of reality here once a week. Likely just a single picture. See my original post here.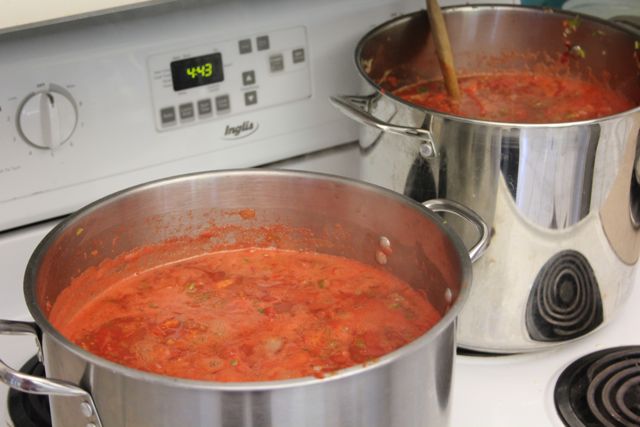 It was 22 litres of salsa. Peppers and onion chopped. Chilies painstakingly seeded and deribbed underwater. Tomatoes blanched, peeled, and chopped. Getting friendly in the pot with all the added goodies.
Suddenly the aroma turned bitter.
Did it burn? No, couldn't have, we've been stirring. My partner-in-salsa reassured me. I tried to believe her but the odour was getting worse by the second. I whisked both stock pots of burners. I wafted, I sniffed, I called in a second opinion. Finally, we tasted. Ugh! One pot was passable – we named it Blackened Chili Salsa. The other was a lost cause. We debated, deliberated, brainstorned – holding out hope for some miracle of salsa and burned onions.
Dan spoke the truth we were avoiding. It was beyond saving. We ate a bowl (masked with plenty of sour cream and tortillas) and each canned a jar in memorial (maybe I can sneak it by the kids?) then 9 litres went down the garbage disposal.
We processed the half we'd saved. Tried to make light and avoid tears. But we were hard pressed to get through the rest of the job as our enthusiasm faded with the day's light.
Then I pulled out the last jars after we'd cheered up a bit over dinner by Dan. One more casualty in this long day – a lid had somehow escaped. One more litre down.
Injury to insult, I tell you.
That's the story that needed sharing (and putting to bed). And the story that resurrected Reality Check.
And, as the tradition goes, I'm thankful for the friend who shared my disappointment;
smiles and meagre laughter as we felt so frustrated;
strawberry margarita's from the (mostly) sympathetic (somewhat humoured) husband;
the second pot saved only slightly scorched;
leftover salsa from last year to bolster my reserves;
my brave friend scrubbing dirty dishes and black pot bottoms;
and a good, healing cry at the end of the night, not about salsa, but certainly encouraged by it.
::
 If you'd like to join in with a reality check of your own, please add a link or note in the comments.