Oh it has been a while since I joined up for yarn along. Life has been buzzing along and taking me with it…But not without enough knitting to keep me sane during the process. It's been particularly during these snowy days of spring which will not melt!
I've been tempted to get distracted but these past weeks I've (mostly) stayed focused on my main project – the grace cardigan. The troubles I feared in my last knitty post were not unfounded. I had to shrink my needles down two sizes to get gauge and frog what I had done to that point. Now three weeks later I've made it, albeit with a few bumps, through the lace portion and now it's stockinette till the cows come home. (Sadly, I neglected to check for errata before I launched into it but with sock yarn on 2.75mm needles I decided to forgive the minor wobbles and continue on.)
A week ago I was anxious to get through the lace (watching new episodes of Doctor Who while knitting lace was not working for me). Now I'm having occasional panic attacks about the length of stockinette remaining. I'm not a short person – there is a long back to knit, followed by long sleeves. Goodness, it's makes me a little short of breath.
Lest I need to run in search of a paper bag I may just cast on a wee pebble vest (only my fourth this spring…) for a little lady who arrived a few weeks ago in this pretty wool from my stash. Just a little distraction from the tiny brown stitches.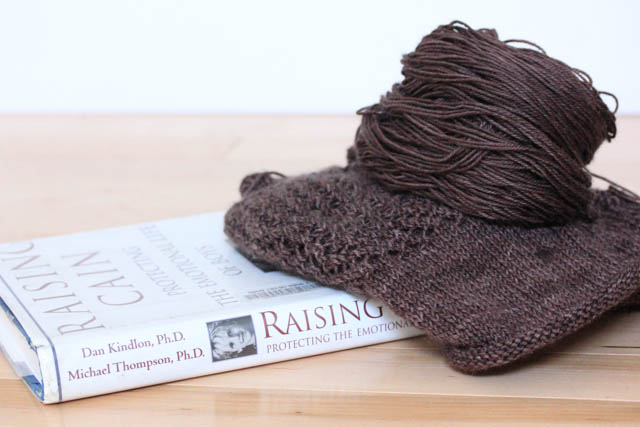 In between knitting sessions, and sometimes during, I've got two books on the go. Both interesting, neither quite as cheery or captivating as I'd like but they're keeping me out of trouble.
After enjoying Call the Midwife I started the second book by Jennifer Worth, Shadows of the Workhouse. It is an eye opening and at times upsetting retelling of stories she learned while working as a nurse and midwife in East End London during the 50's. Reading about families, and in particular children, sent into the workhouses and the brutality they faced there has been at times difficult. I do appreciate, though, how she writes with honesty and joy amidst the sadness of the stories she tells.
Also on my reading pile is Raising Cain, Protecting the Emotional Life of Boys. It was recommended by a friend and I'm just getting started with it. There has been a lot of discussion about the sensitivity of boys and their often unrealized emotional needs, and I agree wholeheartedly. In reading it I am looking for practical tools to help us work through the complex emotions of childhood so I'm curious to see what the rest of the book holds.
::
Have you been finding moments to craft and create during the busy days of spring? Are you reading a book you can't put down? Please share!
:: joining Ginny for yarn along ::