I've been a rather absent blogger lately but I can never resist a knitting post.
This week I started on a baby gift that I'd been thinking of – a pebble vest! I love the pebble pattern – quick and simple, and very sweet. I don't tend to buy superwash wool but I recently realized the silliness of gifting a baby knit that needs washing by hand. Unless the mama's a knitter herself I decided to try some superwash options. I had a partial skein of cascade 220 leftover from the most recent mittens (after the realization that my kids do better with washable mitts…). Of course I ran nine grams short so I was thankful that a quick yarn shop visit fit into our busy errand day over the weekend. Another skein came home to finish the job (along with a couple other colours). Now I'm all set for pebble knitting marathon!
(Knitting with the cascade on size 7 gave me a 6-12 mos sized vest, ravelry notes on the cinnamon hearts vest here.)
Before casting on a second pebble though, I started on a quick pair of fingerless mitts for Liam. Very much like the mittens I made him a couple of weeks ago, these will be perfect for the warmer weather we've been having when fingers need to be free to dig in spring mud and gather all the treasures revealed under melting snow.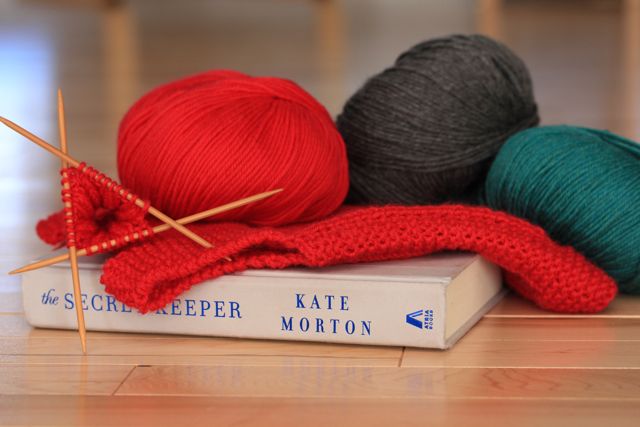 I've stolen a few moments of reading over the past week with The Secret Keeper. I have to say I'm not enjoying it nearly as much as Kate Morton's previous books – these characters just aren't capturing my emotions. I'm sticking with it to the end though – the story has captured my curiosity enough for that. I'm also willing to assign blame for the way I'm toddling through this book – a couple pages here and there – I need a couple of hours to dig in and finish it.
::
We're heading off to the mountains for our annual retreat in a few days. Dan and the big kids are excited for ski days, I am looking forward to lots of knitting and reading with the little ones in our winter rental. I've got to finish more meal prep and decide just how much wool to pack so I'm off!
Are you working on any crafty projects? Any book titles to suggest for my trip? 
Thanks for stopping by – I'll be back tomorrow for the lexicon project!
:: joining Ginny for yarn along ::