It would appear that all my big talk about the fun we get up to for Valentine's Day was misspoken. Or at least lofty ideals because everyone got a touch of a cold which was joined for the wee babe with the business of growing teeth.
We're feeling better and getting back on track, and while our plans changed I did have time for what has become a bit of an obsession for me lately.
Before Christmas I filled my cart at Mountain Rose Herbs, adding a list of handmade body care products to my giving wish-list. Well that wish-list went the way of the dodos but my box of goodies awaited patiently for me to dive in.
I checked this book out of the library once more, ogled the recipes here, and decided to try this recipe. I picked up this heart-shaped silicon mould from my favourite Swedish superstore hoping it might be perfect for a few Valentine's Day goodies.
I had this hesitation that it was going to be a big messy disaster but it was so very simple. And lots of fun.
Rosy Lotion Bars
I infused my almond oil with 50 grams of dried rose petals to add the floral scent but almond oil works whether it is infused or not.
3 oz. sweet almond oil (or other carrier oil)
3 oz. beeswax, pastilles or grated
3 oz. shea butter
50 – 75 grams of dried rose petals (optional)
15-20 drops of essential oils: lavender, orange or others, as desired (optional)
silicon mould or other
For infused oil: In a double-boiler, or as I used a heat proof bowl over a pot with one or two inches of simmering water, combine the oil and flowers over low heat. Stir occasionally while allowing to steep for two hours. Let the oil cool then strain through a very fine strainer or better yet through cheese cloth so you can squeeze out as much oil as possible. 
Over a double boiler or as described above, combine the oil and beeswax. Stir while the beeswax melts, once melted, add in the shea butter. Stir until combined and remove from heat. Allow to cool for a short 2 0r 3 minutes then stir in any essential oils you may like to add. I added some orange and lavender oils. Pour into a silicon mould and cool fully before removing from moulds. I popped mine into the freezer to harden. Keep them in a cool place.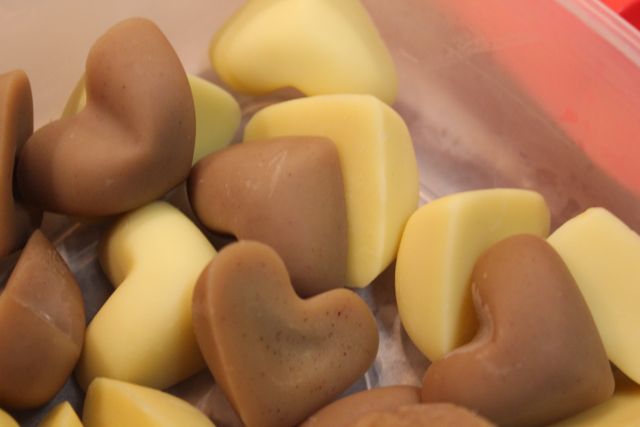 Choco Lotion Bars
After trying the rosy variety, I thought a chocolate version was required. These are almost delicious enough to eat. 
3 oz. sweet almond oil, or other carrier oil
3 oz. beeswax
3 oz. cocoa butter
1 tsp. cocoa (unsweetened)
As for the above recipe, melt oil and beeswax together over a double boiler set over medium-low heat. Add in cocoa butter until melted completely. Remove from heat, whisk in cocoa and pour into moulds. Allow to cool fully before removing. Keep cool until you're ready to use.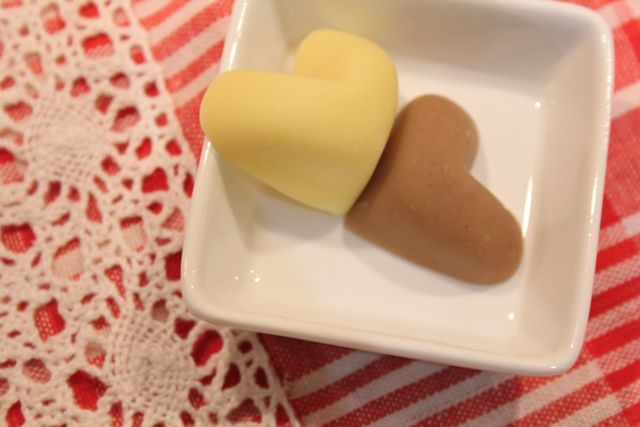 I'm planning on gifting some of these along with some more edible selections for the upcoming holiday. And of course, a few will stay here in the soap dish to rub over freshly cleaned hands to soften the dry skin of winter, washing, and wear.
::
Have you cooked up any special goodies for Valentine's day giving? Have you tried lotion bars before? Any tips I could use for the next time?