Dan's sharing another of his culinary creations – so happy to be a benefactor!
I have just finished preparing this desert and I already can't wait to eat it, even after numerous samplings from the dirty bowls.
I'm somewhat nostalgic about chocolate mousse. I have memories of eating this wonderful dessert at one of my parent's favourite restaurants as a child. It was usually a special occasion that brought us to the restaurant and I think this may have added to my delight of the dessert, or it could just be one of the best desserts ever invented. I don't know how the mousse of my memory was made but this is my take.
I usually make this once a year and since Rachel has been asking me about it lately, I thought I'd better get to it as it has been too long. This version uses simple ingredients and it is fairly easy to put together. There are more complicated methods that involve eggs, but I confess that I have yet to attempt them because I am happy with the way this one turns out.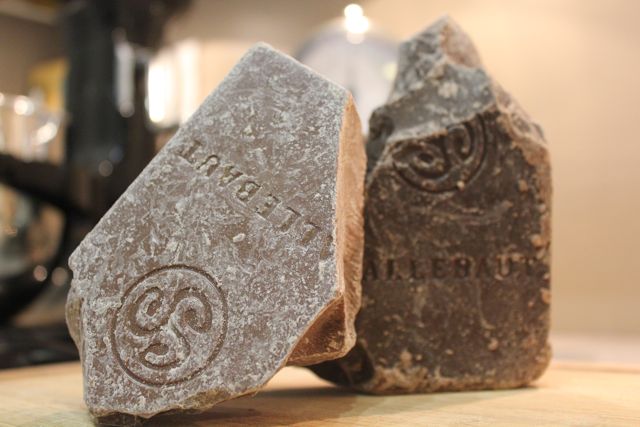 This is a small dinner party size – it is more than enough for our family and one or two guests. As we happen to have a couple of friends coming for dinner tonight it works perfectly.
Cheater's Chocolate Mousse
I use Callebaut chocolate as I think it is one of the best, feel free to substitute a different chocolate but remember that the quality of the chocolate you use can make or break the dessert.
4 cups whipping(heavy) cream plus 4 oz.
8 oz dark chocolate
8 oz milk chocolate
2 tablespoons Grand Marnier liqueur
3 tablespoons Kahlua liqueur (if you don't like either of these substitute a different liqueur, Irish Cream works great, or omit the alcohol and replace with cream)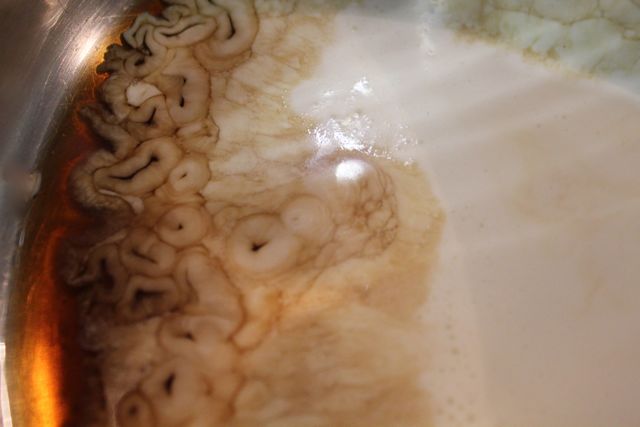 Prepare two pots, one for the milk chocolate and one for the dark. Add two ounces of the cream along with the liqueur of choice into each of the pans. I pair the Kahlua with the milk chocolate and the Grand Marnier with the dark.
Chop up the milk and dark chocolate separately.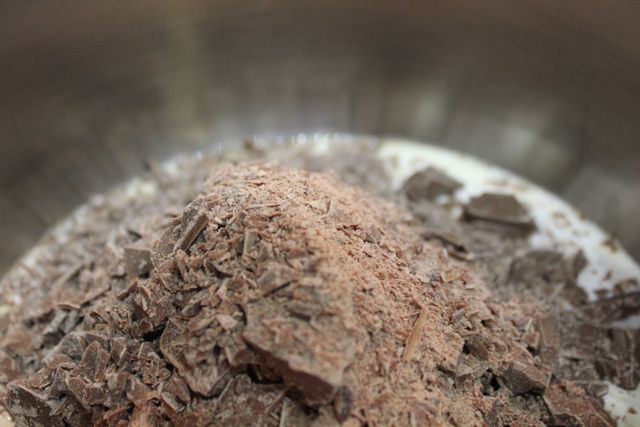 Then add each to its own pot. Turn the heat on to medium low and stir occasionally to avoid burning the chocolate. Mostly anytime you melt chocolate you should use a double boiler but because of the cream and the liqueur you can get away with just the one pot – saving yourself some dirty dishes. Melt the chocolate until smooth, this should take about 4-5 mins.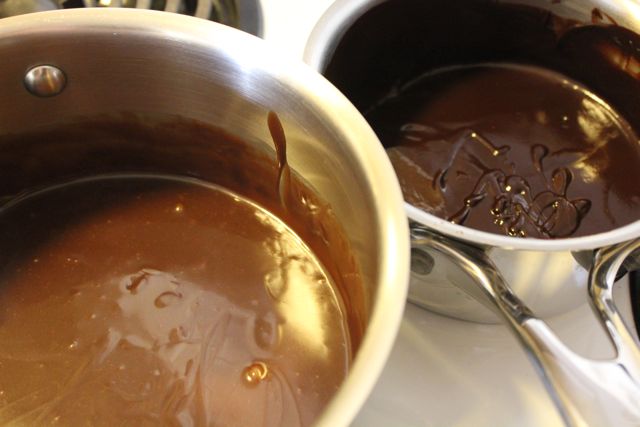 Once they are melted remove from the heat and set aside.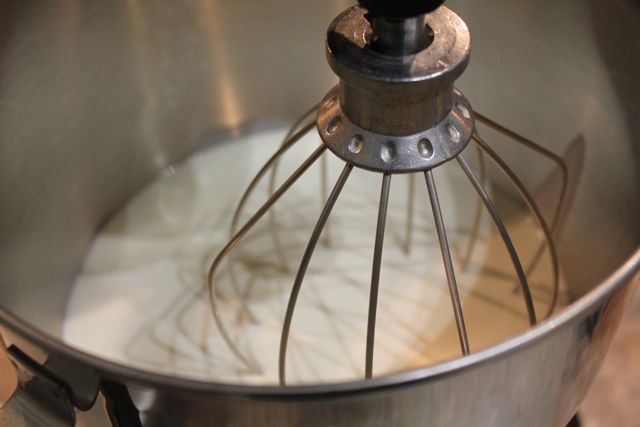 With a stand or hand mixer whip the cream until it forms stiff peaks.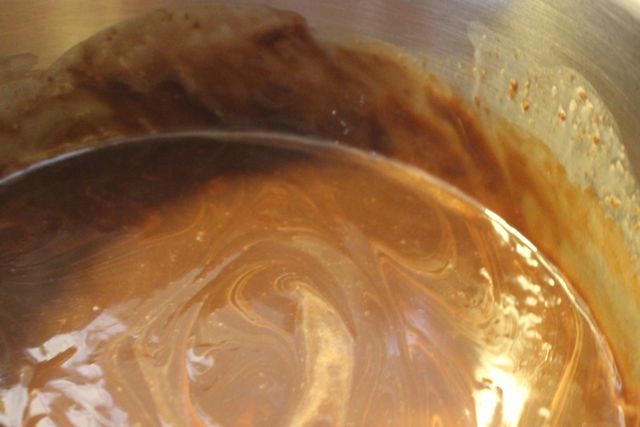 Once your whipped cream is ready divide evenly into two mixing bowls. Add a spatula full of the cream to each of the chocolate pots and mix until smooth. If you skip this step and pour the chocolate directly into the cream you may get little chunks of chocolate in your mousse.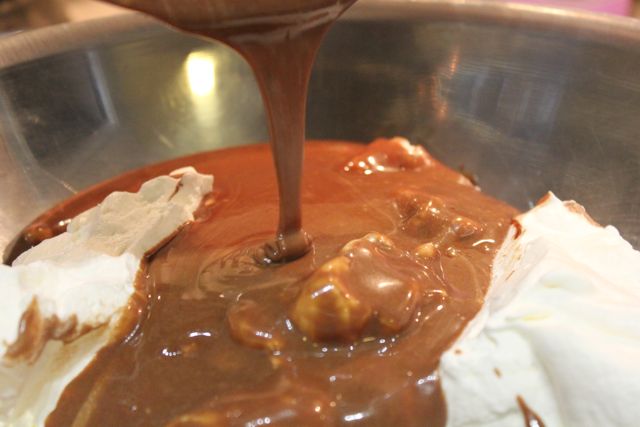 Pour your dark chocolate sauce into one of the bowls of cream and gently fold in until fully incorporated. Don't rush this part and start stirring or the mousse will lose some texture in the final product – my impatience has been a downfall on many occasions!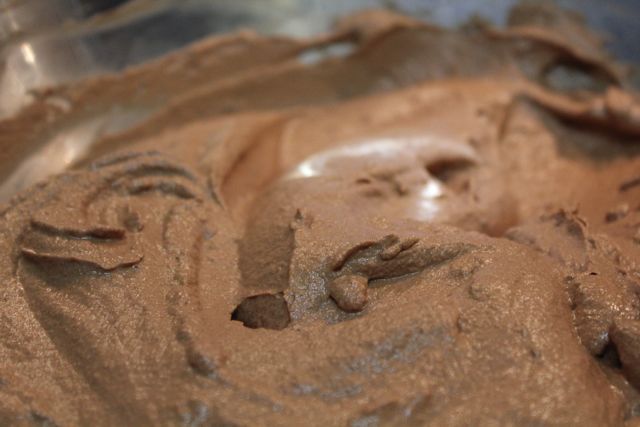 You should have a mixture that has no white or dark streaks and is nice and fluffy. Repeat with the other chocolate sauce.
Now for the presentation.
I use some "nice" IKEA goblets to layer the mousse into, I also have some ramekins for when I run out of glasses.  The glass sure helps with the look of things but this is purely optional. Do make sure when you put your mousse into its dish that you gently tap it on the bottom to let the mousse settle a bit.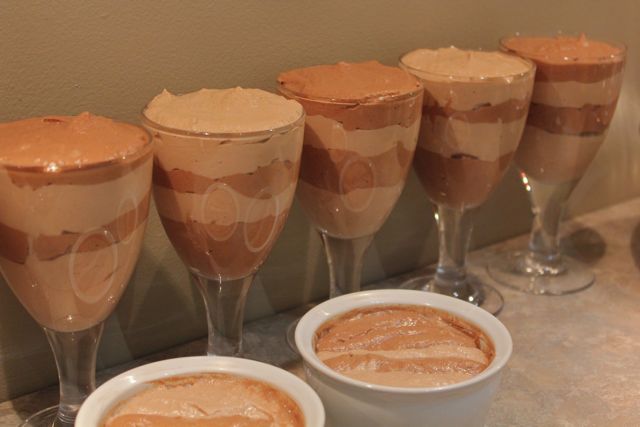 (This batch filled seven of these goblets and three ramekins – plenty to share!)
Once you have all your mousse distributed try to find some place in your fridge to let them set for at least 4 hours. If you are in a hurry as I have been from time to time you can put them in the freezer for approximately an hour but you will end up with more of a frozen mousse.
Big siblings were out with Mommy and little brother was napping – of course this little girl took full advantage.
–4 hours later–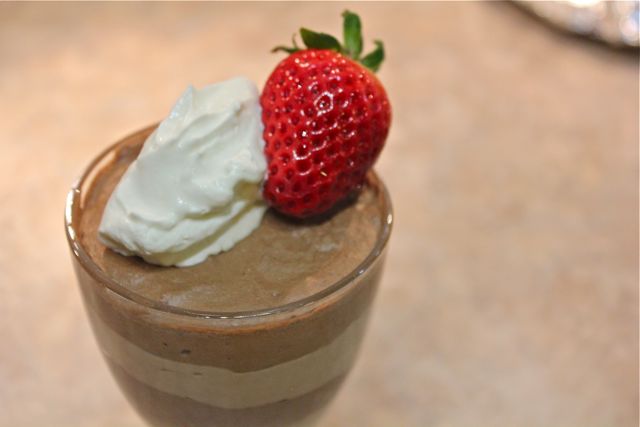 *On a side note after last night we still have 3 glasses and 2 ramekins  (hooray!)
Have you made mousse before? Have you tried it with eggs? I'm curious to know how my simplified version compares.
Happy weekend everyone!