I love baking and I love sweets. I don't have a fanatical sweet tooth and can't eat copious amounts but I won't pass down a chance to enjoy nearly anything under the heading of "dessert". I've eyed plenty a store bought treat on a dessert table and known I would live to regret it but somehow I just can't resist. There is a kid living on in me who still feels that any chance for a goody is getting away with something special.
Chocolate, vanilla or fruit – I have no firm preference but cupcakes are really where my treat loving heart beats. They are my favourite special occasion treat – probably because a special occasion is the only time I can justify the copious amounts of butter and sugar. They have become such a popular treat with specialty cupcake shops popping up everywhere with new, unusual and decadent flavours. Despite the rumour that the cupcake fad is fading and the pie will soon reign supreme, there's no pie that can usurp a (good) cupcake in my heart.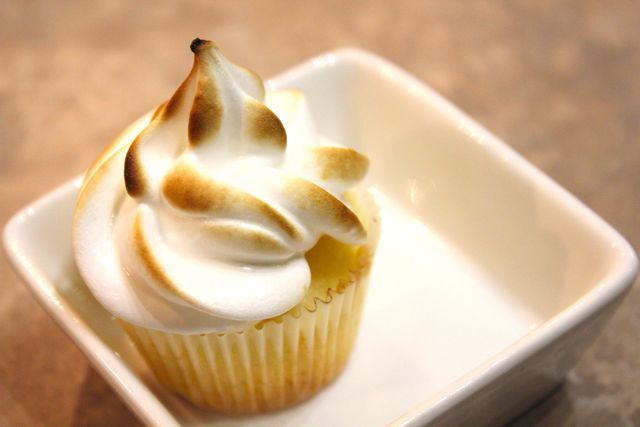 Speaking of a good cupcake…
Loving them as I do has a downside. I am a cupcake snob. That being said I will still eat a boxed cupcake without being forced but I don't buy boxed cakes. On top of that I am way too cheap to buy the expensive boutique variety when I know I could make them. So to the adventure of cupcake experimenting I go.
I have a few favourite recipes that I have paired with different buttercreams, frostings and icings but a special occasion necessitates a new cupcake challenge.
Enter the Lemon Meringue Cupcake.
Lemon Cupcake. Lemon curd. Swiss Meringue Frosting.
And for the more adventuresome – a blow torch.
Oh yes.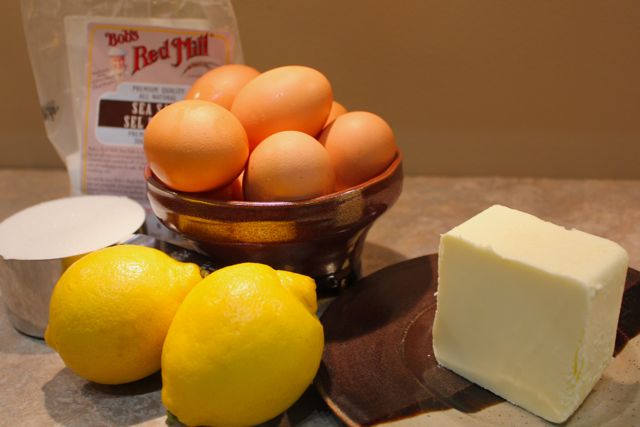 I started with the lemon curd and then kicked myself that I didn't know how easy it is to make!
Gather eggs, lemons, butter, sugar and salt.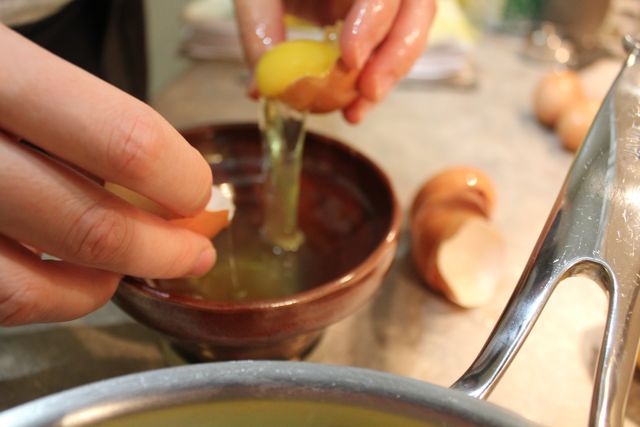 Separate your egg whites from the yolks. Four egg whites are needed for the meringue buttercream so don't add all eight whites together. I put four in one small mason jar for the buttercream and four in another jar for muffins later in the week.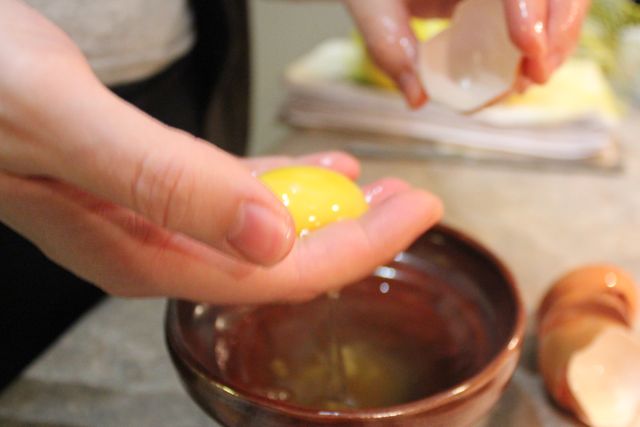 I find this method works best – pouring the egg into my hand, I gently shake the yolk and let the egg white slip into the bowl beneath. Drop the yolk into a separate bowl.
Word to the wise: Have 2 small bowls for the whites and a small bowl for the yolks. Use one bowl for separating over and one bowl for holding the whites or else you may have the problem shown above – a broken yolk spread into my whites. Fortunately I had already separated the whites I needed later for the meringue. This bled yolk mixture is fine for muffins (I consider two whites to equal one whole egg.)
Add the yolks to a small sauce pan.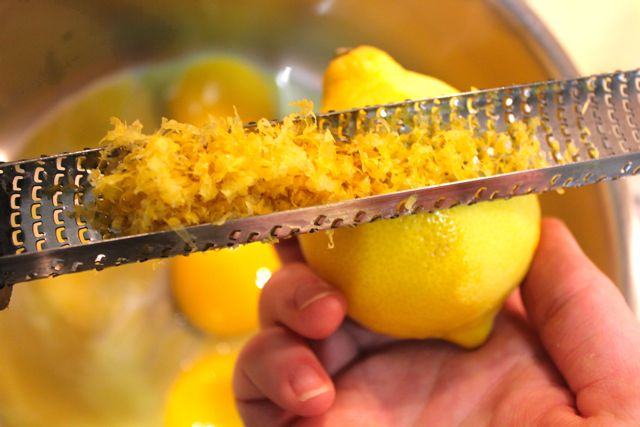 Grate the lemon zest into the pan – here's my handy-dandy rasp again! Careful you don't get any of the white pith beneath the zest.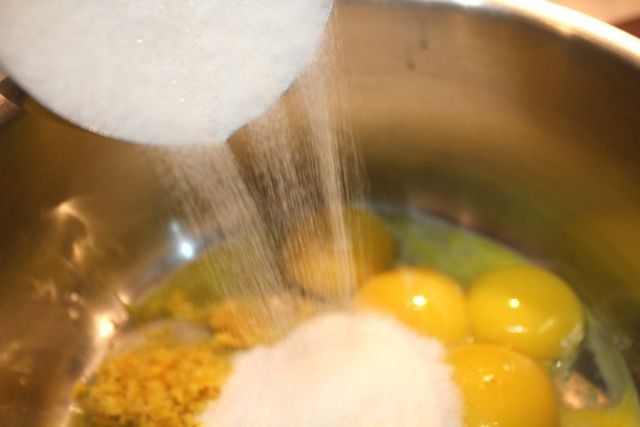 Add the sugar.
Pour in the lemon juice.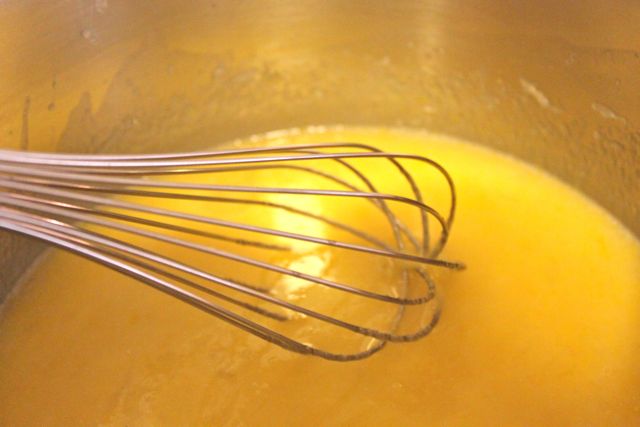 Whisk it together and cook it over medium-high heat for 8-10 minutes (although mine took closer to 5 minutes).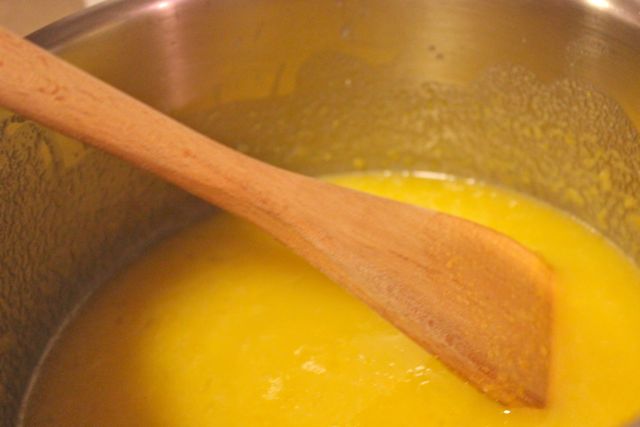 Stir constantly with a wooden spoon – make sure to scrape down the sides. When it coats the back of a spoon your curd is done (if you have a thermometer this is at 160°F).
Remove from heat and stir in the salt and butter, one piece at a time, until smooth.
Martha's recipe suggests straining the curd you could do that but mine seemed pretty smooth so I didn't – I'm lazy like that.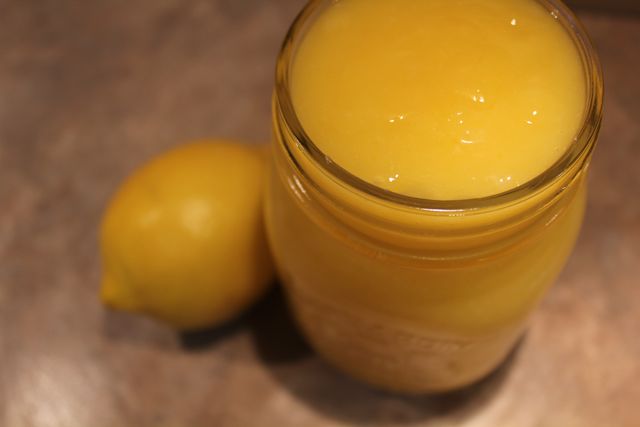 The original recipe says to cover the curd with plastic wrap directly over the curd to prevent a skin forming. To avoid using plastic wrap I just poured into a 500ml mason jar (in which it fit perfectly as you can see above) and covered it with a lid.
Refrigerate until set – one hour to one day.
I'll spare you the step-by-step on the cupcakes and skip straight to the the meringue.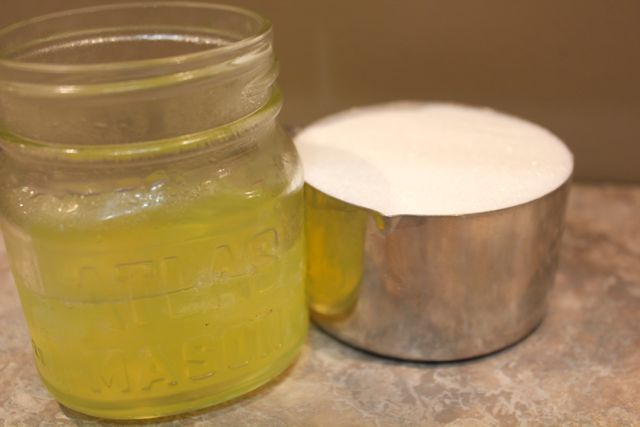 Grab your sugar and the four egg whites you separated for the lemon curd.
Put them in a large clean bowl (I used the bowl of my stand mixer as I was going to be mixing them there later). Place over a pot of simmering water and stir or whisk until the sugar is dissolved and the temperature reaches 140°F.
Put in the stand mixer or use a hand mixer with whisk attachment.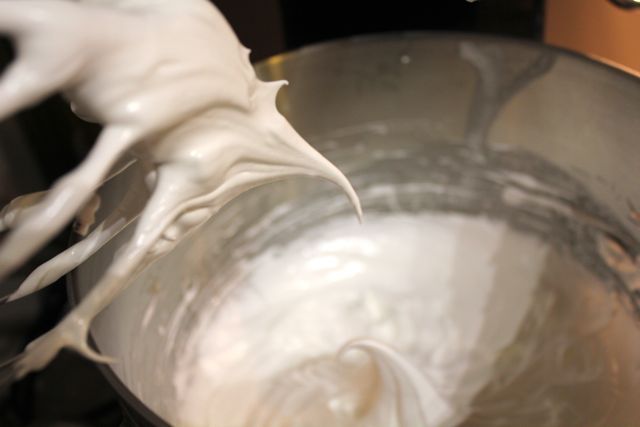 Beat the mixture on high speed until it is thick and glossy with a stiff peak.
Assembly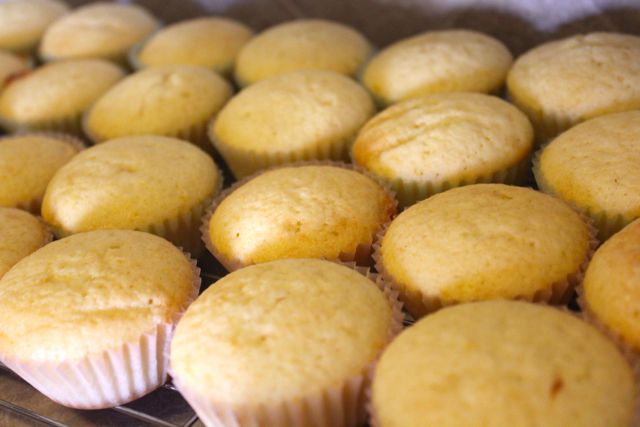 Make sure your cupcakes are fully cooled (or don't and watch your frosting run if you are impatient like me…).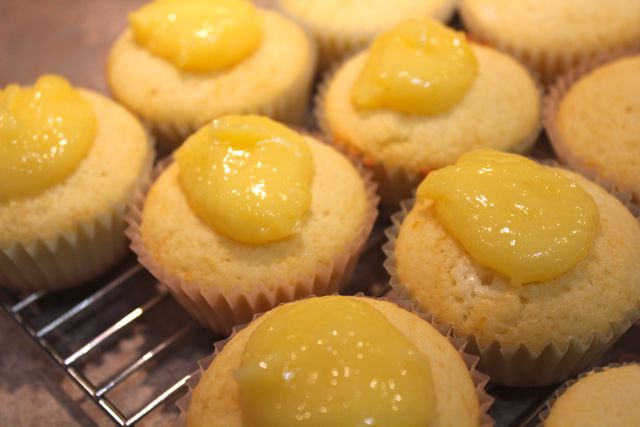 Add a teaspoon or so of lemon curd to the top of each cupcake.
Using a piping bag and a large cupcake tip add a swirl of meringue from the outside in to the centre.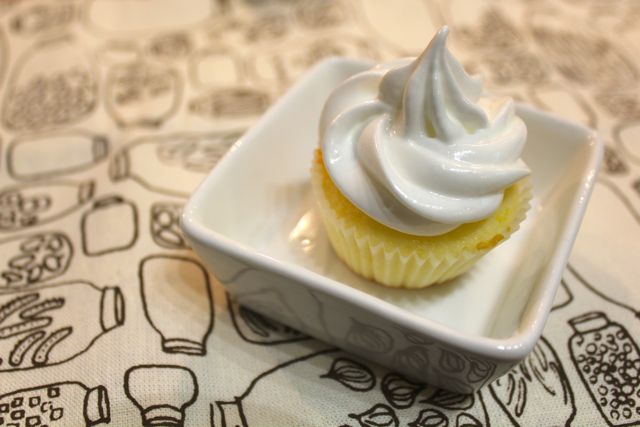 Enjoy as they are or…
turn up the heat (or as in my case get hubby to turn up the heat).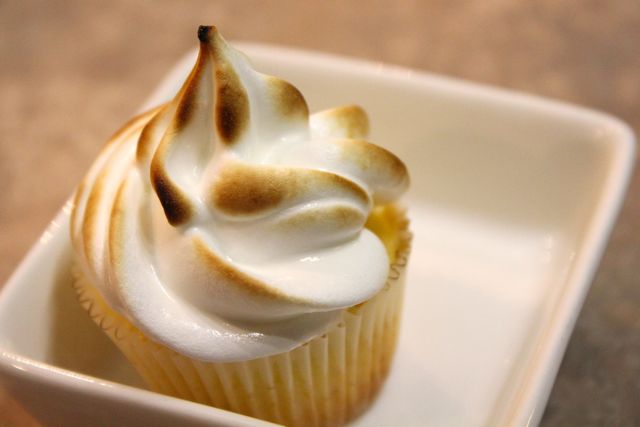 Lovely.
Just look at those beauties.
Lemon Meringue Cupcakes
from Martha Stewart, link here
Lemon Curd
8 large egg yolks
zest of 2 lemons
1/2 cup plus 3 tablespoons fresh lemon juice (approximately 3 lemons)
1 cup sugar
1/8 teaspoon salt
1/2 cup plus 2 tablespoons unsalted butter, cold and cut into pieces.
Cupcakes
3 cups unbleached flour
1 tablespoon baking powder
1/2 teaspoon salt
1 cup unsalted butter, room temperature
2 cups sugar
4 large eggs
Finely grated zest of 3 lemons (about 3 tablespoons), plus 2 tablespoons fresh lemon juice
5 drops lemon essential oil (optional -not in the original recipe)
1 teaspoon pure vanilla extract
1 cup buttermilk
Swiss Meringue Frosting
I didn't use Martha's 7-minute frosting (didn't like the corn syrup) but made this frosting instead
4 large egg whites
1 cup sugar
For the curd:
Whisk yolks, zest, juice and sugar together in a medium saucepan. Cook over medium heat, stirring constantly with a wooden spoon for 5 – 10 minutes until curd coats the back of your spoon or the temperature registers 160°F. Remove from heat, stir in salt and add butter one piece at a time. Stir until smooth. Strain through a sieve over a medium bowl, if desired. Pour into mason jar and cover with a lid and refrigerate until set – one hour to one day.
For the cupcakes:
Line cupcake pans with the appropriate size of muffin liners (I made mine mini-sized because then I can eat two). Preheat oven to 325° F.
In a small bowl mix flour, baking powder and salt, set aside. In another small bowl or measuring cup combine lemon juice, vanilla and buttermilk, set this aside also.
In a mixer with the paddle attachment or in a bowl with a wooden spoon, cream butter and sugar. Add eggs one at a time, mixing before next addition. Stir in zest and lemon oil (if using). Add flour mixture in three parts, alternating with buttermilk mixture, beginning and ending with flour (ie. flour, buttermilk, flour, buttermilk, flour).
Use an ice cream scoop or spoon to ladle the batter into the tins. Bake for 15-25 minutes depending on the size of your cupcakes. Remove when a toothpick comes out clean and the cupcakes are just beginning to brown. Let them cool completely before assembling.
For the meringue frosting:
Heat an inch of water to a simmer in a medium pot.
Add the egg whites and sugar to a large bowl and place over the simmering pot of water (as in a double boiler). Whisking continuously, heat the mixture until the sugar is dissolved and reaches 140° F. Transfer to a stand mixer or use a hand mixer to beat the mixture on high until it is glossy with stiff peaks.
To assemble:
Add a teaspoon of curd to each cupcake, pipe the meringue frosting over the curd and lightly brown with a blow torch, if desired.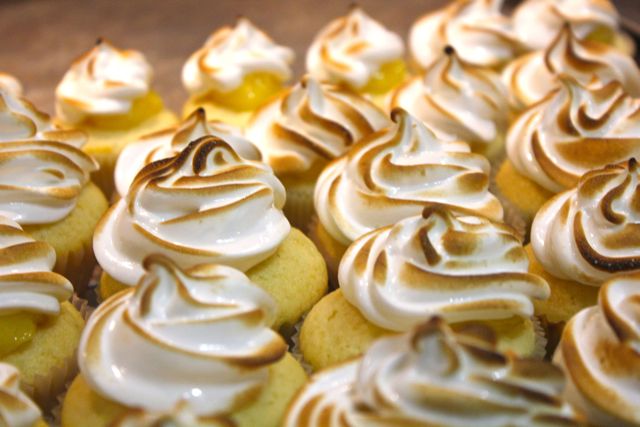 Mmm.