**Last day to enter my second anniversary giveaway!**
Knitting has been even more than the usual amount of excitement this week.
Oh yes, I am knitting quite the same things I was knitting last week. The Downton Cowl is very nearly finished – I'm taking out one chart repeat hoping I don't have to break into my second skein of tosh vintage (knitting along with Shannon's KAL!). As for the striped hats I'm on to the third and holding orders for the next two (well, three because older siblings are just as certain baby sis wants a stripey hat to match the rest). While I enjoy these happy knits I'm busy dreaming about the wool I picked up on a special trip out over the weekend.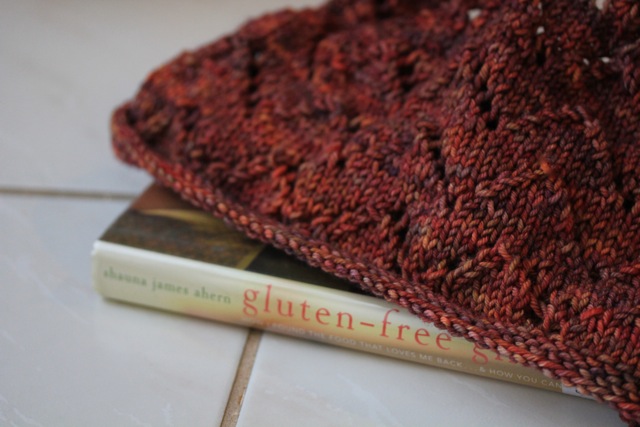 I was thrilled to meet up with Rebecca, the lovely lady behind nook (blog and shop), while she was in town for a long weekend. We spent a luxurious afternoon browsing for an almost shocking amount of time, deliberating over just the right wool and colour combinations. Then we topped it off with knitting and yarn talk over tea. It was perfect. Under the influence of wool petting and colours extraordinare, with a bit of Rebecca's remarkable enabling skills, I managed to pick up enough wool for an extra special cardigan. I've been browsing Sweet Georgia's site for a while now dreaming of knitting projects but I was thrilled to find a well stocked cubby at my local yarn shop. Now with enough, eek, sock yarn for a sweater I'm trying to decide between three cardigans (all Jane Richmond patterns). Will it be Georgia, Grace, or Audrey? (Hint, hint: Jane has a promotion on today and tomorrow only for her facebook fans.)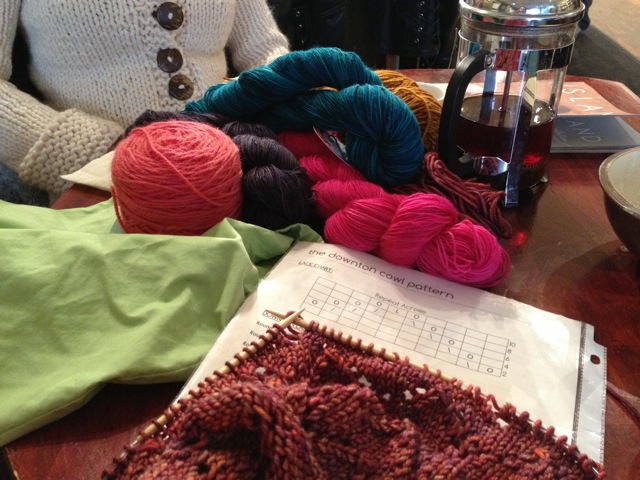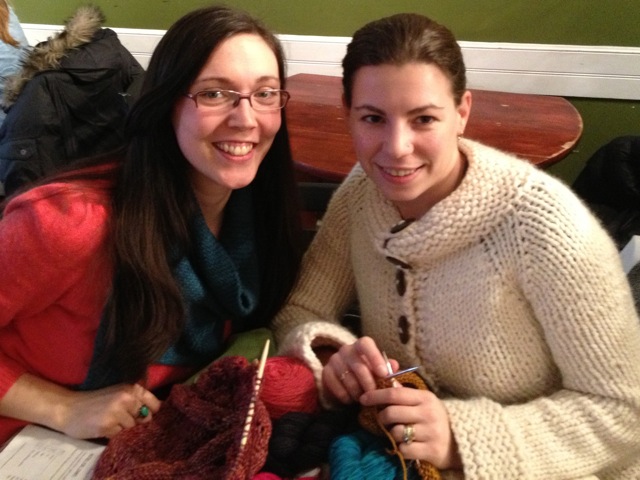 a few iphone photos of our afternoon out – Rebecca sporting her fresh off the needles twiggy cardigan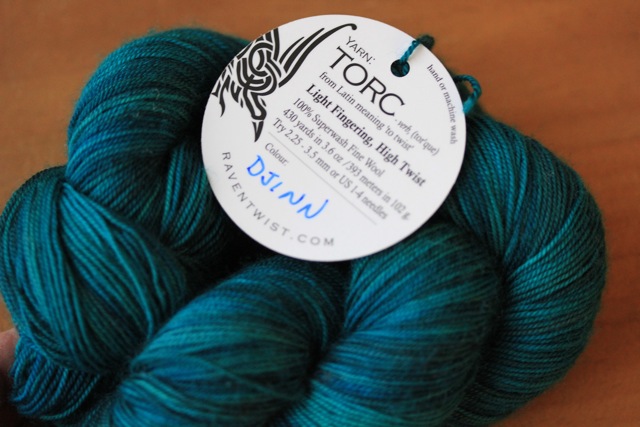 and since I'm already overloading this post I've got to show my stash additions…a gorgeous skein Raventwist Torc  (formally Rocky Mountain Dyeworks) found its way into my bag with the Sweet Georgia
In between knitting and the associated daydreams, I've done a little reading. I finally finished Till We Have Faces and although I didn't know quite what to say about it when I first wrote about it, I very much enjoyed the second half. It finally pulled the story together for me and painted a more complete picture.
Now I've pulled the first book from my library stack, Gluten-Free Girl, by the multitalented Shauna James Ahern. It's a memoir of sorts of her diagnosis with celiac disease and her journey back to food. I've checked out recipes on her blog over the last few months and have had more than a few friends direct me her way. Shauna writes beautifully and her joy of cooking and good food renew my hope in finding food to love and have me drooling over the pages. Not just for those following a gluten-free diet (by choice or preference) but for anyone who loves food.
Are you working with needle or hook this week? Got a great book on the reading pile? Please do share!
::
For more stories of yarn work and reading visit Ginny's yarn along.
P.S. The Lexicon Project kicks off its first reveal tomorrow!