You know what I haven't done in too long? Written about knitting. Okay, I haven't written here about much in the last few months. I've missed it and spinning a yarn tale is no exception.
This week I've cast off (in the "I'm too sick of this knit to continue" sense) the unfinishables which are crowding my knitting bag and began fresh. With another of Shannon's rocking knit alongs about to begin I'd been planning my escape from knitting doldrums (dare I suggest such a place exists?).
I have long been in love with this Carina Spencer design but in the end I couldn't gather the  courage or the appropriate member of my stash to cast on. But I found myself in much happier company as I suddenly realized that the perfect knit was right under my nose: The Downton Cowl. Perfectly suited for the Downton Abbey knit along, designed beautifully by Shannon herself, and in the wool I'd been petting most recently in my stash.
I cast on while the thrilling opening credits played on Sunday evening. I had no trouble following the lace pattern but it was not in the least dull. I'm loving it. And the tosh vintage is nothing short of marvellous.
Just the thing to sweep me out of the frustration of knitting blues.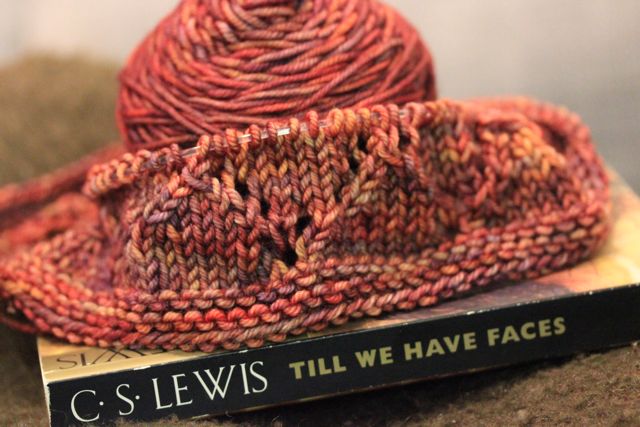 When I've been picking up a book lately, I've been reading Till We Have Faces by C.S.Lewis. I bought it while I was in college and hadn't read it since. I'm enjoying it although not quite sure what to say about it. Perhaps it is a little slower moving than I'd like it to be. Perhaps I'm still on the high of my last read(s)…
::Warning: Serious Nerd Alert::
I finished my return journey through the Lord of the Rings trilogy over the holidays and I cannot tell you enough how much I think you should read it. Haven't read it? Please do. Already read it? Please read them again. I can't stop geeking out over how much I enjoyed them this third or fourth time through. The characters, the scenery, the imagery, the adventure. I've heard the complaints that they are slow moving – but the complete package is so worth the sluggish chapters.
See why I'm having trouble moving on?
::
And now I must ask – are you working with needles or hook? I love to hear what others are working on! How about new year reads? Anyone got a great food or farm memoir to recommend? I need to fill up my library holds list again.
Thanks for stopping by – Happy Wednesday!
::joining Ginny for yarn along::