The two projects I decided to finish last week made it off needles and on wearers. Blocking…well, not yet, but they were busy being worn.
Finishing those projects means casting on new ones! And in my typical fashion rather than the hat I had planned up next, I'm casting on for a pair of fingerless mitts, based on this pattern. You know, just in the meantime. I've knit the pattern a couple times before but this time I'm making a few adjustments – skipping the flaps and leaving the thumbs open.
While I am knitting that Jane Richmond pattern, I will no doubt be dreaming about her new book, Island. I preordered a copy (today's the last day!) and downloaded the PDFs, then promptly became paralyzed over what to knit first. The scarf…no wait, the hat…but, oh, the cardigan, the cowl, the gloves? Oh you must see them for yourself. Shannon (aka luvinthemommyhood) worked with Jane on the book and put together this great video so you can see them all for yourself.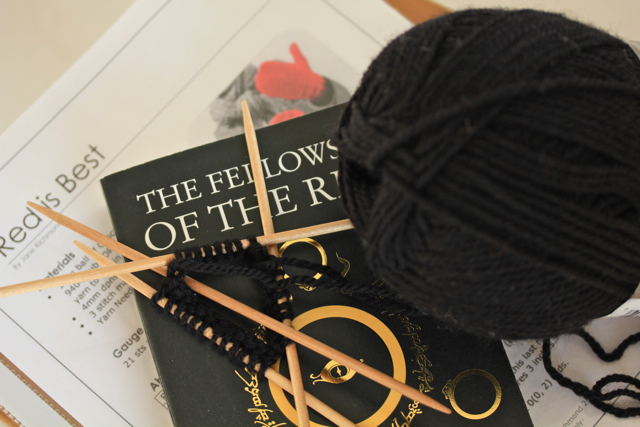 In stolen snippets this week I've been reading The Fellowship of the Ring. This certainly isn't my first time reading it but I'm loving it even more this (my third or fourth?) time through. I adore how a much loved book from childhood returns to comfort like an old friend.
::
And you, what are you reading or crafting this week?
:: joining Ginny for yarn along::