Last fall when we took this trip west I overpacked. Needles, wool, patterns….I brought high hopes along with heavy bags. I even brought my ball winder in case a skein emergency struck. I never unearthed super vacation knitting powers and brought a lot of wool home (aided my a generous donation from my mother-in-law's stash).
This year I decided to reign myself in to more reasonable expectations. I brought three sweaters to be finished and an extra couple of skeins in case. I needed to focus! There was no thrill of new projects for the first week but I did get two of those sweaters finished to the point of blocking and buttons.
The littlest sweater awaits blocking before I reveal it. My shalom, on the other hand, is far too exciting for me to resist sharing now. It's my first adult sized sweater and I love it! I don't want to take it off – I'm too hot but I don't even care. It does need a good blocking to ease out some wobbles and then the search for buttons begins (first stop being this friend's beautiful shop).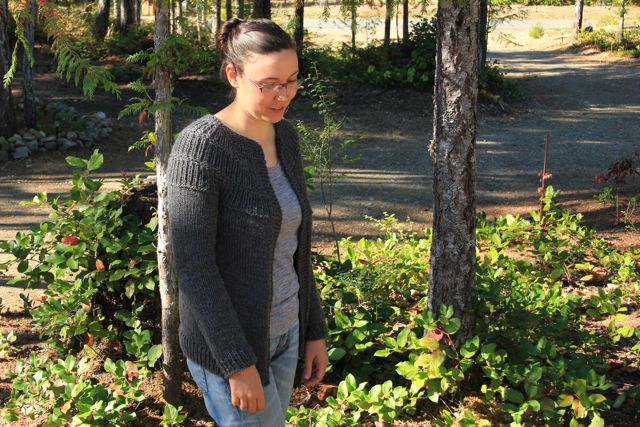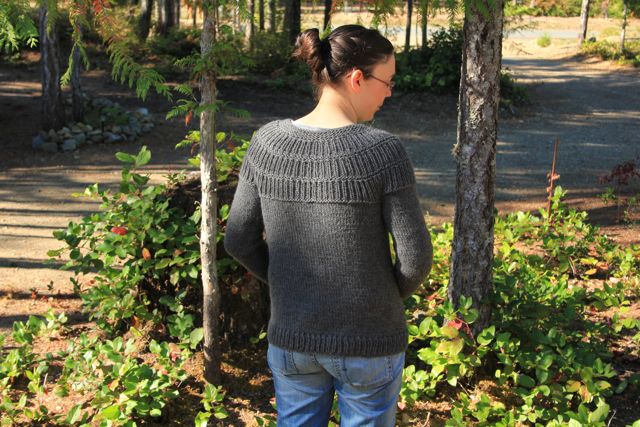 I loved knitting this sweater. The Cascade Eco was a great wool – so chunky and quick knitting, affordable and cozy. I used less than two skeins! The pattern was fun – although I used modifications from a few different sources I mostly used soulemama's mods. I made four button holes, added sleeves, and traded the garter edging and cuffs for a twisted rub. I've previously been on the fence about this pattern but with sleeves I love it (and will get much more wear out of it).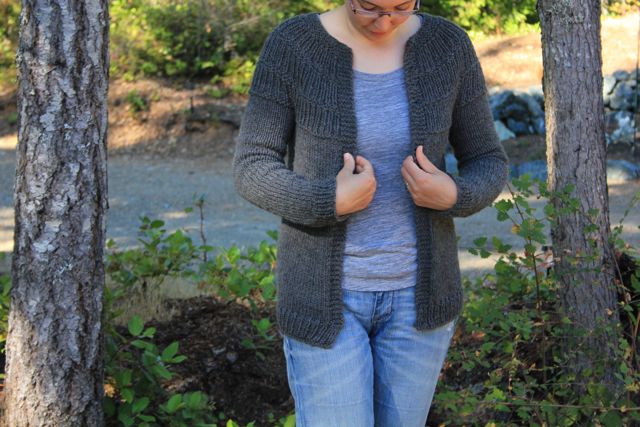 And special thanks to my hubby who took these photos for me. I am far from a natural model but he patiently snapped away as I muttered instructions about double chins and closed eyes through pursed lips.
Now I'm already dreaming about the next mama sweater…But in the meantime I'd better shed the sweater – we're heading to the beach as we enjoy our last days of vacation!
::
Do any of you knitters knit for yourself? Do you have a favourite sweater pattern? Anyone conquer a first (on needles or otherwise) this week?
I knit this sweater as part of the lovely Shannon's Summer Sweater Knit Along. Today's guest post is by the beautiful Rebecca of Nook – all about blocking. Such impeccable timing! And I've got a little more to share about Rebecca but I'll save that for tomorrow…