I'm coming late to this show-and-tell game. We've been busy packing up for a trip to Vancouver Island. But amidst the busyness I've had a little time with my Shalom this week.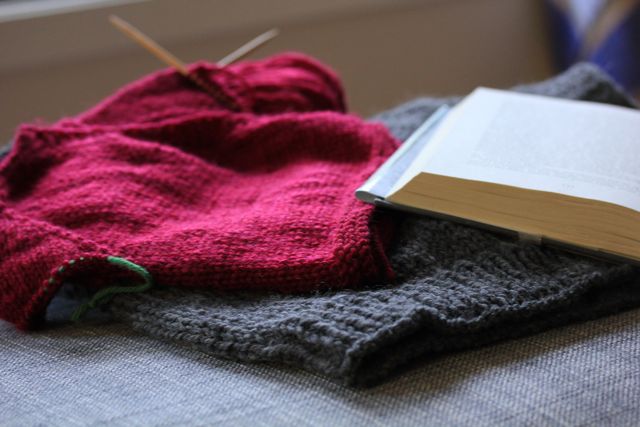 I finished up the bottom edge with a twisted rib border rather than the garter rows of the original pattern. The body complete I was all set to launch onto the sleeves when I discovered I had not the correct size DPNs for the task.
While it slowed me down I was hardly disappointed to tag a yarn store stop onto another errand last week. Alas, the bamboo DPNs were on back order and I wasn't going to subject my joints to the metal variety. The manger suggested magic loop and I quavered. A friend told me it's simple and I doubted. The name "magic loop" suggests to my (over)active imagination something mystical requiring deft movements and sleight of hand…hardly accomplishments on my resume.
One YouTube video later and I'd learned the truth. Magic Loop is magically uncomplicated. One long needle (the very one I'd used for the body) was all it required.
I rejoiced, "I'll be wearing this sweater in no time!" Then I remembered the disappointing truth – I'm not knitting for a child, I'm knitting for my own long armed (some might even say monkey armed) self.
I may be a little while.
And, as predicted, in the midst of needles absences and loopy fears I got distracted again. That last puerperium was such swift fun that I cast on another. With all our driving over the busy long weekend I got through the body without a hitch. Now I've got the baby sized sleeves to keep me busy along with my monkey sleeves.
Tomorrow's drive will give me 15 or so hours in the van. That should allow me a good chunk of sleeve conquering time – between all the snack passing and DJ'ing.
I haven't made much reading time this week but I did finish my book. I enjoyed it and if you're a fan of Jane Austen I think you might enjoy it, too. Next up, we've got audiobooks on the iPod to keep us busy and I've picked up The Hobbit to revisit this favourite during our trip.
::
Are you finishing up needle projects or beginning something new? Are you meticulous about finishing or do you have itchy fingers like me? 
I'm knitting along with Shannon's Summer Sweater KAL 
and joining Ginny for yarn along