"Gratitude unlocks the fullness of life. It turns what we have into enough, and more.
It turns denial into acceptance, chaos to order, confusion to clarity. It can turn a meal
into a feast, a house into a home, a stranger into a friend. Gratitude makes sense of our
past, brings peace for today and creates a vision for tomorrow."
~Melody Beattie
In the name of gratitude and truthfulness I've decided to post a little piece of reality here once a week. Likely just a single picture. See my original post here.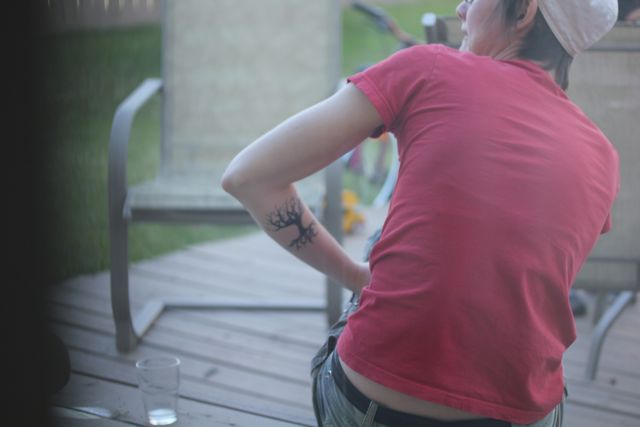 These are busy times in our home…make that busy times in our homes. There have been plenty of trips back and forth, Dan has spent long hours installing lighting and painting ceilings at the new house, I've spent long hours dealing with solo dinners and bedtimes at the old house. Working, packing, cleaning, planning. It's been a lot.
I don't really notice I'm stressed until I break down in tears, or as it happened in the fall, with a case of shingles. It's been an emotional time for me. Add to that a few non-moving related issues and I was wearing thin. Feeling tender and raw about everything.
My sister and parents heard the stress in my words. Probably made note of my more-than-usual calls home via phone and Skype. My parents and sister were all ready to hop on a plane, but only my sister was available thanks to her boss offering her some time off (thanks, Dad). She offered to fly across the country to help. I said I was okay. Apparently I was unconvincing because I woke up to a text saying she'd found a seat-sale that was quickly selling and bought a ticket while I was sleeping.
To say I was relieved would be an understatement. It's meant so much to all of us to have her here. She was painting those ceilings with Dan on her first day, jet-lag be darned. She's been washing dishes, packing boxes, fetching snacks and crawling babies. And to have someone to watch some kids while Dan and I pop up to the house to make a decision or shop for baseboards: Amazing!
She's awesome*. We love her.
I'm so thankful to have her here. Grateful she sacrificed time and money to come slog away for us. Feeling more sane (mostly) and less stressed (mostly) thanks to her help. Thankful that Dan's parents arrive in a week to lend their helping hands as well. Thankful that we have this loving family and community of friends who have offered such support, excitement, and help over this move of ours.
*Also, her tattoo. Peace in the branches, love in the roots – she designed it herself. I told her I want the t-shirt version.
::
If you'd like to join in with a reality check of your own, please add a link or note in the comments!