"Gratitude unlocks the fullness of life. It turns what we have into enough, and more.
It turns denial into acceptance, chaos to order, confusion to clarity. It can turn a meal
into a feast, a house into a home, a stranger into a friend. Gratitude makes sense of our
past, brings peace for today and creates a vision for tomorrow."
~Melody Beattie
In the name of gratitude and truthfulness I've decided to post a little piece of reality here once a week. Likely just a single picture. See my original post here.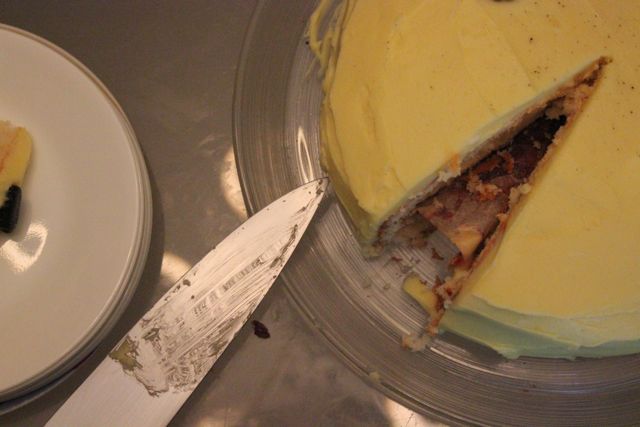 Sometimes I'm a doofus. Sometimes it's more often than sometimes. Usually I can laugh about it. See that paper where the piece of cake is missing? Well I baked those two round cakes dutifully on parchment paper. I painstakingly sliced off the top of the bottom cake with my fun little tool. I made a buttercream border and filled it with last summer's raspberry jam. I plopped on the second cake and iced it with the requested yellow tinted buttercream. Not until I started serving it, after the song was sung and the candles extinguished (with the reminder that sparklers make a nice mess of the top of a cake), did I realize. I hadn't removed the second round of parchment. Geez.
The adults laughed and laughed. The kids wondered. Then I somewhat tore that cake apart pulling out the paper….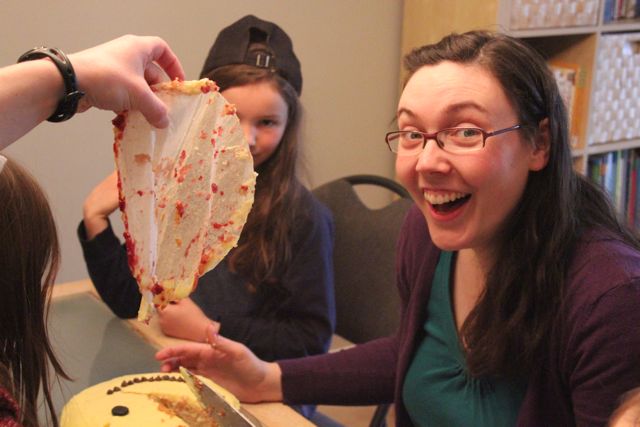 And here is a terribly unflattering photo of me as we laughed it up.
Oh, I'm thankful for laughter. And good friends to laugh with. And my sweet husband who finds my silly antics endearing.
::
If you'd like to join in with a reality check of your own, please add a link or note in the comments!