When our organic foods order came in for sorting last weekend my big bin of cocoa brought forth visions of brownies. I simply could not resist them.
The lovely Irina asked if there might be a recipe and it was just the prompt I needed to make a batch to share with you here. Oh how my waistline would thank me if I was sharing more than just the recipe.
This favourite dessert is based on the America's Test Kitchen Classic Brownie recipe with a few twists of my own. They are moist, chewy, and rich, with a crispy top and fudgey centre. Seriously perfect indulgence.
They are great fresh from the oven or a day later. They are perfect for holding a birthday candle; or eaten in secret with a glass of milk while the kids do math. For an absolutely decadent treat they are glorious topped with vanilla bean ice cream and drizzled with caramel. But I'm sure you can find your own perfect way to enjoy them.
I won't say they are the world's best. But they come pretty darn close in my opinion.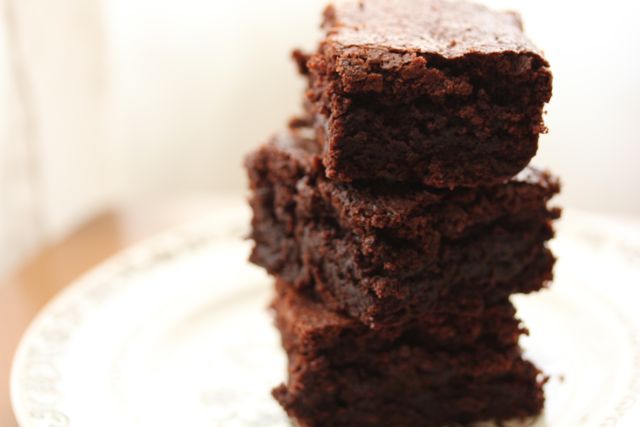 world's best brownies or something like that 
1 1/4 cup unbleached flour
1/2 tsp salt
3/4 tsp baking powder
1 cup + 2 tbsp unsalted butter
1 cup + 2 tbsp cocoa
50 grams dark chocolate (70% cocoa or more), chopped
2 cups sugar
4 large eggs
1 – 2 tbsp vanilla extract
Preheat oven to 325° F.
Butter a 9×11″ pan and line with parchment paper. Then butter and lightly flour the parchment.
In a small bowl combine flour, salt, and baking powder. Set aside.
Place 2 inches of water in a pot to simmer over low heat. Place a bowl over the simmering water and in this melt the butter, cocoa, and chocolate. When melted and smooth remove the bowl from the heat and gradually stir in sugar. Beat in the eggs one at a time, then add the vanilla. Fold in the flour mixture, in three sections, using a spatula or wooden spoon.
Pour the mixture into the prepared pan and spread smooth.
Bake for 40-45 minutes. Allow to cool for 15-20 minutes before cutting and enjoying. Store any extras in an airtight container.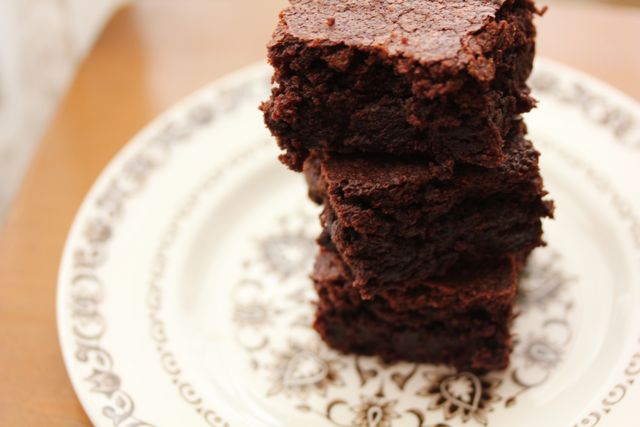 ::
And just so I we don't feel too guilty about these chocolatey gems, I have a much more diet friendly version to share coming up soon! And I'm sorry friends, but they are not as good as these. Good but not as good.