As I've mentioned before, I'm not the main chef in our home. I'm blessed with a hubby who is both a better and happier chef than I am. That's not to say I don't enjoy cooking – but Dan enjoys it more.
When Dan cooks he prepares beautiful, often complicated meals with more than one thing going on at once. He likes separate flavours and delicate sauces. He plates, he garnishes, he serves. His timing is impeccable.
When I cook it's a different story. Forget timing – we eat when we eat. I don't plate; I try, but it isn't pretty. I like bold, mixed flavours. My speciality  in the cooking realm runs pretty strongly along the lines of Mexican…er, Tex-Mex meals. Also, they are usually messy. I like a meal served out of a big pot or casserole dish with a salad on the side. A meal that's good for lunch the next day.
Dan's meals are delicious and gourmet. My meals are delicious and utilitarian. Okay, Dan might balk at the delicious part, he still prefers his flavours separate – he'll settle for tasty and utilitarian.
Enter this chili. It fits my criteria: tasty, bold, big pot. I love the flavours, I don't miss the meat, and I love all the veggies. Oh, and it's served with cornbread. Bread makes everything better.
Skillet cornbread is a wonderful thing. I don't know anything about traditional cornbread but I've tweaked a few recipes on my way to this one. It's sweet but not sugary. Delicate and soft without being spongy. I decreased the sugar and oil to get to a result that didn't feel so guilt inducing and ended up liking it much better this way.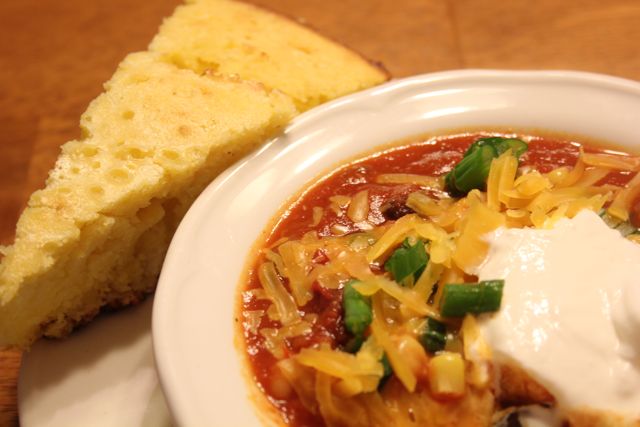 Three Bean Chili
This makes a lot of chili. So plan on making for a crowd, or freezing half. Or, you can do as I do, and feed it to the family all week. This is a great recipe to experiment with – it is very forgiving. Adjust as you'd like for a smaller batch and/or play with the spices and jalapeno for a spicier version. I make it quite mild for all the little mouths I feed.
Notes on the method: Adding the salt to the cooking onions helps draw out the moisture for softer onions. Try adding the spices 20-30 seconds before the liquids – the extra heat draws the oils out of the dried spices for a stronger flavour. Don't overcook though, or you can scorch the spices.
2-3 tbsp olive oil
1 onion, chopped fine
1 tsp salt
2-3 carrots, diced
1 green pepper, diced
1 jalapeno, minced, with or without seeds and ribs
3 cloves of garlic, minced
1 tbsp chili powder (or more depending on taste)
1/2 tsp cumin
1/4 tsp cayenne pepper
1/4 tsp black pepper
1 lt stock: veggie, chicken, or turkey
1 lt crushed tomatoes
1 can diced tomatoes
1 can kidney beans
1 can black beans
1 can navy beans
2 cups of frozen corn
For garnish: sour cream, chopped green onions, grated cheddar cheese
In a large heavy bottomed pot or dutch oven, heat oil over medium-low heat. When the oil is nice and hot (if a drop of water makes it spit, I call it ready), add in the onion and the salt. Let the onion sweat for a couple of minutes then add in the carrots, pepper, and jalapeno. Increase the heat to medium and cook, stirring occasionally, until the vegetables are softening and the onions translucent. Add your spices now and stir into the vegetables for 20 -30 seconds. Pour in the stock, tomatoes, and beans. When the chili begins to bubble reduce the heat to low and allow to simmer for 15 – 20 minutes. While it simmers try a sample – if you want more spice now's the time to add it. Stir in the corn in the last five minutes of cooking.
Serve garnished with sour cream, grated cheddar and green onions and alongside a wedge of skillet cornbread.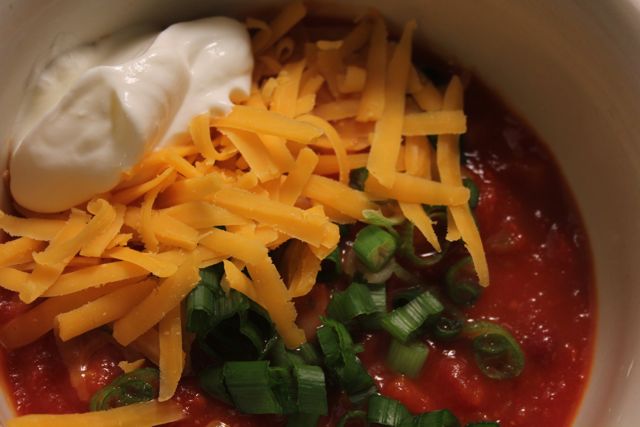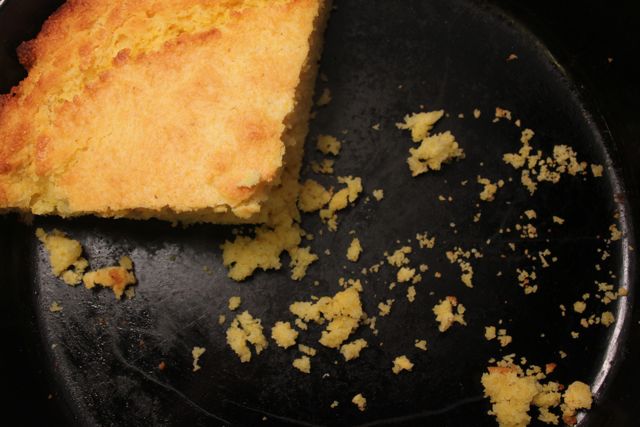 Skillet Cornbread
I  bake cornbread in a cast-iron skillet but it can easily be baked in a buttered 9'x11′ pan.
1 1/2 cups cornmeal
2 1/2 cups milk or buttermilk (I use a mix of both)
2 tbsp butter
2 cups flour
1 tbsp baking powder
1 tsp salt
1/2 cup sugar
2 eggs
1/3 cup oil (I use grapeseed or olive)
Preheat oven to 400 F.
Soak cornmeal in milk for 5 minutes. Melt butter in skillet over medium heat. Meanwhile, in a separate bowl, combine flour, baking powder, salt, and sugar. Add to cornmeal mixture, whisk in eggs and oil. Pour mixture into hot skillet. Pop into oven for 25-30 minutes until golden on top and a toothpick comes out clean.
Cut into wedges and enjoy!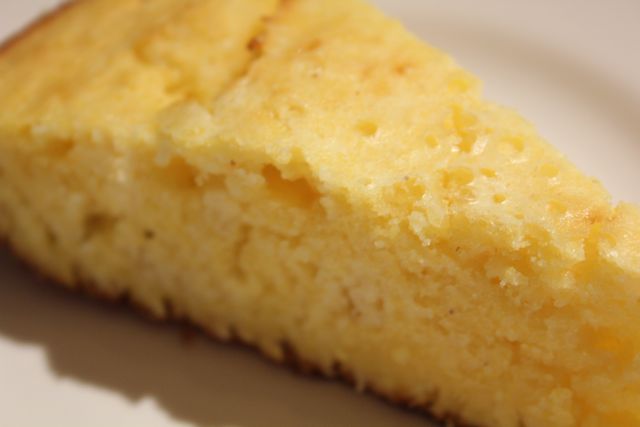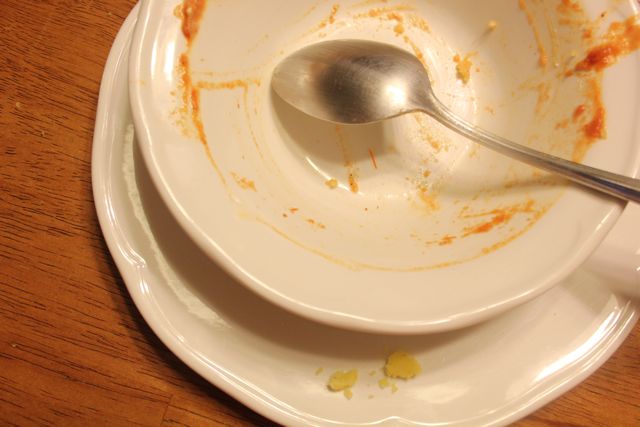 In a house full of different tastes and aversions, I'm always happy when a meal wins a majority vote!
::
Do you have a favourite chili or cornbread recipe? Perhaps you are a chili traditionalist and would debate whether my meatless recipe should even be considered 'chili'? I'm curious to hear you thoughts!