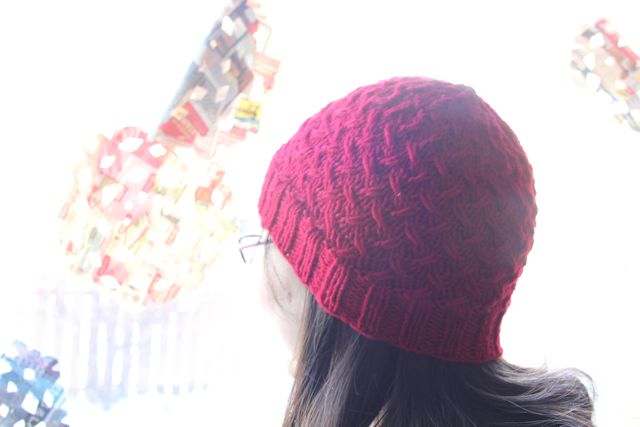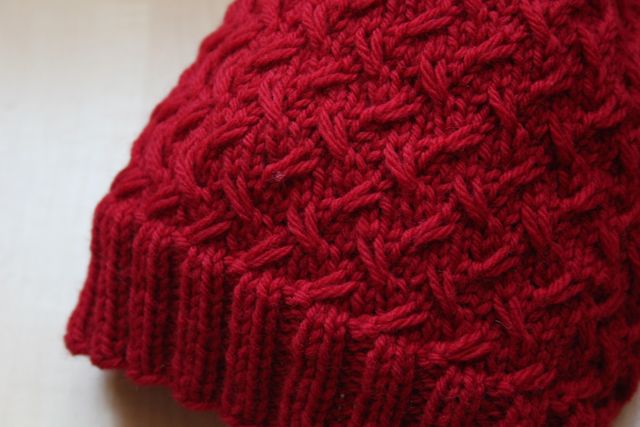 I'm finally taking the chance to share about the sweet package that arrived at my door a couple of weeks ago.
As you may have read here, Jen and I organized a little hat exchange. She was much more up to the cable challenge that the thistle cap presented and I have more patience for the stockinette of the wurm hat. Her packaged arrived as a sweet gift at the end of a hectic day. It was lovely.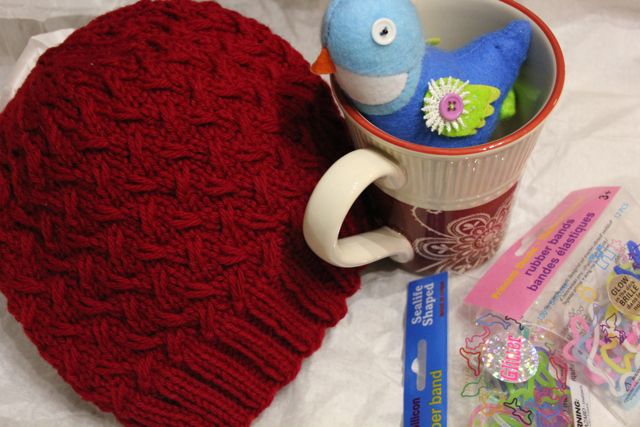 Jen didn't stop at the hat but was so thoughtful to send me a new mug (!!) and a "jay" measuring tape. And the bracelets she added for the kids have been a huge hit. Seriously huge. At the end of every day I travel around collecting them and returning them to their owners because they would most certainly be missed.
But the thistle cap is really the star. It's wonderful. The colour is absolutely perfect, the wool warm and cozy, the pattern delightful. Oh, I love it. I'll admit that I actually have the pattern so one of these days I think I'll have to take a go at it myself….and defer to Jen if the cables wear me out.
And now that Jen's hat is safely in her hands (and hopefully warming her head), I can finally show a peek at the wurm hat I knit for her (ravelry notes here).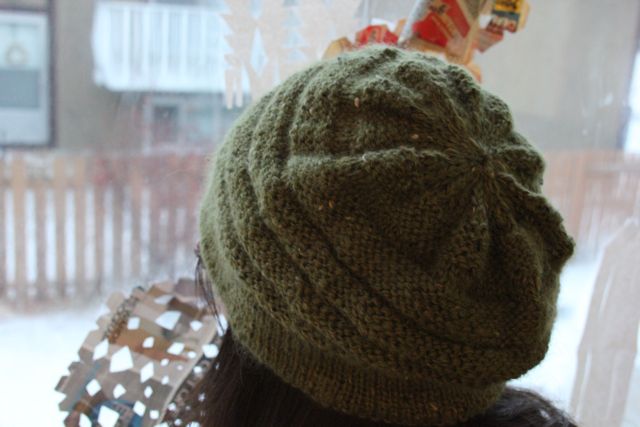 To be honest this pattern isn't one I've oohed over previously but I while knitting it I decided I really love it. The doubled rim was a bit of a pain but so worth it for the extra coziness. It is slouchy without being too slouchy and the fit was perfect (hopefully it fits Jen's head as well as it did mine). I thought I would send it off unblocked but thought better of it. The blocking once again did its trick and the hat showed its true colours afterwards.
I knit it in Marisol Yarns Akapana. I'd been saving this in my stash for a few years (because if there is a colour I go weak for after red, it's green). When I learned that Jen loves green I knew this wool had found its purpose. I really enjoyed how the wool worked with the wurm pattern. The flecks of browns and black were subtle but beautiful. The soft, delicate drape of the wool fit well with the simplicity of the pattern.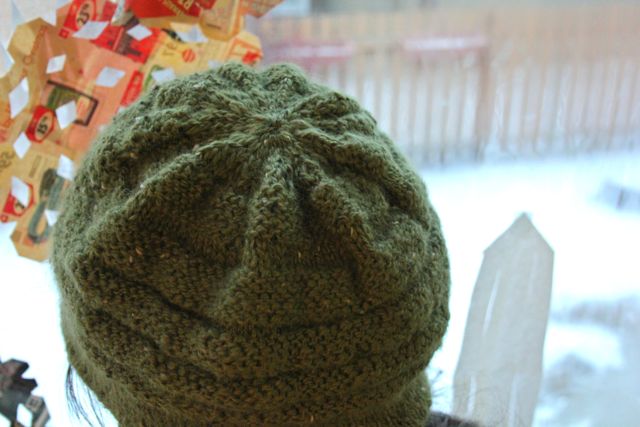 Yep, it was sad to say goodbye but wurm and I parted friends.
Now I have two patterns to queue up for later: one I want to try and one I want to try again.
(Sorry for more dark photos. One of these days I need to brave the cold with my camera again…)
::
Anyone else queuing up new patterns to try? Please share! You know I'm always looking for fresh knitting seduction.