Joining the yarn along party late this week…
I just been working away on rings for the toy that has since become toys. I keep forgetting to attach the rings to each other when I graft them closed but with a slew of friends with babies on the way I'm sure getting a head start on knitting is not a bad thing. I've started felting the first two sets but after two wash and dry cycles they still aren't as small as I'd like. I keep tossing them in with warm washes so we'll see how that works.
I did start on the owlie cowl I wanted to try out. I'm working 60 stitches on size 9 needles with worsted weight wool held double. I'm going to work in some cables after a few inches although I'm already starting to wonder if I should be trying this one bigger needles….Of course I don't have a size 10 in circulars (or dpns) so I'm debating a trip to the yarn store. Dan loves those trips…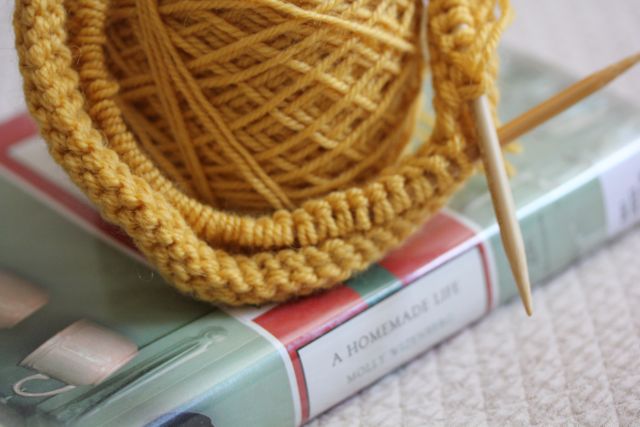 I still very much enjoying A Homemade Life, although I haven't tried any of the recipes yet. I thought it was a strange coincidence that she waxes poetic over coconut and coconut macaroons in particular. I came to that chapter after I'd gone crazy for coconut macaroons myself. I'm taking it mean my love was meant to be. And now I have another recipe to try out.
::
joining Ginny for yarn along