A year ago I started this blog. I'm not a private person but I am rather shy so the idea made me a little nervous. It took some encouragement from my hubby and some other sweet people before I decided to give it a try. It turns out I had nothing to be worried about.
Since the very beginning I've been welcomed by such a beautiful community. I don't know what I was expecting but it certainly wasn't the friendship, kindness and support I've found. I never imagined what this space would mean to me a year later.
So while I'm celebrating this anniversary I'm saying a BIG thank you to all of you who visit me here!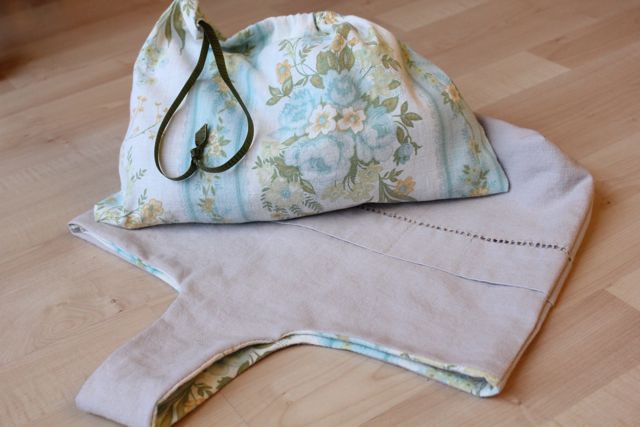 And I've a made a little something for one of you, since you're so great!
You may remember this post. I've been using the project bag I made for myself so much that I thought I'd make one to share with you. It's got lots of pockets and a boxed bottom (just what I felt mine was missing) and it's lined with a vintage sheet. I've also got a couple of small drawstring bags to go along with it (one shown here) because if you're anything like me, one project bag is never enough.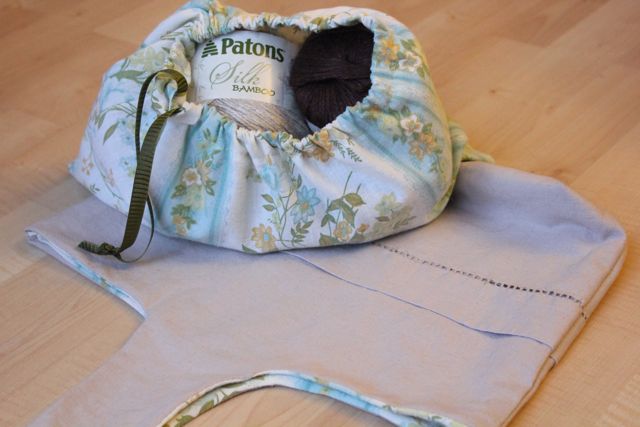 And since I love ya so much there may just be a couple of extra goodies hiding in there. If the winner is a non-knitter/crocheter I'll find something else to tuck in there, we don't discriminate.
To enter, leave a comment telling me something you'd like to see (or see more of) here – don't be afraid to give me a challenge!
For another entry add me in google friend connect (that handy Sign In button along the sidebar), add me to your reader, and/or  like house full of jays on facebook.
Be sure to leave a separate comment for each entry!
The giveaway will be open until Monday, January 23rd.
::
Thanks