There has been plenty of canning craziness going on around these parts lately. So much so that I haven't had a chance to write about it. Remember how eager I was when I wrote this…so much for keeping you all posted and sharing some recipes. I think there have been a few (most pleasant) distractions since Mira arrived.
Hot on the heels of cherry season came peach season. I gratefully put aside the cherry pitter and began blanching peaches. We've been through an almost shameful amount of peaches… I think we've passed two hundred pounds this season. Our freezer is packed with pies, pie filling and peach slices. Our canning shelf, and..erm.. surrounding floor, is full of peaches canned in water, peaches in light syrup, vanilla poached peaches, peach marmalade, peach pit jelly and peach salsa. Could there ever be enough peaches?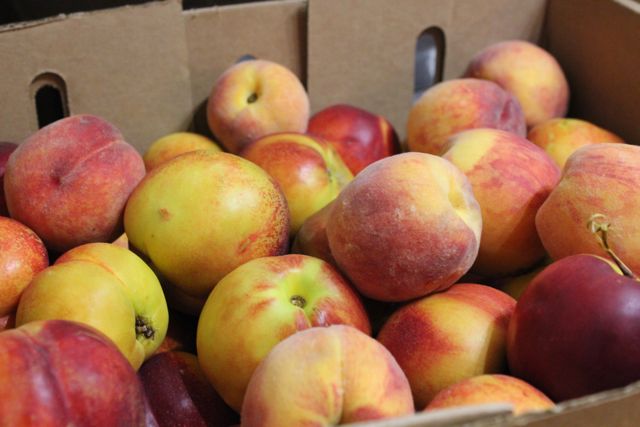 The peaches I canned in water will be pureed into baby food for Mira next year. Without the sugar they will likely suffer some discolouration but they will still be delicious (and safe) for eating. The rest of the peaches are for sharing and enjoying during the colder months when a taste of summer is just what we need to lift our spirits.
For the peaches in light syrup I made a simple syrup of 2 1/4 cups of sugar to 5 1/4 cups water. I brought this to a boil then I added blanched, peeled and quartered peaches and cooked them for a few minutes – enough to be warm but not mushy. Then packed them in sterilized jars and topped with the syrup. Any leftover liquid gets reduced to make a thicker peach syrup for pancakes or ice cream.
The peach pit jelly was a happy surprise this summer. I love finding a use for all the peelings and pits. I first heard it mentioned here and then read about it a bit more. The first batch I made did not set up but the second batch gelled nicely.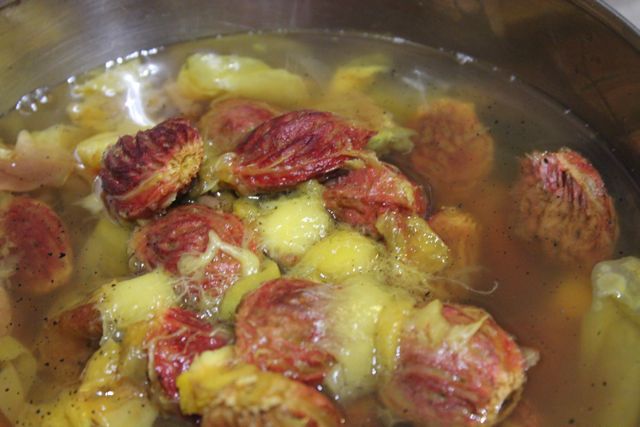 Pits and peel with some of the leftover canning liquid (the black specks are vanilla bean seeds) covered in water and boiled for thirty minutes. Then covered and left to sit overnight.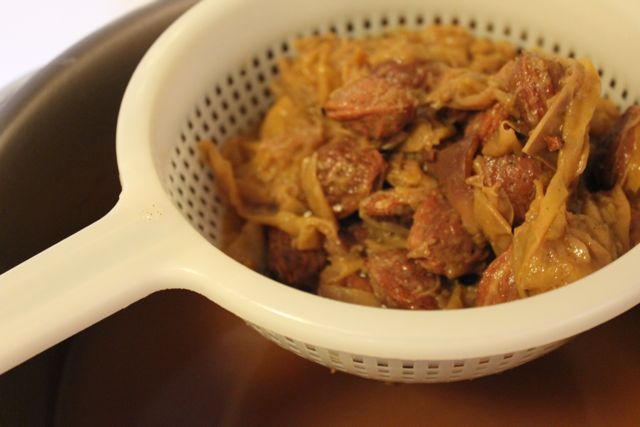 Here's a peek at the lovely remains after the mixture is poured through a sieve. It smells much better than it looks.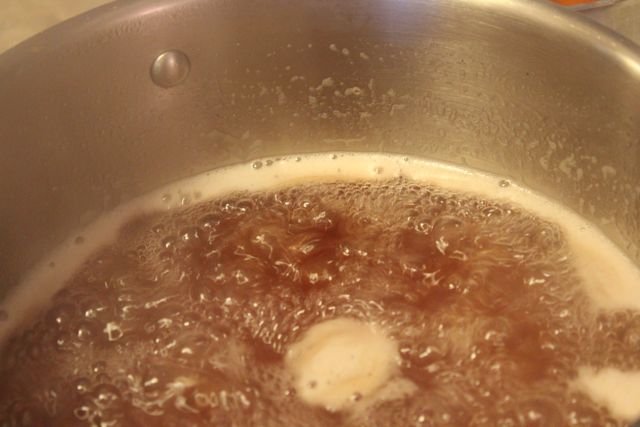 Bringing the juice and sugar to a boil before adding the pectin.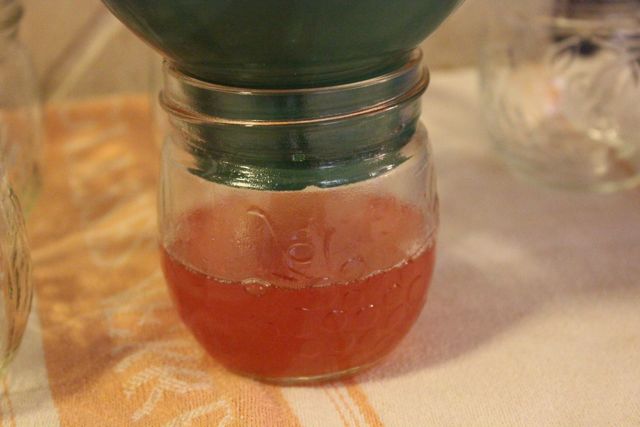 I had to stop to admire the beautiful colour as I prepared the jelly for water bath processing.
Peach Pit Jelly
peach peelings and pits
sugar to equal juice
2 packages pectin (I used Certo Liquid Pectin)*
Place peelings and pits in a heavy pot and add enough water to cover. Bring to a boil over medium heat and boil for 30 minutes – be careful not to let it burn (Dan did not thank me for the upper arm workout he got after scrubbing burned peach peel from one of his pots…). Cover and leave overnight. Strain though a jelly strainer, cheesecloth or sieve – I wasn't worried about truly clear jelly so I simply used a sieve. Measure the volume of your juice – I had 3 cups of juice (some water can be added if you have less than this). Follow the directions on your pectin – powdered pectin is added to juice and brought to a boil before the sugar is added, liquid pectin is added after the liquid and sugar are brought to a boil.
*Note: I attempted to reduce the sugar but it affected the gel. I first used one package of pectin but it did not gel so I followed the directions with my pectin to add another package. I suspect that if I'd stuck with an equal amount of juice and pectin I may have gotten away with a single package of pectin.
I wasn't sure how it was going to turn out. Despite the woody smell as it was cooking it had a beautiful deep peach flavour. So great to have a jelly from something we would have otherwise tossed in the compost!
Peach season is petering out here – we picked up what will likely be our last box over the weekend. Now we are simply enjoying them fresh – and moving on to the last of the tomato canning and APPLES!
What produce are you enjoying in season?
P.S. For those of you who asked I've got a ketchup recipe to share later in the week!