I've had my hands full snuggling our newest little sweetie but I've still found lots of time for reading (a good novel always finds time for reading) and a little time for knitting (along with the newly learned talent of knitting around a newborn).
On the brief knitting front I've been knitting lots of little things, finishing up a teeny pair of socks, another pickle hat and another diaper cover. I seem to be in the mood for little items that finish up quickly but I did start another puerperium in raspberry for the babe – finally getting to break from the gender neutral baby knits. I'm knitting it bigger and thinking it may be a good fit around Christmas. I could be way off on that, though – the knits I'd already done for her seem surprisingly well fitting on my plump girl.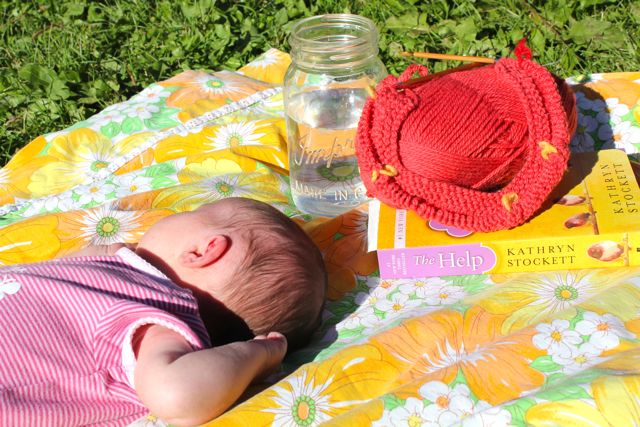 Lots of nursing sessions require, in my opinion, a good book. I finally got to sink my teeth into The Thirteenth Tale and loved it. I loved the way the story unravelled and although there were a couple of rather disturbing themes, the book didn't dwell on them for shock factor. The story was so well developed and I was definitely hooked after the first couple of chapters. Now I've started on The Help which is shaping up to be another great read. I'm already dragging out nursing sessions to get a few more pages turned.
I'm happy to be joining with Ginny for yarn along again this week.