We are basking in the lost sense of time that vacation brings and I've suddenly found myself on eve of Wednesday's yarn along. I've been enjoying extra time to knit and read during these restful days although you may notice I haven't even gotten started on two of the projects I was hoping to cast-on over this past week.
I have cast-off on my Winnie Cooper, though. Finishing, blocking and sewing on of buttons are all that remain for the first birthday sweater of the summer. It will be a bit late as the birthday is nearly over but what's sweeter than a gift you weren't expecting arriving a couple days late? Right? I'll show it modelled on the birthday girl when I have it completed.
For our trip down to Victoria last week I decided I needed to cast-on something fun and off of my "required knitting" list. Svenna has been showing a whole host of sweet little sweaters in the puerperium pattern and I couldn't resist casting one on for our baby to be. I'm knitting it in Fisherman's Wool and loving how it's coming together. It is such a sweet, simple, free pattern and I have already have plans to knit a second one in a bright colour – perhaps an orange?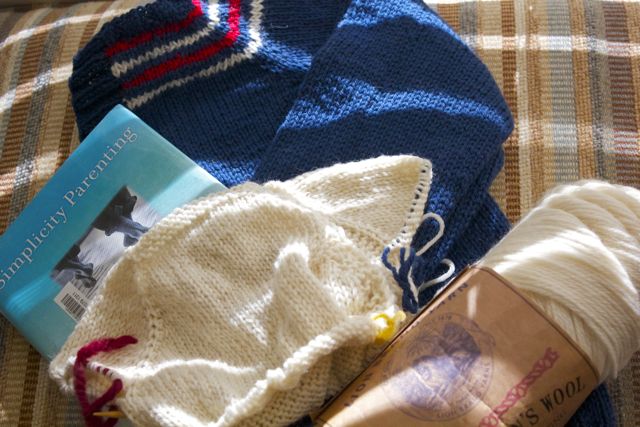 I'm still reading Simplicity Parenting and thoroughly enjoying it. It rings so true and puts words to many of the thoughts and practices that we value in our family. I haven't gotten deep into it yet but I'm already boring everyone with quote after quote. More than anything I'm finding it is helping me let myself off the hook for not wanting our little people enrolled in endless activities, surrounded by endless toys and bombarded by endless distractions. I've never felt good about any of those things but have occasionally allowed myself to feel guilty about it in the face of society's expectations. I feel like this book is settling my soul a bit on that count. I may have more of a review to offer next week but so far I've been nodding in agreement with the author's words.
And that's it for me now. I'm off to give goodnight kisses to the birthday girl (and her siblings), nibble an extra slice of birthday cake and finally knit the swatch for the next birthday sweater I keep mentioning.
For more yarn along post, visit Ginny at Small Things.