A couple of weeks ago I shared my favourite brownie recipe which I maintain does not need improving.
I'm hardly one to skimp on the butter or less proudly, sugar. But, yeah, I've been reading about sugar and realizing it's kinda sketchy* so I'm checking out recipes that have less.
That awesome bulk order I can't stop talking about also included a case of black beans. Cocoa and black beans? I recalled a recipe somewhere for black bean brownies and thought I'd experiment with a healthier version of this yummo dessert.
These brownies win points for being so quick to throw together (using a food processor) and for being beautifully silky and chocolately. They are also gluten-free and cut the sugar way back.
While they weren't the chewy brownies I'm used to they certainly exceeded my expectations. The flavour was great – no hint of bean once they were baked. They didn't hold together as well as I'd hoped but they were so nearly guilt-free that I didn't mind.
There was no coup d'etat, my classic brownie recipe remains undefeated (I don't call them World's Best for nothing) but I will be making these again.
*I've long tried to pretend sugar isn't so bad as a justification for my love of baking and sweet treats and baking sweet treats. But yeah, it's not doing me any favours. Search sugar on Weston A. Price and it gets depressing.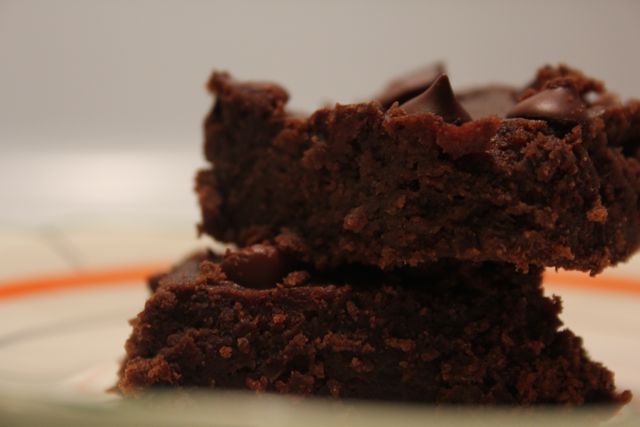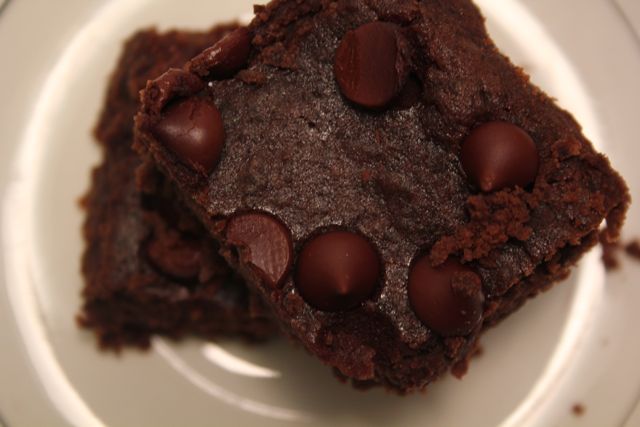 Black Bean Brownies
original recipe here
1 19 oz (540 mL) can black beans, drained and rinsed
1/2 cup sugar
2 large eggs
1/3 cup butter, melted
1/4 cup cocoa
2 tsp. vanilla
1/4 tsp. salt
1/2 cup chocolate chips
Preheat oven to 350°F.
Add all the ingredients, minus the chocolate chips, into the bowl of a food processor and blend until smooth. Blend one more time…no rogue beans on my watch. Pour the mixture into a buttered square cake pan. Sprinkle the chocolate chips over the top. Bake for 25-30 minutes until the brownies are firm and no longer goopy in the middle.
::
Do you have a crunchy-granola version of a favourite dessert? Please do share!