Well, well, it seems like I've fallen into the glorious distraction of springtime. But I do miss the interaction of this space – how better than to pop back in for a yarn along post.
The garden has been calling for lots of attention and hard work these past couple of weeks but my needles have not been forgotten.
…Okay, perhaps, some of my projects have been a little neglected (*cough* grace cardi) but I've had fun with some teeny knits.
I have a handful of knits blocking in my bathroom right now – some new, some recently de-muddied, a few destined for the post office. I'm way behind in updating my ravelry projects but once my recent finished objects are dry and buttons are sewn on, I'll share some photos.
At the moment, though, I'm knitting a newborn sized baby vertebrae. This one is especially special because it's for the new addition we are expecting!! Number seven is on the way – rather sooner than later as it happens (more on that later) so it's knit time! I'm knitting it in another stashed wool – Debbie Bliss' cashmerino aran. The wool is gorgeous and unreal soft. It pairs so nicely with this awesome pattern by Kelly Brooker. I love many of Kelly's patterns (shout out to the puerperium cardigan) – they are well written and clear with so many options for sizing and yarn weight. I adore a pattern that allows me to match with a yarn from my stash.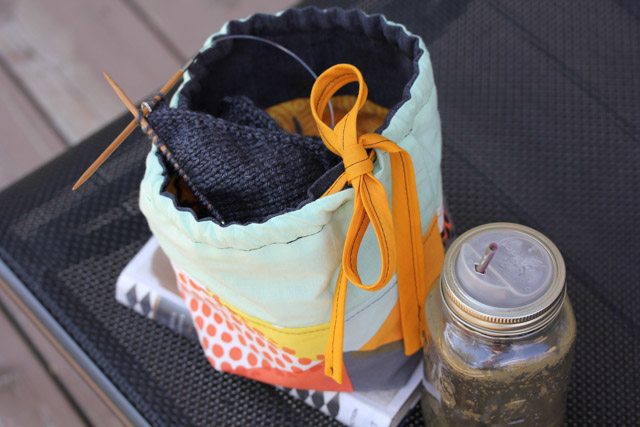 When I find a chance to grab a book I'm finally reading My Antonia. I started it a few months ago but the library called it back too soon. It must have been on a course reading list because suddenly it had over 50 holds so I had a wait before it came back to my hands again. It's early days but I'm enjoying it. I'm finding my imagination is picturing the landscape as that of On the Banks of Plum Creek, I like the familiarity.
(Psst…my new project bag up there is sewn from luvinthemommyhood's reversible sock knitting project bag pattern. I've got more gushing to do in a future post, but I couldn't resist sharing how much I love her clever but simple pattern.)
And now I'm off to knit a few rows before bedtime summons.
Happy Wednesday! Thanks for dropping by!
::
for more yarn along post visit Ginny at Small Things.