Okay, so here's the thing. No one is close to a first birthday in this house but for Mira's first (last August) I wrote this post and for some reason never published. I just decided to make the cake today for a kid's party with dairy-free/gluten-free substitutions. I could not find the recipe ANYWHERE! I kept asserting I'd written a post about it but could not find the post. And now I know why, it was in my drafts folder. Well duh! 
So here it is. With not so awesome photos but hopefully I'll remedy that today and see if I can write the recipe again, just as deliciously for the dairy-free & gluten-free crowd. The best news is that it's already sugar free – Saweet! 
In our home the first birthday celebration is a special event with its own special traditions. One of those traditions is carrot cake. And while I love a good carrot cake, it just didn't feel right for our heat-of-the-summer born, barefoot loving, fruit adoring little lass.
Big sis had tried her hand at cake making recently, turning out a beautiful upside down cake for our enjoyment. It was tasty but very rich (she confessed to doubling both the sugar and butter measurements….that would explain it). With boxes of fruit overtaking the kitchen, I decided to take a second look at the recipe she used and shake things up a bit for a first birthday cake.
I'm not ready for Mira to sink her four teeth into sugar, so I debated over replacing it with maple syrup or honey. I decided on honey as my sweetener and with the added sweet/tart flavour of the fruit, it was perfect.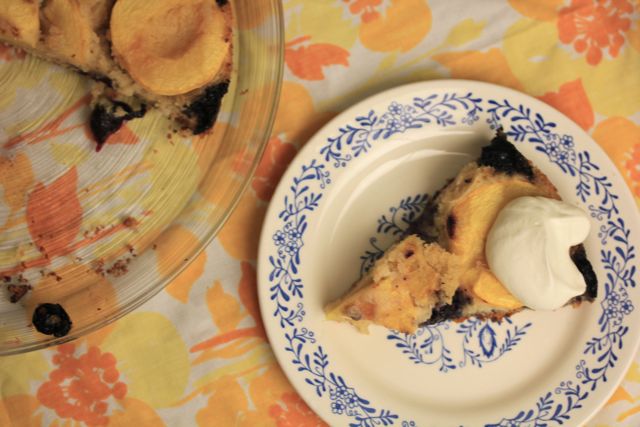 Peachy Upside-Down Cake
While we've tried this with peaches and cherries, as well as peaches and blueberries, it would work beautifully with many other fruits. Just remember that local, in-season fruits will taste best.
1/2 cup + 2T butter, softened
5 peaches: halved, peeled, and pitted
1/2(ish) blueberries or pitted, halved cherries
1/3 cup honey (may be replaced with sugar or maple syrup)
2 tsp vanilla
2 eggs
1 1/2 cup flour
2 tsp baking powder
1/2 tsp salt
1/2 cup milk
Preheat over to 375 F. Melt 2 T of butter in springform pan (or other large cake pan).
Arrange fruit (cut side down) in a single layer in the prepared pan.
In a bowl combine flour, baking powder, and salt.
In a separate bowl or stand mixer, cream butter and honey until smooth. Add eggs, stirring after each, then mix in vanilla. Add flour mixture in thirds, alternating with milk and ending with flour.
Scrape batter over fruit in pan. Tap the pan on a counter to remove any bubbles.
Put pan in the over for 40-50 minutes until top is browned and a toothpick (or cake tester) comes out clean.
Allow to cool in pan. Run a skewer or offset spatula around cake to loosen from pan. Place a plate over the pan and quickly flip the cake onto the plate. Remove the pan and enjoy slices served with lightly sweetened whipped cream.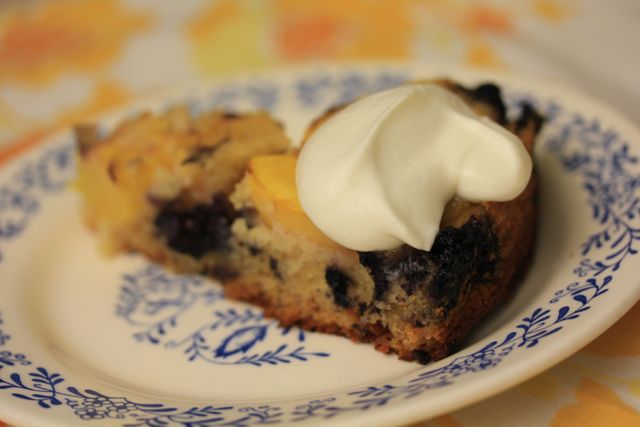 ::
Do you have special birthday traditions in your home? I'd love to hear them – I'm a total sucker for a good family tradition.