I love tradition. Especially family traditions – from the mundane to the symbolic. We've had fun developing traditions that are all our own, silly though they may seem to others. Like eating banana bread for breakfast in the van when we are off on a road trip. Or birthday breakfasts eaten in a balloon chair. Or Christmas morning scones with fruit salad. Granted, many of our traditions revolve around food. I like that.
Apparently I've been baking somewhat of a family tradition, albeit with my own variations, for a number of years now. I've savoured many a warm flaky biscuit baked by my mother from my paternal grandmother's recipe. Biscuits that have been fruit-peel scones for childhood Christmas mornings, strawberry shortcakes for summer celebrations and dumplings for seafood chowder.
As I was seeking out any family stories surrounding this tried-and-true recipe, I learned that just as my mother received this recipe from her mother-in-law, my grandmother had received it from her mother-in-law. I don't know the history beyond my Great Grandma Kitty (who I know only from a stern picture which confuses the rather light-hearted nickname of "Kitty") but I'm going to believe that she received the recipe from her mother-in-law in turn – a Stewart woman rather further up my family tree.
That long-winded explanation all to introduce this most-beloved family recipe that comes with numerous traditions. The recipe came to me without orange zest, yogurt or buttermilk but it remains my grandma's recipe despite the adaptations my mom and I have added over the years. And it always brings me great joy to pull out the recipe card with "Grandma's Biscuits" written at the top along with, perhaps, the occasional tear.
And now that I'm blubbering (which you could call pregnancy hormones although my hubby, and likely my father, knows better)…here's how I make my version.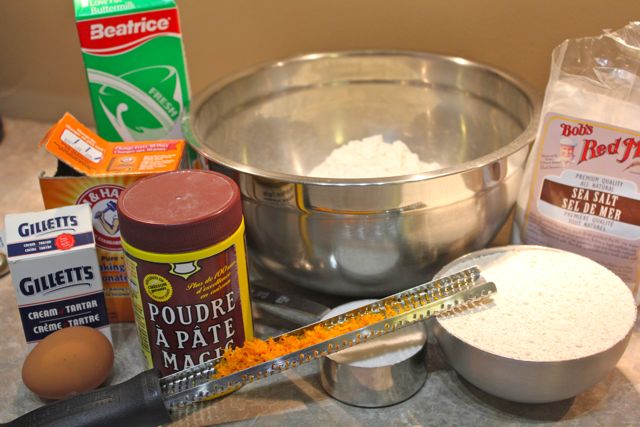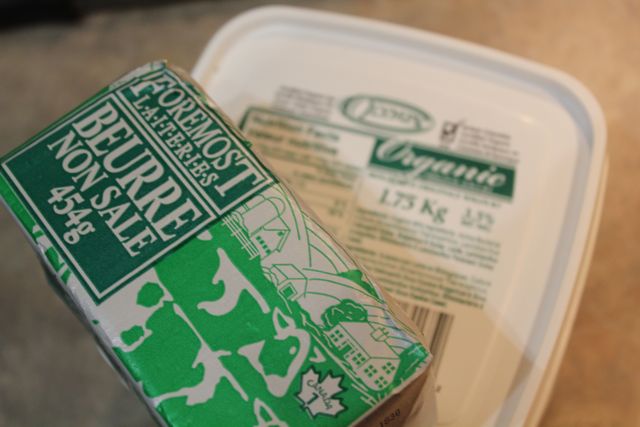 Gather your ingredients.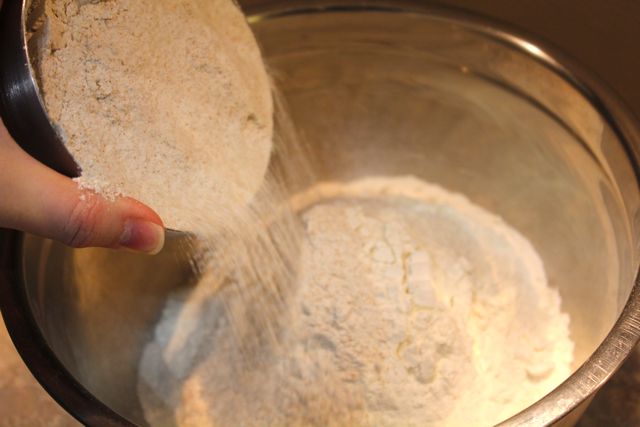 Add whole wheat flour to white flour.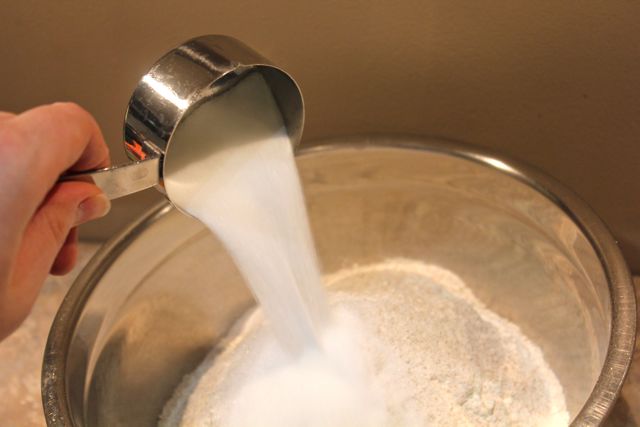 Mix in sugar.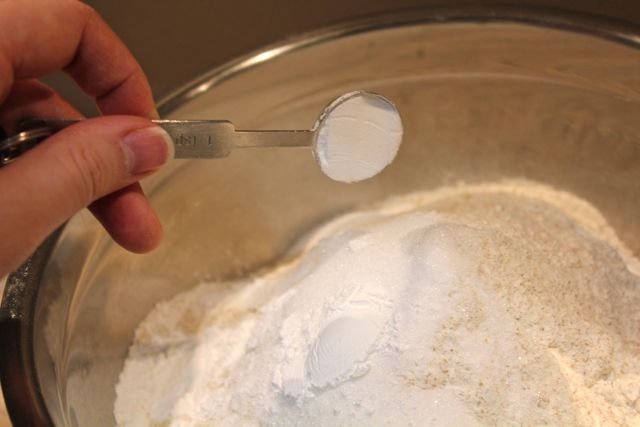 Mix in soda, powder, salt and cream or tartar, if using.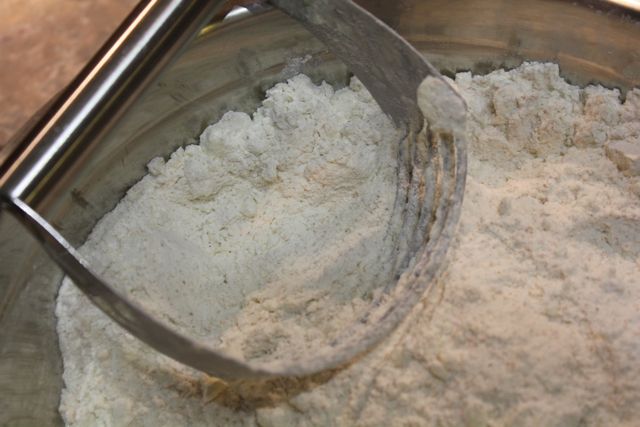 Using a pastry blender (or two knives) blend the butter into the dry ingredients until the mixture is loose and crumbly.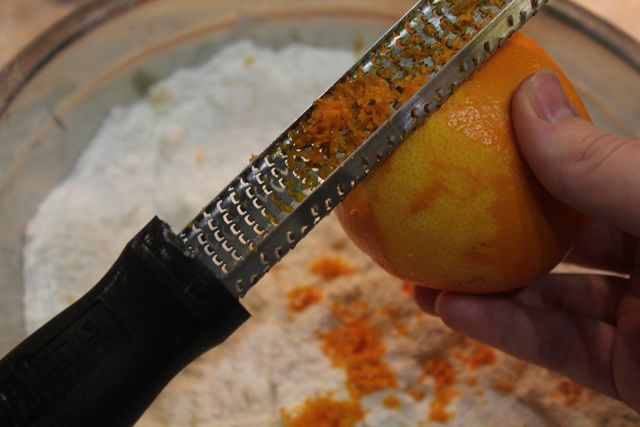 Grate in the orange peel – I prefer to use organic fruits especially for zesting. If you are not using an organic orange be sure to wash the fruit well with warm soapy water or a fruit and veggie wash.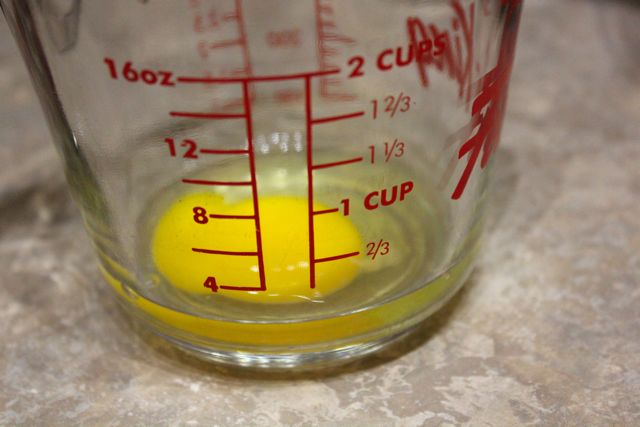 Add egg to a liquid measuring cup and whisk with a fork.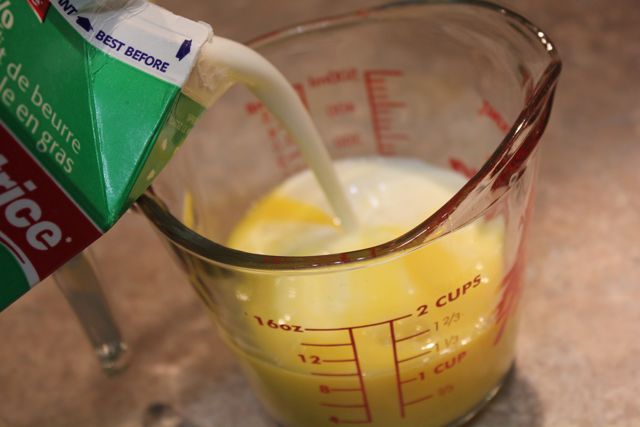 Add buttermilk (or milk) to measure one cup of liquid.
Add in the yogurt…
…along with the egg and milk mixture.
Gently mix with a wooden spoon and then knead lightly with your hands. I knead it in the bowl until it is holding together then I dump it out onto a floured counter.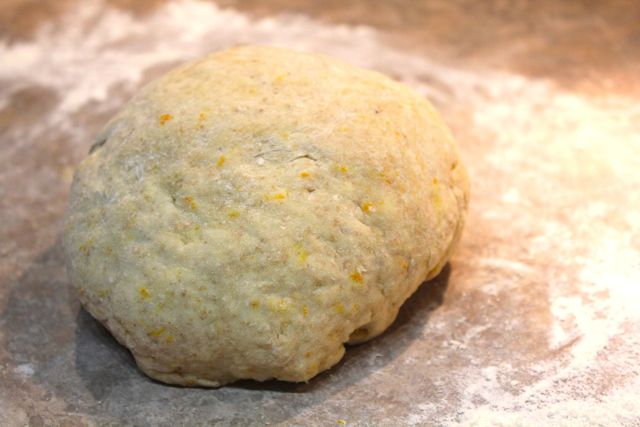 Knead until the dough is uniform.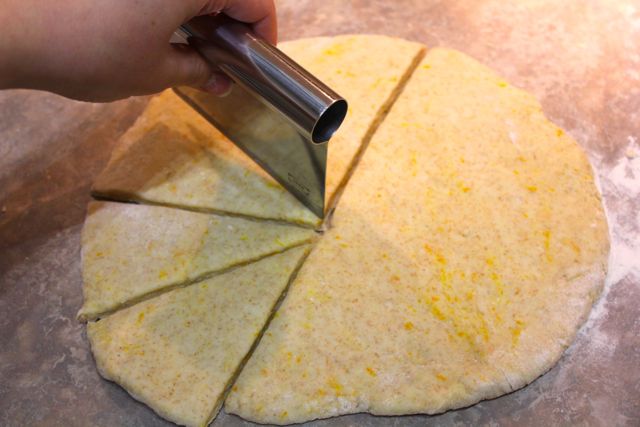 Roll out to a 12 – 14 inch circle. Using a bench scraper or knife cuts into wedges. Alternatively, roll the dough out to a 1/4 inch thickness and cut into circles with a floured biscuit cutter or the top of a glass.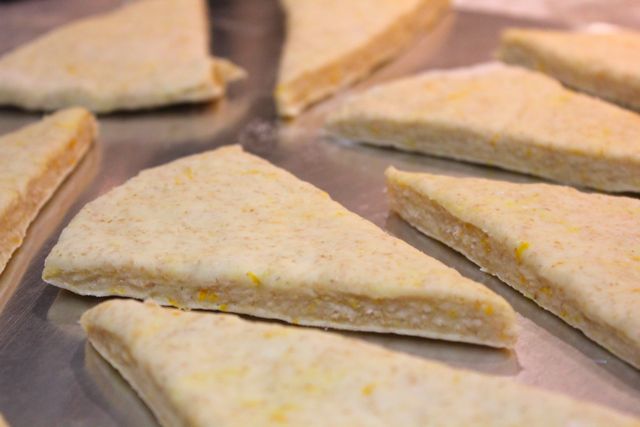 Lay the wedges or rounds onto a cookie sheet and slide into a preheated 325°F oven.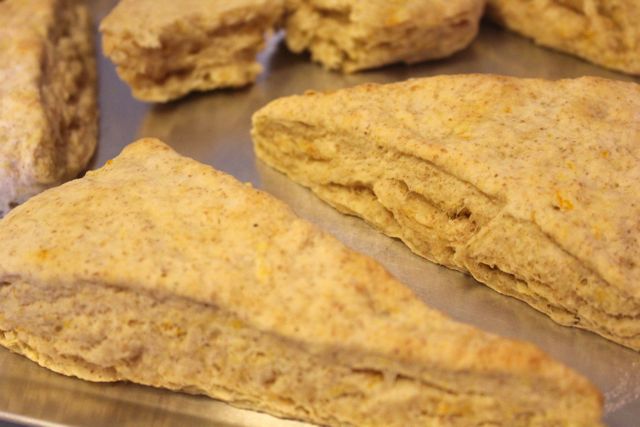 Bake for 20 – 25 minutes until lightly browned.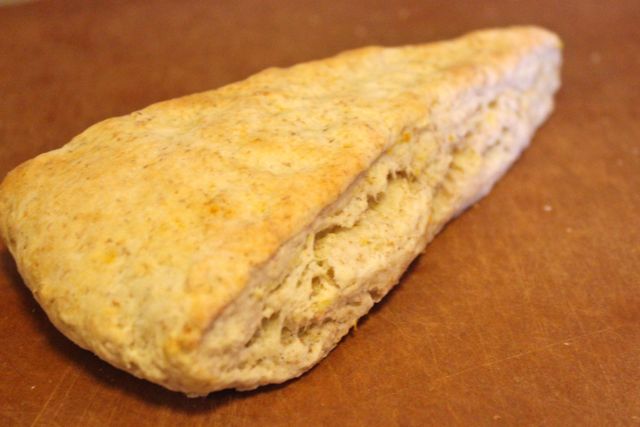 Grandma's Biscuits
There are so many ways to enjoy these biscuits – hot out of the oven, spread with butter or drizzled in apricot jam with a slice of cheddar cheese. And of course any leftovers make wonderful strawberry shortcake…
1 cup whole wheat flour
2 cup unbleached flour
1/4 cup sugar
1 teaspoon baking soda
3 teaspoons baking powder
1 teaspoons salt
1 teaspoon cream of tartar (optional)
1/2 cup butter
zest of one orange (also optional)
1/4 cup plain yogurt
1 egg
< 1 cup buttermilk (added to egg to equal one cup)
Preheat oven to 350°F.
Mix together dry ingredients. Cut in butter with pastry blender or two knives. Using a rasp, grate in zest of one orange. Whisk egg in liquid measuring cup with a fork, add milk to equal one cup of liquid. Add yogurt and egg mixture to dry ingredients. Stir lightly with a spoon then gently knead in bowl until the mixture holds together. Transfer dough to a floured surface and knead a few times until the dough is uniform – do not over knead the dough. Roll the dough out into a 12 – 14 inch round and cut into wedges. Alternatively, roll out to a 1/4 inch width and cut into rounds with a biscuit cutter or the top of a glass. *Note: these are flakier if you create laminated dough by rolling out into a large rectangle, folding the bottom third up and the top third down over it building layers before rolling the dough out for cutting.
Spread on a baking sheet and bake for 20-25 minutes or until the biscuits are lightly browned. Serve warm with butter or preserves.
Cory's inspiring post here has me regretting I don't have more family recipes in my repertoire – I may have to dig for a few more. What food traditions do you keep alive? Any family recipes that have been passed through generations?