You know I've been very good, right?! All these weeks with only my grace cardi eating up my limited knitting time.
And then it snowed. Again. Which demanded a break from brown stockinette.
I chose the perfect wool from my stash for the distraction – Malabrigo Rios in Archangel. It's a delight to watch the array of colours coming out of this skein – coral, yellow, orange, purple. I knit a plain vest a month or so ago using the first skein of this duo and the recipient's baby sister needs a matching vest. I'm using the pattern Little Pearl Vest by designer (and fellow yarn alonger) Gretchen. It is just what I wanting for this vibrant wool and will pair so nicely with the cardi for big sis.
I haven't neglected my spring's grace, though, I have only a few inches until the bottom ribbing (now that I've realized my long torso is going to require some added length) so I'm working a few rows at least every day (which lately has been about all the knitting I've managed). I will get there…and hopefully keep my calm when it comes to the sleeves.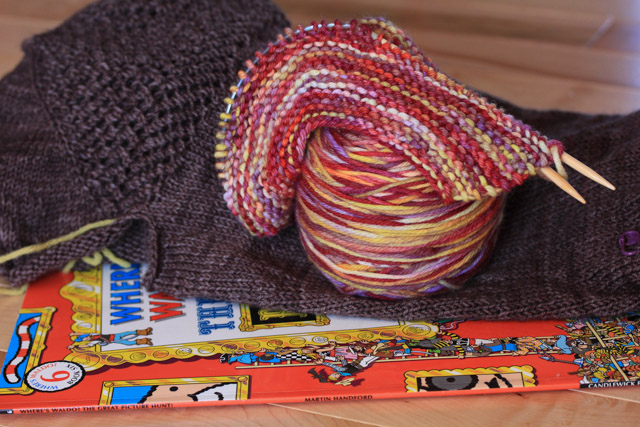 As for reading, I'm still enjoying two of the same books as last week: A Handful of Time with my oldest two at bedtime, and Raising Cain for my own reading. The girls have become quite captivated by the story and it had the unexpected bonus of making my oldest very thankful she doesn't have a mom like the one in the book. Raising Cain continues to be interesting – it's good insight into the working of a boy's mind. Although many of the issues revolve more around adolescent challenges, as most emotional troubles do, they have their roots in younger childhood. I'm curious what practical tools they may offer towards the end of the book.
For my photo I grabbed the latest Where's Waldo that Liam has been choosing at bedtime. While I prefer gearing down for bed with a story, I do enjoy our special time with heads bent together over this book (despite the head bumping and squinting).
::
And now the chore list calls and sunshine beckons for laundry! Happy May Day!
What are you creating and enjoying these days?
:: joining Ginny for yarn along ::