A couple summers ago I discovered the joys of canning. Admittedly the joys were harder to find when I started but the pay off of canned peaches during the long, cold winter made it worth while. Last year I attacked the job of canning with fervour, albeit fervour mingled with some extreme dislike. I chanted my mantra of "Cherries in January, cherries in January" at the beginning until something changed. Somewhere over that steam blinding, wrist burning, adrenaline pumping canning pot I found love – or at least an obsession.
Every Sunday afternoon we would head to our favourite farmer's market and return home with many pounds of produce – I think our week's high was 120 lbs. We enjoyed our fare share of juicy peaches and cherries, crisp apples, smooth and delicate apricots and even a closely guarded flat of blackberries but much of it was destined for the canning pot. I was like a woman gone mad, canning like crazy every week, bringing more and more home from the market as I feared each week would be the last for the precious peach, cherry or plum.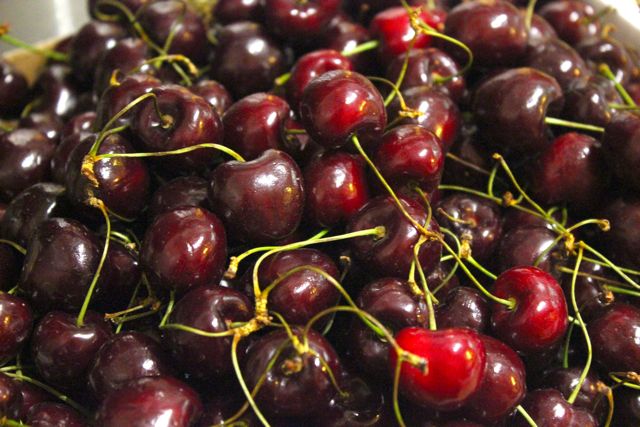 By the end of the summer Dan had caught my fever. He helped me can dozens of jars of pasta sauce and salsa. He started eating jam. The kids started enjoying salsa. I enjoyed the goods but was a little miserly just in case those cherries didn't last until January. Turns out those cherries lasted until July…along with more than a few jars of peaches, jam and pasta sauce.
And now we have come full circle. Cherry season has returned much to my joy and excitement. Jam is being made, plans are being laid for this year's attempts remembering last year's successes and less-than-successes. We had our first summer visit to the market this past weekend and returned with 20 lbs of cherries – added to the 15 lbs we ate and processed over the weekend we are already 35 lbs in. I kept terrible track last year as I was blinded with passion but this year I resolve to keep better notes and hopefully better control of my obsession. I need to make more salsa, I didn't use the right tomatoes for sauce and maybe I could hold back on the jam a little (although it did make up MANY Christmas gifts for friends and family).
We'll see how it goes but I think I may make a weekly habit of reporting here what we've been up to since finding a notebook seems beyond my abilities while I'm sweating over a canning bath.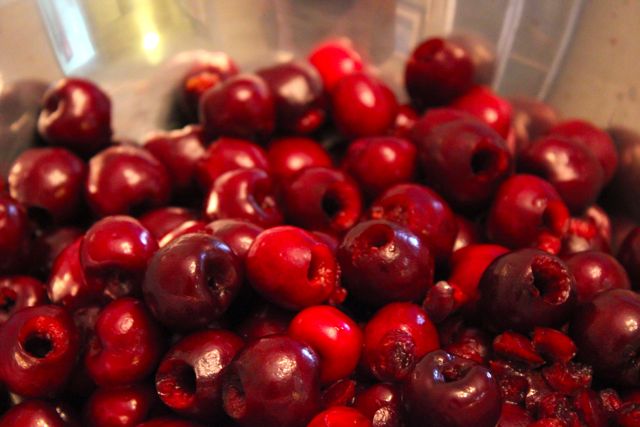 I'm not sure how expecting a baby in the few weeks is going to affect our plans but as Dan is more than eager (isn't he lovely?!) I'm hoping we can get lots put down – perhaps with a baby in the sling (which of course will necessitate Dan dealing with all the hot jobs while I handle the prep).
So for my first report:
purchased: 35 lbs of cherries from a highway-side market and farmer's market for $90, ≈ $2.50/lb, the price will go down as the season progresses but we needed to get head start
yield: 17 – 250ml jars of jam, 1 – 500ml jar of jam, plenty of snacks, cherry stained fingers and mouths and 12 pounds left for drunken cherries or more snacking
Our first batch of cherry jam turned out just the way we like it – so well that we've already polished off the 500ml jar. This week I managed another (larger) batch of jam. The remaining will be made into drunken cherries – if any of them escape the seven cherry lovers in this house. Simon has probably put away a pound or two on his own. As he watched me pit and chop them the other day his hand found its way to the bowl many times.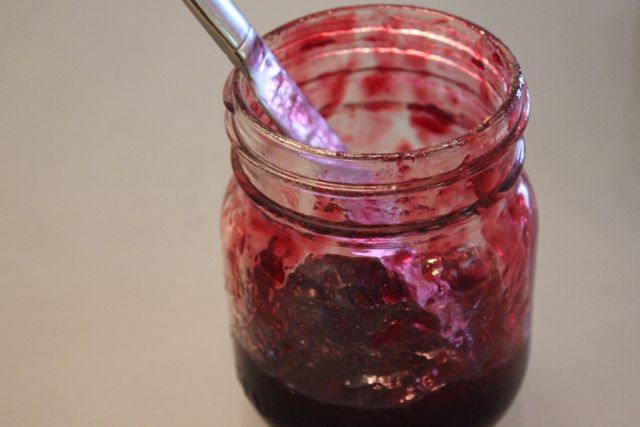 For the jam I used David Lebovitz's recipe for No-Recipe Cherry Jam. As with many jams it is loaded with sugar but made without added pectin which I like. For some reason those packages of pectin give me a bad feeling but I don't really know if I'm justified in that or not. Last year I made most of our jams without pectin but the few recipes I used it for turned out less to my liking – they seemed too sugary tasting and some of them even got all gross and crystallized. (I only realized the crystallization recently when I opened a jar of peach marmalade so I apologize to anyone who got one of those for Christmas.) That was more than likely my fault but it's soured me even more against the pectin although I'd love the ability to use less sugar or try other sweeteners with the assurance of the pectin to thicken them up.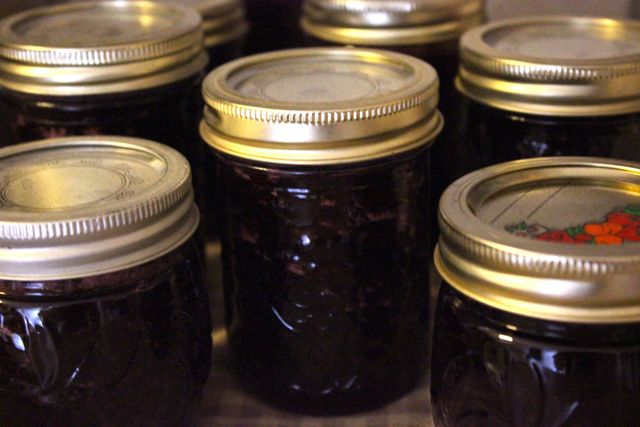 Now I'm off to attend to those remaining cherries and stain my fingers once again with their red juices.
Have you tried canning? Do you have fond memories of a favourite preserved from a mother or grandmother's kitchen? Do you have a favourite recipe you make every year?